When the series finale of Stargate Universe aired, the Syfy channel capitalized on every commercial break by bombarding the audience with commercials for the release of the second season's DVD set. Unlike the first season -- which was broken in half and seemed to take forever to release in it's entirety -- Season Two reached the shelves quickly.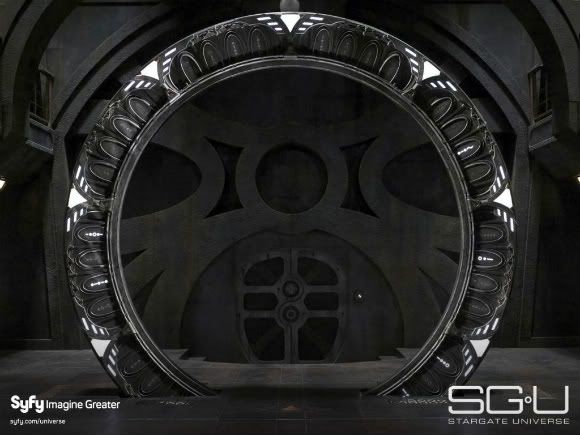 The packaging is very sparse. It does contain five DVDs, but there are no inserts, photos, or even an episode listing inside. It's not really needed but it makes it feel a little cheap. But packaging is one aspect; it's what is on those DVDs that is truly important.

Each disc is loaded with special features. The majority of them are fairly short, just a couple minutes each. The one good thing about that is it allows you to just see the ones you want. It's not necessary to wade through a ton of things you don't want to watch just to get to the good stuff. One good example of that is the feature, "Lt. Scott Gets Hit By A Car." Normally it would be just a small part of a larger feature, but broken down up you can watch how they pull off running someone over with a car by actually running him over with a car.

Not all of the features are short. There are also three longer ones.

"SG-U Welcomes You to New Mexico's Bisti Badlands" takes you through the filming of the episode "Malice" where Rush (Robert Carlyle) hunts down a murderer on a desert planet. The scenery is beautiful and alien looking. It's hard to believe that it really exists.

"Pitches: A Journey of Friendship and Discovery" follows actors Peter Kelamis and Patrick Gilmore as they try and create a script for the show, but have absolutely no idea how to do it. It's quite amusing at first, but it ends up going way too long and ends up being annoying.

"Behind the Season 2 Finale-Gauntlet" is a bittersweet feature showing the filming of the episode while the crew and cast think it's just a regular season finale and not fully realizing that they won't be coming back.

Along with all of the features, there are commentaries for every single episode. It would have been nice to have some extra scenes that didn't make it into the shows like in the first season DVDs. Some of those were incredibly interesting and gave more insight into the characters. Some comments from the cast and crew after the cancellation was also lacking, but I'm guessing that these omissions are due more to the rush to get the product to the shelves than any lack of planning on the creators behalf.

For my extended review of the series finale, please click here.