Quick Take: Suits, "Dog Fight"
"I'm going to tell you a story about what that man did for me." – Mike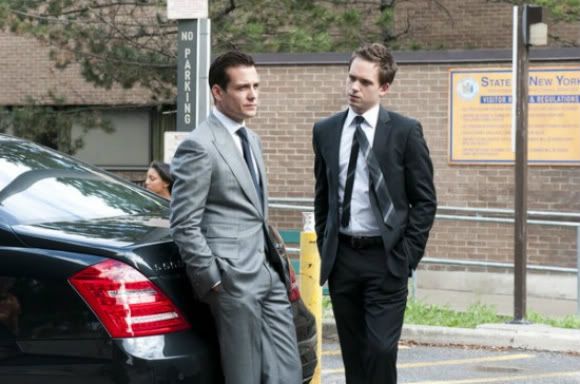 Review: Suits, "Dog Fight"
(S0112) Within the first five minutes, sucky friend Trevor is back in Mike's life. He claims he recently took a job in the mailroom of a law firm. He tells Mike he needs a place to stay for a little while. "Can I come in?"
"No."
Mike's "no" would have meant more if he actually meant it and wasn't just trying to hide the fact that Trevor's ex, Jenny, was busy being naked in Mike's shower. Awkward.
This will come back to bite Mike later.
Meanwhile, Harvey's quest for atonement kicks off with Clifford Danner, the former student of a prestigious prep school accused of murdering a female classmate. He's been sitting in prison for the past twelve years as a result of corrupt DA Cameron Dennis burying evidence that cleared his name: a letter that revealed a romantic relationship between Cliff and the victim, and a camisole sporting DNA that wasn't Cliff's. The rediscovered evidence is enough to reopen the case, but Cameron's replacement, Terrence Wolf, isn't quite on board with Harvey's mission to make things right. Clearly, he's not going to make this easy for Harvey, however, as this episode plays out, the lengths that Wolf is apparently willing to go just to "punish" Harvey for disloyalty to his old mentor, Dennis, are appalling. Particularly when it becomes obvious that Harvey is right and Clifford Danner is innocent, Wolf is more than willing to let the wronged man suffer in prison if it means defeating Harvey are appalling. Particularly when it becomes obvious that Harvey is right and Clifford Danner is innocent, Wolf is more than willing to let the wronged man suffer in prison if it means defeating Harvey.
Back at the firm, Harvey's support is limited. A highly profitable client leaves Pearson-Hardman because of Harvey's involvement with the Danner case and the client's own personal connection to the slain prep-school girl. Other clients threaten to follow and Louis attempts to use the crisis to his advantage. Jessica errs on the side of altruism, wholeheartedly backing Harvey's endeavors, and Louis argues, "What Harvey thinks and what Harvey can prove are two different things."
Terrence Wolf moves to make the new evidence inadmissible in court, basically pulling the chair out from beneath Harvey's case. Louis is still gleefully uncooperative. Harvey figures out how Donna saved his ass last week and threatens to fire her, creating an odd tension in their office. Rachel decides that she's not okay with Mike and Jenny after all and refuses to do any work for Mike. Piece by piece, their safety net unravels, until it's very clearly only Mike and Harvey working diligently to clear Clifford Danner's name.
And they make a great team, really. The entire season has been building up to this: Harvey and Mike working in tandem, as equals. Their personalities seem to shift through the course of this episode, with Harvey becoming increasingly desperate and emotional as the case spirals out of his control, and Mike retaining the calm, collected demeanor that we usually see on Harvey.
It's too bad then that Trevor intercepts a voicemail intended for Mike from a very drunk Rachel ranting in the most un-amusing drunk-dial ever, about how she still cares about him even though he's with Jenny. It's like Trevor was just waiting for an excuse to screw up Mike's life (again) and when he dons his best suit and shows up at Pearson-Hardman, solemnly telling Jessica "I wish I didn't have to tell you this…" well, clearly he did, because that's just what Trevor is here for.
What did he tell Jessica? We'll have to wait until next summer to find out. In the meantime, here are some more highlights:
This was the season finale and there wasn't a single Sassy Grandma sighting. NOT A SINGLE ONE. We haven't seen Grandma in weeks. My number one priority for season two? More Grandma.
After an entire season, Jessica finally tells Harvey to "get off his high horse." Thank you, Jessica.
Rachel has never seen Casablanca "because it's old." She is dead to me.
Donna gets Rachel drunk in Harvey's office in a bonding session to help her feel better about Mike. It's cute. Donna reveals that she and Harvey have never slept together because once you cross that line, "You can't go back."
Donna's attempts to bribe Louis into helping Harvey are hilarious.
It was nice to see Harvey apologize to Donna. Even if they aren't/weren't/never did have that kind of relationship, they clearly have a special one. I'd love to see it explored in more depth. They even have a pre-court tradition that Harvey seems genuinely upset to possibly skip due to their apprehension over Donna's actions last week. Luckily, they make up in time to do it. We don't get to see exactly what "it" is, but it involves a can opener.