Quick Take: Suits, "Play the Man"
"I don't think you understand how high maintenance this place is." – Harvey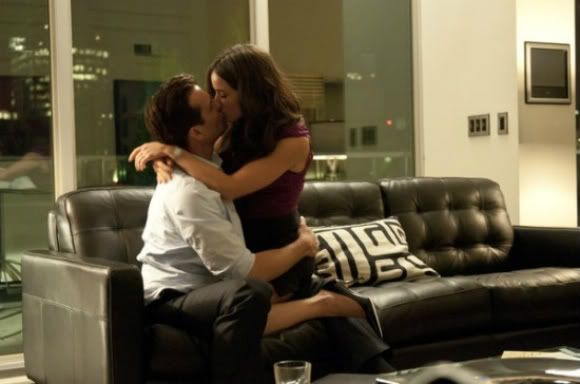 Review: Suits, "Play the Man"
(S0107) You know how last week I said it looked like Suits had conveniently ground that apparent Rachel-Mike-Jenny love triangle to a halt?
Okay, so I was wrong.
Jenny has proven herself to be a pretty good friend after all. Every year, Pearson-Hardman hosts a mock trial, a skills competition for new associates. "This is your debutante ball," Donna warns Mike when he belittles the importance of a fake trial in a place where real lawyers participate in real trials every day. Harvey bets Louis that Mike will best Kyle, the reigning mock trial champion (Nationally ranked! Ooh!) that Louis not-so-secretly chose to argue against Mike purely for the pleasure of seeing the clearly-less-experienced associate fail spectacularly.
And fail he does, because as Jessica points out, acting as the judge in this little spectacle, Mike is "naïve" and "soft" and those "are not qualities Pearson-Hardman is looking for." Oh snap.
Jenny agrees to help Mike by playing the role of one of his witnesses. Mike would have asked Rachel for help, but our sassy Super Paralegal is still upset about that whole Mike-helped-her-bestie-cheat-on-the-LSAT thing. She decides to help Kyle instead, role-playing one of his witnesses. Despite gleefully getting it on with Jenny the previous night during a rehearsal session, Mike doesn't have the heart to rip Rachel to shreds on the stand. Epic fail is an understatement.
Harvey, meanwhile, isn't doing much better out in the real world. He assists in mediating the merger of two upscale hotel chains with one of his Harvard classmates, Scottie. The two seem to barely tolerate one another, with Scottie announcing to the two merging CEOs that Harvey was only ranked 6th in their class, while she graduated at the top. Harvey counters by pointing out that she may have been "married to the library" as a student, but she's never won a case against him in the real world. It's all ice glares and the occasional bout of Harvey-Specter-smugness until the two lawyers retreat to a more private setting to broker out a deal. Or, you know, have the giddiest hate sex I have ever witnessed.
Harvey and Scottie have a unique rivalry, apparently. I feel like I should have seen this coming.
So all is well and good in the world of Harvey Specter... until he realizes that Scottie is manipulating him. Can I get another oh snap?
Some other quick notes:
"I'm glad Jessica picked a case with a strong female lead this year." Sarah Rafferty as Donna, Harvey's secretary/assistant, is rapidly becoming my favorite character. Her comedic moments are becoming a highlight of every episode. Her routine on the stand as Mike's other witness and her righteous indignation when Kyle referred to her as Mike's "Mommy" were great.
Harvey Specter wears black silk boxers. I felt like this was an almost hilariously stereotypical attempt at sexy…though in retrospect, I guess Harvey isn't really the kind of guy who would be rocking those boxers with the reindeer on them that Old Navy peddles every holiday season.
Harvey idolizes Captain James Tiberius Kirk. Mike calls him a Trekkie. Wave your geek flag high, Harvey. Wave it high!
Aaaaand yet another week with no Grandma sighting. Did Mike have her transferred to some top secret ultra-max nursing home? Where is she? My kingdom for a grandma!