Quick Take: Supernatural, "Let it Bleed" and "The Man Who Knew Too Much"
Loyalty, betrayal, and trust issues with an Angel. Yes, this is Supernatural.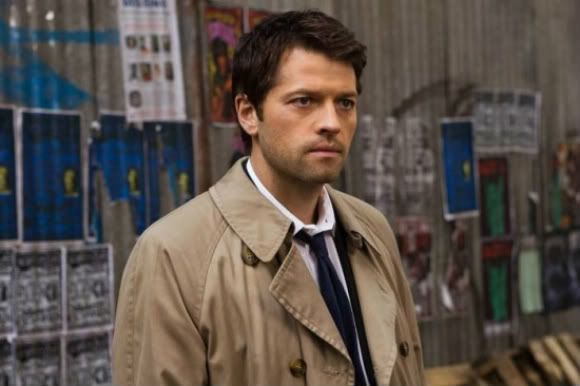 Review: Supernatural, "Let it Bleed" and "The Man Who Knew Too Much"
(S0621 & S0622) Who betrayed whom? "Let it Bleed" saw numerous attempts to mend fences by Castiel, yet at every step he was spurned by someone who should have embraced and trusted him. Dean's special bond with Cas was spectacularly broken, and it was not by Castiel. In episode S0620, the angel -- who was responsible time and again for saving the Winchesters' and Bobby Singer -- had made his case. He was not permitted to make that case to Dean and Sam when it counted because again, he was busy saving their lives. In "The Man Who Knew Too Much" he finally decided to take a course of action that would rip the world of Sam Winchester in particular into shreds.
Both episodes delved into avenues to prevent the Winchesters involving themselves with the big plan cooked up by Crowley and Castiel; free the souls from Purgatory and give Cas, and a half share to Crowley; the juice to stop Raphael bringing about the apocalypse once more. Lisa and Ben were a device to keep that from happening, but not a device that Castiel had planned on using.
Crowley's arrogance and willingness to skip bedfellows finally showed him the meaning of a deal breaker. Castiel tore up and rewrote their deal to ensure the King of Hell stayed firmly on his leash, Crowley made a deal with Raphael to open Purgatory and thus negate Castiel, ensuring he got his share. Crowley, Raphael and so many others should not have underestimated Castiel. His guile and subterfuge were far too nuanced for Crowley or Raphael to spot.
When Raphael, Balthazar, Dean, Sam, Bobby, and everyone around him had betrayed Castiel, he had only one course of action and he played it out perfectly step by step. He dealt swiftly with his brother, Balthazar, even if he had only done exactly what Castiel might have done under different circumstances. Balthazar was perhaps the saddest of the casualties in these two final episodes of season six, and perhaps the least deserving of such a fate. He had been a good soldier until he felt Castiel had overstepped and he was fearful for what this meant. Castiel on the other hand had gone to great lengths to prevent the boys from being put in harm's way, and interfering in what he felt duty bound to do, by releasing the location to Dean and Bobby as he did, Balthazar had in many ways betrayed that. I truly hope he returns, there were no wings spread out burnt on the floor for us to see, so who knows.
Like God, Castiel now has unimaginable power, and he's alone. Perhaps for him that was the lesson, he clearly loves his brothers, his human brothers that is, and whilst it took Dean a long time to recognise it, he needed to reason with, not lecture an angel and a friend/brother who had given everything to him and got very little in return. Everything Castiel did was to protect humanity, he killed monsters and demons but not once did we see his wrath smite anyone that was not a risk to the boys. I believe that lack of trust and compassion broke down something inside him and he perceived he had little choice, and in hindsight, he really didn't.
I doubt he envisaged it would affect him in quite such a substantial way, but then perhaps even God (as he appears to be in the series) is less than perfect in that area too. Why create something only to watch it suffer and destroy itself? Because he could, because no one could possibly truly know whether he exited or not and whilst there is that shadow of a doubt, he's off the hook.
Loyalty has been shown by Castiel throughout his time with the Winchester's, he has died for them on more than one occasion, had to learn to think for himself, something drummed into us that Angel's are simply not made for and yet somehow he always spared Dean especially, of the worst of fates. Life without his brother and the part of him that is the "hunter", given the intensity of his belief in family, for Dean clinging onto and remaining close to his brother was an essential part of who he is, given his experiences I truly doubt he could have maintained that long without that vital relationship that makes him whole.
I don't like where Kripke has taken this, I really don't. I had hoped that Castiel would join the boys in a less angelic fashion, hunting, becoming human, or perhaps just simply refuse to rely on those powers to see where it took him. Ultimately I doubt Castiel could survive without tapping the angel juice inside him because it is so much a part of what he is, but it would have been a journey nevertheless.
I understand the story is about the Winchester's, but throughout there has been a necessity to broaden that horizon purely because it becomes limited and over compartmentalised. How many times can two men stop something catastrophic from happening without it becoming cliché?
Crowley was and is the bad guy, irrespective of his smart ass wise cracking comments and commentary – it was he who killed Lisa with his actions and it was Castiel who brought her back. Castiel also gave Dean a form of closure wiping his former "families" memories of any trace of Dean Winchester. Castiel did not have to do this, yet he did, he showed compassion despite Dean's holier than thou attitude. Not a lick of thanks.
Sam's journey was probably the most traumatic and confusing. Locked in his head as many had suggested would happen if the wall came down, he fought out a battle with the soulless Sam, and his memories of hell and its tortures. It was a clever and necessary moment, made all the more impressive by some extraordinarily amazing performances from Jared Padalecki.
Soulless Sam perceived his soul-fuelled counterpart as weak. Yet the soulless driven Sam was no match for the Sam who needed to help save his brother. Nothing would stand in the way of that happening and thus Sam stood up and dealt decisively with his past, little doubting there will be more to come in season 7. In thrusting an angel blade into Castiel he proved his loyalty and love for his brother and Bobby, unlike Dean he isn't as emotionally attached to Castiel, so it probably helped that he harboured a deep resentment for what he saw as Castiel's betrayal.
I suppose I am writing this from the perspective of Castiel, simply because it is a perspective that is often addressed only in context of how it might affect Dean and Sam.
Castiel was brought into the show as simply one angel, the angel who managed to be the one that grasped Dean tight and ripped him from Perdition, yet he became so much more through fan reaction and because the writers and producers recognised Misha's talent. But he is part of the story now, a huge part of it. Allegedly he won't be a series regular in Season 7; he's hardly been that in Season 6, much to my disappointment. If this is what the writers meant as somebody dying and not coming back, then I guess they've killed Castiel good and proper and supplanted him as God – perhaps that is the death we are meant to mourn?