Quick Take: Supernatural: "Mommy Dearest"
Mommy is visiting and she's bringing gifts!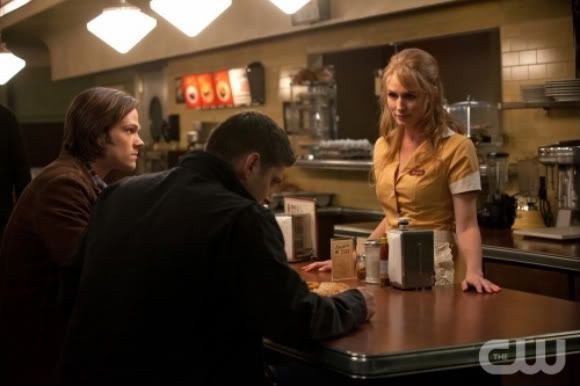 Review: Supernatural: "Mommy Dearest"
(S0619) Grants Pass, Oregon gets a visit from the mother of all, Eve, who's dropped by to make new friends in a very disturbing manner. We join Dean in Bobby's basement, making gunshot rounds out of the ashes of the Phoenix he killed in Frontierland, said to be the only thing to burn the mother of all. They are still unable to find Eve's location; cue a Castiel intervention and Lenore (good vampire) is dropped into their laps. She tells them that her nest has deserted her as constantly hearing Eve's voice in their heads had made them start drinking again. She tells them where to find Eve, but warns that she's a video camera and Eve will know they're coming.
Undaunted, Castiel teleports them all to the town, and as they make plans in a diner, Castiel discovers his Angelic powers have been unplugged. This revelation leads them to start digging about at a less accelerated pace without angelic powers at their disposal. They eventually discover some strange experimental hybrids have been created, stumbling across a blood bath at the local bar. Dean gets to name them, Jefferson Starships he decides, despite some dubious looks. As he's knelt down looking at another body, the local police bust in and arrest Sam, Bobby and Castiel cuffing them. At the police station, Sam sees the surveillance monitor and sees their captors have glowing eyes; he yells Jefferson Starships. Castiel is saved by Dean who followed them. At Sam's insistence they keep one alive to find out where Eve might be holed up. Whilst Bobby is interrogating their captive monster, a sound alerts the boys to possible trouble; they go to investigate and the boys discover a couple of young brothers gagged and tied in the jail cell. The youngest, Ryan, has apparently not spoken since their abduction. After testing them to check they're not monsters, Dean decides they will take them 15 miles outside town, to relatives for safety. Castiel's cautioning that they do not have time is ignored. Bobby is unable to get anything out of their prisoner; Castiel asks for five minutes alone with him, and emerging bloody, he has Eve's location. The boys return and Dean hands out the shotgun shells packed with the Phoenix ashes. They head to the location only to discover it was the diner they were in earlier. Sam is puzzled by Eve allowing them to walk out earlier. Dean instructs Bobby and Castiel to wait outside as back up, and the boys head inside.
They take their seats at the counter; Sam uses his cell camera to look at the other customers inside, and alerts Dean to the fact that they are the only humans in the diner. As they try to exit, Eve makes herself known and her minions close the blinds. She tells them that she is merely protecting her children from being tortured and offers the boys a deal. Dean and Sam both refuse, she changes her image to that of their mother, Mary Winchester, the one who died on the ceiling in Sam's nursery. Dean is furious and refuses to believe her. Eve tells the boys that Crowley is still alive and torturing her children and she wants to address that balance. It's about the souls; again, she tells Dean they have no choice, she also tells him her experiment has worked and reveals that the young child they took to safety is one of her children. Dean looks mortified, but still refuses, saying he may or may not have backup plan. Castiel and Bobby are marched in then to show there is no chance of backup, and their weapons have been taken. Eve tells Castiel he's powerless because she's older and knows what make Angels tick. She offers the boys the deal to help her and again Dean refuses, she tells them she'll simply turn them if they don't. Sam looks concerned; Dean is adamant once more and Eve is immediately behind him; he goads her and she sinks her teeth into his neck, with alarmed cries from both Sam and Castiel. She stumbles back; Dean reveals he drank some of the Phoenix ash with a shot of whiskey. Eve dies and Castiel's powers return, he kills all the starships and Dean confesses they have one more job to do. Castiel transports them to the relative's house to discover the uncle dead, and Dean groans that they killed the mother but lost anyway. Bobby discovers the bodies of the two boys upon opening a door to the basement. Dean asked who could have ganked the kids, Sam kneeling finds traces of sulphur. Eve must have been right, Crowley is alive. Castiel looks surprised and teleports off to investigate. Sam and Bobby both tell Dean they think Castiel doesn't make mistakes it is possible he knew that he didn't kill Crowley; Dean is not convinced.
The last scene sees Castiel at the diner looking down at the body of Eve, "Cas, how many times am I going to have to clean up your messes?" Crowley asks. End titles.
Supposition and revelations: Crowley is alive, apparently, and now Eve is dead, followed by the second bombshell (even if some had imagined this scenario) in which it appears that Castiel has fallen to new depths and in his desperation to stop Raphael obviously has taken a leaf out of the boy's book and is working with anyone that can help, even the King of Hell. How long they have been working together is unknown, was Castiel complicit somehow in dragging Sam out of hell and leaving his soul behind, and Samuel down from heaven in order to serve his and Crowley's end game? It's clear that Castiel's lieutenant was right to suspect that their leader had a dirty little secret.
Eve confirmed the souls are fuel, and that Crowley had lied about why he wanted into Purgatory, so again is this really Crowley or an impostor hiding in Crowley's skin?
Dean is in for a hell of a shock, as it seems his faith in Castiel will be shattered when he discovers the Angel has been lying to them. I would posit if much of the above does not pan out, it might be likely that given both Castiel and Crowley do not want the great plan of the apocalypse to happen, they have been working together for some time on and off to that end.
Or that this is not Crowley, or Castiel or vice versa – Castiel was acting strangely in this episode and one particular comment 'I am an Angel, I'll investigate' was curious. Is Crowley a fallen Angel or merely Balthazar using the disguise? So many possibilities, including, that Crowley was dead and as I've said they were using his image to hide the fact that it was Angels kidnapping and torturing Eve's children in order to gain the power from all of those mini nuclear reactors known as human souls, enough and you'd have the power of the Sun, said Eve, and imagine how powerful that would make Crowley.
I had wondered how Samuel knew the sigil to dispel Castiel in Caged Heat earlier in the season, since he had never encountered Angels before he met Castiel, or had he? Did he and Castiel play out a deception for the boys in Family Matters? The juicy story arc is exploding with a million questions and none of them will get answered until the season concludes and perhaps not even then. Why didn't Castiel kill Raphael for instance, in The French Mistake, he allowed him to go whilst claiming to have the power of the weapons. We know Castiel does not want to kill his brothers, but he has done so when pushed. Intrigued yet?