The Supernatural Comic-Con panel occurred on July 24, 2011 in San Diego, CA and as usual there were spoilers and teases to absorb and hash over. I don't think this year's Comic-Con birthed quite as many juicy spoilers as the 2010 edition but there's still a goodly batch of goodly bits to discuss.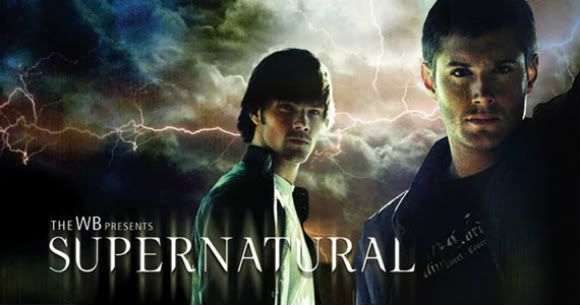 Season Seven is revving its engine up for an action-packed ride. Despite some naysayers I'm feeling very confident about the approach of this new season and what viewers will have in store as they join the Winchesters on yet another journey. Sera Gamble has said it's a little Butch Cassidy and the Sundance Kid (okay, I know how the movie ended, not well) but I think if we dissect the allusion it'll boil down to what we can expect of the brothers -- watching each other backs and being there for one another. In other words, comrades-in-arms. The boys have had some rough patches but are on track and not at odds, at least not like they were in Season Four and part of Five.
Questions abound about Castiel and his fate. When word that Misha Collins was no longer going to be a series regular you could sense the collective fandom uproar and hand wringing. Sera Gamble and Misha Collins were both evasive at Comic-Con about the long range fate of Castiel. I believe there will be some form of redemption for our trench-coated angel.
Supernatural Season Seven spoilers from Comic-Con:
Crowley will be back early in the season.
Jo Harvelle is going to return (my guess is for one episode) -- curious about the reason why, though. After all, she died back in season 5 with her mother Ellen. Her return could be handled in a multitude of ways: resurrection, spirit, boys visit Heaven, flashbac ... the choices are many.
Ben Edlund plans to direct again and has penned Episode Three, thus far.
Jared said he got chills and was genuinely scared when he read what happened to Sam in Hell. He also, said that Sam is having trouble now and again with understanding what reality he is in (sounds intriguing).
There will not be a white wash of the repercussions of the wall coming down in Sam's head. Great news!
The premiere episode will start where the finale left off.
Viewers will be treated to an extra episode this season -- instead of the standard 22 episodes Season Seven will have 23 to enjoy!
Castiel will do a lot of smiting.
Sera Gamble said the end of Season Seven will depend on if they are picked up for an eighth season (I have great hopes that they will)
Word is the new big bad of Season Seven will make itself known in Episode Two -- word is that it's not Castiel or Crowley, so, hmm...
Jewel Staites from Firefly will be in Episode Three, "The Girl Next Door," and this is the episode that Jensen Ackles directed.
Death the horseman will be back, too!
Current episode titles (subject to changes):
S0701 - Meet the New Boss
S0702 - Hello Cruel World
S0703 - The Girl Next Door
S0704 - Defending your Life
Comic-Con offered up a sneak peek clip of episode three directed by Jensen Ackles and look at the season six gag reel:
Season Seven Sneak Peek, "The Girl Next Door":
Comic-Con Preview Clip of Season Six gag reel:
There is a lot to look forward to in the up and coming season of Supernatural! The season debuts on the CW in its regular Friday time slot of 9pm (EST) on September 23.
Buckle up as we are surely in for a bumpy but oh so awesome ride!