As anticipation for Supernatural's Season Seven premiere on Friday, September 23rd (9pm on the CW) builds, I've become a bit reflective and maybe a little philosophical. I looked back over Seasons One to Six and spoilers for Season Seven and a question came to mind: what makes me watch?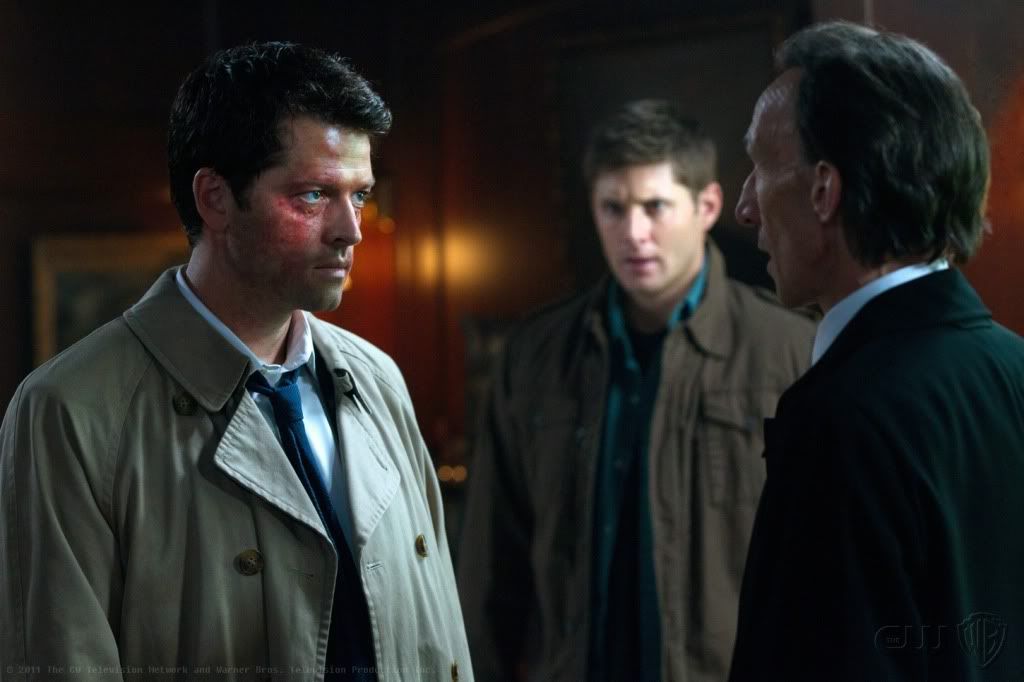 When the show first arrived in September 2005, I watched a promo of it on the then WB network, now the CW. The promo showed many fast-moving images with some voice over. The music played during one of the original promos was the Dave Matthew Band's song, "Out of my Hands," and its haunting instrumentation and subtle vocals helped to pull me in. Of course, the young men slated to play Supernatural's leads weren't exactly hard on the eyes as well. So I marked a reminder to watch the pilot on my calendar and here I am getting ready for Season Seven all of these years and seasons later.
I was hooked from the first episode and have never looked back. I didn't care about the monster of the week aspect. Sure, it keeps you entertained but it isn't the critical thing that compels me to watch. I watch for the same reasons I'm sure every other Supernatural viewer/fan watches: the brothers, and the relationship of the characters Sam and Dean Winchester as portrayed by actors Jared Padalecki and Jensen Ackles. I was stunned by the chemistry of the actors and how believable they were as brothers. By the end of the pilot we were invested in these brothers and we have laughed, cried, and grieved with them, even raging by their sides as well.
Now, I'm not so completely off in the Land of Nod to say I have loved every arc twist and story line the writers have created in the Winchester world, but I look at this like a relationship -- even the best of them have rough spots now and again and you ride it out and see them through.
I feel in a way both lucky and privileged to watch this show: lucky because I turned the TV on that day and saw a promo that made me at least think, "I'll give it a shot," and privileged because there has never been any one singular television viewing experience that I have had where two actors can so eloquently portray the architecture of brotherhood so realistically that at times I'm not viewing but experiencing from a sort of fly on the wall perspective. I have loaned out DVDs more times than I can count and anyone that I can get to watch Season One becomes hooked as each box set becomes TV crack.
It has always been the little show that could and it keeps going and going. Yes, I know that one day Supernatural will have its series finale season and for me and many other fans of this show, it's a realistic event that will happen one day but of course it's a bitter pill as well. The idea that the credits will roll and the screen will fade, and this "parting is such sweet sorrow" moment will happen is hard to take, like it relates in a way to ending a relationship where both parties are still in love and neither knows why they are parting but you do and it's over.
I strongly feel that Supernatural has a lot of fertile ground yet to sow but eventually ground plowed for too long must be allowed to become fallow. I think the show has the potential to go the distance that Smallville did before retiring, which would be ten seasons. The possibility is there but whether the show is given that opportunity remains to be seen. We have seen demons, ghosts, creatures, angels, heaven, hell, and even the apocalypse in the course of this show. There have been many supporting characters; some remain and some have been lost but all have become a part of the tapestry that is Supernatural.
For example, Jim Beaver has portrayed the salvage yard owner/hunter since the tail end of Season One and after the death of the boy's father at the start of Season Two has stepped into the role of a surrogate father for them. He has made Bobby his own and has been able to capture the heart of many Supernatural viewers. Simply put he is a character that we have become invested in as he has touched us and made us think and feel.
There have been many losses endured in the course of the series and none have been better executed than the death scene of Ellen and Jo Harvelle. Samantha Ferris, who played Ellen, conveyed her character's anguish, loss, and anger so well that it was visceral. Alona Tal (Jo) did an excellent job of conveying her own version of "rage against the dying of the light" and she made us think and feel and even ache. She made us ask ourselves, "what would we do?"
One character that we can't forget was the addition of the angel Castiel in Season Four, played by Misha Collins. He created a character that at first we weren't sure of but quickly he's found acceptance in the Supernatural fandom. The character has been through many changes over the course of the series since his intro in Season Four. We were left last season with many questions, worries, and at times we yelled at the screen while pulling our hair. After all, what do you do when a beloved character takes in all the souls of purgatory in order to win the civil war in heaven, only to be apparently corrupted by the immense power that now resides in him. He states he is "no longer an angel," leveling a look says "I'm your new God ..." The fate of Castiel remains in question but one thing that isn't in question is that this character is forever a part of the Supernatural family tree.
So, why do we watch? We watch because we can look at every flaw of this show throughout six seasons and see beyond them to the perfection that lies in the characters, and not the at times convoluted story lines.
I am grounded in the Winchester brothers and their journey. For fans who have stayed the course for the entire six seasons, we share that common bond, a familial one. Sam Winchester's voiceover in a promo for Season One said, "...This journey is our burden, our destiny..." well, for we fans, I say this journey has been our privilege and our shared destiny.
Now, buckle up for the ride of Season Seven and begin the countdown to September 23rd as the next chapter in the Winchester's journey begins.