They say quality is always preferred over quantity, but when we're talking about tribal councils, the more the merrier! Though not equally exciting, you gotta love when nearly 30 minutes of a Survivor episode takes place at tribal council.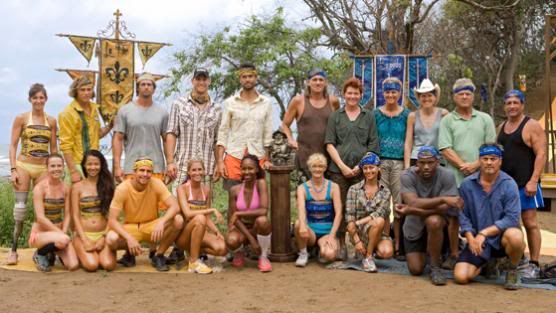 But this week's double-elimination episode was a tale of two tribes. Theoretically, lets look at what these eliminations mean to each camp. At Espada, the exit of Yve seems to put a target squarely on Dan moving forward, but does it really mean he'll be next to go? He's been talked about and targeted since the very beginning, but continues to be seen as neither a threat physically nor strategically. It's a long-shot, especially after bragging about his wealth this week, but I see Dan slipping deeper and deeper into the game. So if not Dan then who? Chase revealing his closeness to NaOnka, and Holly's willingness to vote with whomever leaves Alina the most vulnerable I'd say. Benry is just too good at challenges, and until the merge I don't see them getting rid of him.
Speaking of a merge, the double-elimination leaves us with 13 players left in the game. If we assume another "Final Three" instead of two, you would think there would be seven, or nine jury members. Although in the past a merge doesn't mean automatic jury member, you've got to think that we've only got one or two more episodes until we see one assimilated tribe.
The dynamics over at La Flor are much more interesting. It's a pure joy to watch players like Marty and Brenda go head-to-head, but it appears that Brenda is in a much better position. Even with the idol in his possession, Marty seems the type of player destined to do well in Survivor, but unable to ever win. Much like Russell Hantz (not as villainous... maybe think of him as Russell-lite), Marty is good enough strategically to go far, but I don't see him being likable enough to receive winning votes in the end.
But beyond the Marty/Brenda battle, you still have Jill tucked under the shadow of Marty. Not that she's his puppet, just that all attention is on him first. Sash is emerging as a powerful strategic player, and the team of him and Brenda is a strong one, no doubt. I love that Jud is playing the game, without a clue as to how it's played. His unpredictability makes him interesting to watch week in and week out. And then there's Jane, the fiesty country gal who has won favor amongst her younger tribemates the old fashion way, not by strategizing or making deals, but by working hard around camp and pitching in Remember those days of Survivor when participating around camp was reason enough to keep you around?
With Marty in possession of the idol, he will still need to benefit from a few strokes of good luck along the way, with Brenda gunning for him. Who knows where Kelly Purple fits into all this as she clearly has done something to piss off producers to get this little of air time. Could she just be that uninteresting? I don't believe so. We'll see how she plays into the numbers, if at all, moving forward.
After all the intensity and stress of this week's episode, next week looks to have signs of relief... just not the kind you want. Jud is seen relieving himself in the water in what appears to be the middle of a challenge. Boy, can't wait for that.
Looking for a full recap of the episode? Check out my Survivor Examiner Recap here.