Due to the Thanksgiving holiday, last week treated us to a recap episode of Survivor and not a continuation of the game itself.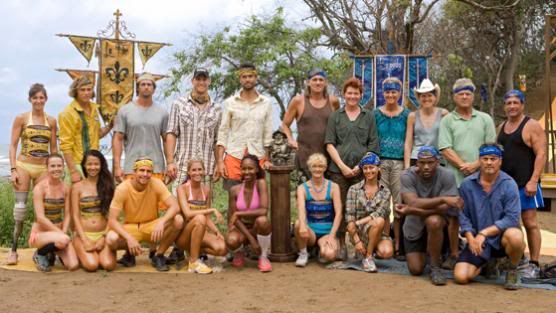 I guess it was better than having nothing at all, but the recap didn't really reveal anything we didn't already know. We get it, people were ticked at NaOnka for stealing flour. Fabio is incredibly dim-witted, or at least is being portrayed as such. A scene where he rubs hot peppers into his eyes and all over his hands is followed by a shot of him urinating, implying that hot peppers on the you-know-what... We get it, Survivor producers, this guy is the stereotypical surfer dude, and although mildly amusing to see him continue to hurt himself, it really wears thin after a while.
But hot peppers aside, there were still some interesting happenings in the world of Survivor over the past week:
Check out the Survivor Examiner full episode recap of the recap episode. Here's one such revelation from the episode: "Sash has made end-game deals with pretty much every player. We know this is risky business, but as he says, 'there's a big difference between telling someone you'll take them to the end, and promising it.' My question...will the jury members see a difference?"
Former Survivor Rob Cesternino was busy this off-week, with two editions of his "Rob Has a Podcast." The first featured an interview with... me! Tom Santilli, Survivor Examiner and TV Geek Army contributor, at your service. The first hour is spent talking with Gordon Holmes, who is the founder of the Survivor Hall of Fame...They are currently taking votes to see who the first five inductees should be. Who would be on your "Survivor Mt. Rushmore?" The last half-hour featured Rob and his wife Nicole's interview with me, as we discuss the current season of Survivor. His other podcast this week featured Dr. Jill, voted off earlier this season. Check it out, I even put a plug in for TV Geek Army!
PopWatch: Jeff Probst didn't have much to say in his blog this past week, but he did give some hints as to tonight's upcoming episode: "We're back with a regular episode next week and I must tell you… it is one of my favorite episodes of the entire season! From start to finish I think it is really top notch! Here's a clue: I think a lot of you are going to be really thrilled by the episode."
As mentioned, tonight's episode is brand-spankin' new, but features an odd preview. Here's the CBS write-up of the episode entitiled, "You Started, You're Finishing": "The castaways emotions run high as the elements start to set in; a castaway's selfish act cause disappointment for an alliance member; another tribe member shares some wise motherly advice to toughen up a young castaway."
For more in-depth analysis of what this might mean, check out my full episode preview. And be sure to visit FanCast.com to vote for your Survivor Hall of Fame inductees! Of course and as always, check back here tomorrow for more Survivor analysis and full episode recap.