Quick Take: Survivor: Nicaragua, "Running the Camp"
"I'm not perfect, I'm a humanitarian!" - NaOnka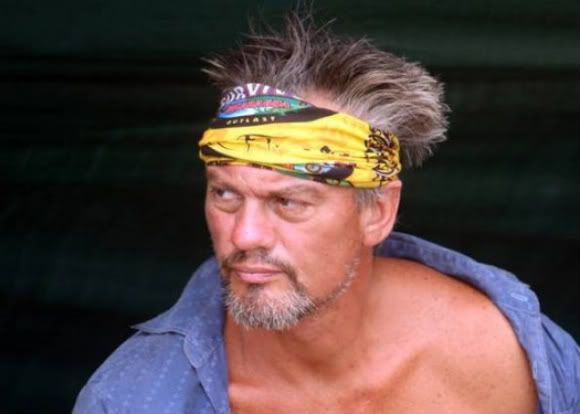 Review: Survivor: Nicaragua, "Running the Camp"
(S2109) Whew. When we start to rank this season of Survivor at the end of the year, it won't likely be near the top. There just aren't enough likable characters or unpredictable events to make it a great season. But I have to give this group credit where it's due: they consistently make for entertaining tribal councils. These folks are not afraid to speak their minds. More on that in a bit.
As the show opens with our castaways returning from voting out Alina, Jane is continuing her unbridled rage against Marty, whom she has now nicknamed "Farty." Very creative wordplay there, Jane, but we all know that NaOnka might fit the title better. She continues later that "I'd like to take him to the woodshed and whip his ass." Good ol' boy Chase is also firmly on Team Jane, but Marty feels like his position is improving, and begins discussing a plan to flush NaOnka's idol and vote out Jane.
We head to the first reward challenge, which puts the Survivors into two random teams who will compete for a zip line ride and barbecue. By some random chance (supposedly), it ends up being men versus women. Chase is the odd man out, which means he gets to pick a horse to back. He picks the women, which I actually thought was probably a good move since Dashing Dan was on the men's team. Surprisingly, Dan was more adept than Jane at dragging his body through the hay stack, bamboo, and brick wall barriers that comprised this challenge. Really, the women never had much of a chance due to their smaller mass. The men win, and Jeff offers them the option to trade places and let one of the ladies go. Being the gentlemen that they are, no one takes him up on this offer, so Chase and the girls head back to camp. Purple Kelly is sad. Purple Kelly appearance!
The men enjoy their jungle zip line. Well, everyone but Dan, who rides with a grimace that tells me the harness must have been giving him a major wedgie. He explains, "There aren't any zip lines in Brooklyn. If there are you're a burglar." Be sure to check out Dan's upcoming stand-up act, "You Might Be a Burglar If…"
As they enjoy their meal, Marty gets to further discuss his plan, which will be to make NaOnka think she's going, but actually send home Jane. The guys all seem on board, except for Sash, who is ambivalent until he can talk to Brenda. Back at camp, the women and Chase are intent on voting out Marty, except for Brenda, who is ambivalent until she can talk to Sash.
The immunity challenge this week is a simple memory game. Jeff reads a list of items, and the players need to remember them in order. Playing at home, I found this remarkably easy. A basic mnemonic device (just remember the first letters!) makes it pretty simple, but the players dropped remarkably quickly. It came down to Marty and Brenda at the end, when Marty slipped up and a confident Brenda took individual immunity. So close, Marty! So close.
It's strategy time at camp, and it's clearly a game of Marty versus Jane, with a diversion of NaOnka. Sash and Brenda are the swing votes here, and they're not sure what to do. Keeping Marty around might benefit them because he tells them everything, they say. The editing leads us to believe they're leaning toward following Marty's plan and voting out Jane, so you know that the opposite is probably going to happen.
As I mentioned earlier, these guys almost always bring the heat at tribal. This time it was NaOnka going off the rails again, exasperated that people were still bringing up her food stealing antics. "I'm not perfect, I'm a humanitarian, I'm a human," she explained, forever altering the meaning of "humanitarian." She sounded off on Marty and on Fabio, and insists that "I'm not putting on a show, this is who I am!" Jeff is left speechless. The vote happens, and NaOnka is not swayed to play her idol. If last season was all about playing hidden immunity idols, this season is about holding on to them. These people have guts.
Anyway, Sash and Brenda decided to vote out Marty, so his good luck finally runs out. I have to say, I'm kind of disappointed. I was firmly on Team Marty here, if only because Jane had such a wild, self-righteous personal hatred of him simply because he refused to align with her. "You are a disgrace to every man who calls himself a father," she says when casting her vote. That's absurd, and I kind of hope she goes next.
A few other thoughts:
Next week's preview shows the Survivors acting stunned and horrified by something at camp. What is it? Did someone die? Did their camp burn down? Did someone poop in the food?
Fabio, while strategizing with Benry, says, "I'm tired of playing stupid!" I don't think he's faking his personality by any means, but the guy is playing the game well, and at this point he might be the most likable person left. I'll be rooting for him.
Brenda is annoyed by Chase's constant paranoia. I'm annoyed by Chase's presence on the show. The guy is bland and pretentious. He's JT without any charm or personality.
Dan's name has not even been brought up as a target since the merge. This guy might just slide to the end.
What are your thoughts this week?