Quick Take: Survivor: Nicaragua, "What Goes Around, Comes Around"
"It could go down as one of the stupidest moves ever, or maybe not." - Marty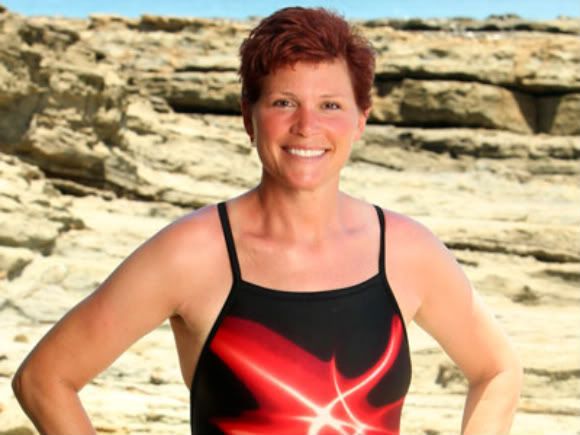 Review: Survivor: Nicaragua, "What Goes Around, Comes Around"
(S2107) I got an itch to write about Survivor, so I thought I'd give my take on tonight's episode. Our resident Survivor Pro Tom (see more coverage here) will still be here for the heavy duty analysis, so I'll try not to steal his thunder.
Because last week saw a double eviction, we get a double dose of nightvision reactions to open the episode. Espada voted off Yve over the physically immobile and mentally apathetic Dan. "It'll definitely be a hard pill to swallow if Dan costs us a challenge," Chase comments. I assumed this was foreshadowing. It wasn't.
Meanwhile on La Flor, Marty wonders why there were votes for him if they just wanted Kelly B. out. He has a point, as the tie vote was fairly pointless if they were going to vote out Kelly either way. Luckily, Marty was gutsy enough to not use his immunity idol, allowing him the opportunity to completely waste it this week.
The reward challenge was worthwhile for several reasons. We got to see Fabio proudly admit to urinating in the pool, just in time for his nemesis NaOnka to jump in. Jeff Probst was nice enough to take a poll of the other players to ensure that this is not standard practice. We also got to see Dan race down the platform with unprecedented grace and speed.
Most significantly, this challenge, which the Espada tribe ended up winning, resulted in what I believe is the first confessional of the season from Purple Kelly. Purple Kelly, the hottest and most colorfully nicknamed contestant of the season, has been virtually invisible so far, but tonight was her breakout episode. She is sad that they don't get to "milk their own milk," and is amused because she used "milk" as a noun and a verb in the same sentence. Oh, PK. She's the only Kelly left now, so the Purple moniker could probably be dropped, but there thankfully seem to be no plans to do so.
At the reward, Espada pretends that milking a cow is an interesting cultural experience, and eventually gets to the part of the reward where they can eat. Alina is so overwhelmed by the food that she starts crying. Well, that's a bit of an overreaction. Holly interprets this is a moving familial experience. NaOnka uses it to fuel her irrational hatred of Alina (with Kelly B. gone, she needs someone to hate).
Back at La Flor, Jane catches some fish, and takes a side trip into the woods to eat one for herself. She doesn't mind that the young kids nap all day, but she is going to reward herself for working. I like Jane. She's got great spunk, and she made the right move to jump ship to the young people. Good for her, eating her own fish.
For the immunity challenge, the producers recycle their three-tier, drainage pipe structure from the first episode. This time they are rolling balls down the structure instead of water, and are aiming the pipe at some tiles on the ground. La Flor surprisingly sits Sash out, and ends up getting easily dominated by Espada during the challenge. Aside from the first point, which La Flor scored, it was never close, but Purple Kelly sure didn't see it coming. "I really thought we had that," she says. She is really shining tonight. This challenge, on the other hand, was kind of a bore.
Then the strategy fun starts. The young kids plus Jane have a pretty solid plan to split votes again and ensure that Marty or Jill goes home, even if he plays the idol. Sash decides that they might as well see if they can get Marty to give him his immunity idol, under the promise that he will be safe. For someone to be a good player, you need to not just be able to make big moves, but also know when NOT to make a stupid move. This was a dumb move. If Marty plays the idol, he's safe for another round, and will likely make it to the merge, at which point me might have a chance to make some moves. If he gives the idol to Sash, he will maybe make it to the next round if Sash keeps his word, but then his enemy has the idol and is more powerful.
But that's what Marty does. He gives Sash the idol and takes his chances. Luckily for him, Sash keeps his word and La Flor votes out Jill, so for the second week in a row he gets away with a risky move. It does look like there will be a merge next week, but Marty is going to have a lot of work to do to climb out of the hole he's in.
I'm disappointed to see Jill go, but not too much. She seemed to have a good head for the game, but she was never going to be anything more than Marty's sidekick. It will be fun to kick things into the next gear with the merge next week.
This was an okay episode. There were some funny moments and a wild strategic move, which is all you can really ask for. A few quick hits:
Aside from relieving himself in the pool, this was a pretty intelligent showing for Fabio. He was the first person (on camera, at least) to articulate the vote-splitting strategy, and had no problem understanding Jeff's reference to Freud.
Speaking of, while discussing the idol he now possesses, Sash made a bit of a slip when he said "If I stop trusting them." He caught himself, and meant to say "If they stop trusting me," but the quote was there. I think Jeff and everyone overreacted a bit, but this could come into play a bit when they merge and the youngsters start dividing.
Where does Marty go after the merge? He should have Dan as an ally, for all the good he'll do, but outside of that it's going to be a struggle. He'll need to find the cracks in the young people and maybe join with Fabio and Alina to try and make some waves.
Be sure to check out Tom's take, and let us know what you think in the comments!