The idea of loyalty, and the gray area associated with defining it, ruled the day this past week on Survivor: South Pacific.
Hey, it beats gnawing on a barbecued pig.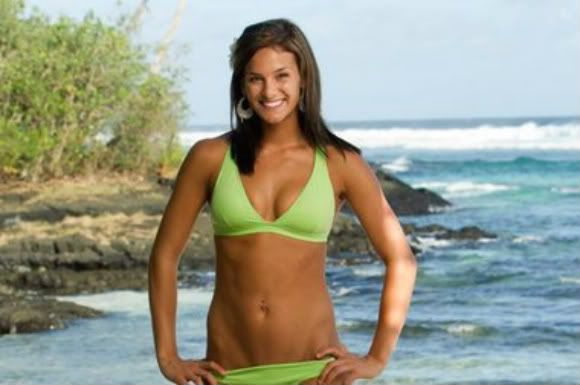 As we near the half-way point of Survivor's 23rd season, lines are beginning to be drawn and loyalties made more clear. On the one hand at Savaii, you have Ozzy, who felt betrayed and blindsided after Elyse was sent packing, calling himself a "free agent" who's loyalty can still be won by whomever would want it. Then at Upolu, there were layers upon layers of struggle. Coach, wondering if withholding info is the same as lying, calling it a "gray area." Brandon, who gave his word to his alliance, would rather stick to this word out of loyalty, than to consider that maybe his alliance has shifted it's thought. Albert and Sophie, left to wonder if Coach's decision to vote against them is a simple disagreement, or a fracture in their alliance moving forward. And poor Rick, who had barely spoken until this past episode, who got caught in the middle, had to put his foot down and fall on one side or the other. Black, or white.
Here's a collection of Survivor news and info that will get you up to speed, heading into what sounds like a major episode next week (more on that in a bit):
I think you know where I stand on that issue... but maybe next week's episode will help show that Survivor continues to be the best reality TV competition program ever.
What I'm referring to is quite the tease from Jeff Probst, who delivered this teaser on Wednesday night, regarding next week's episode: "One of the biggest moves in 23 seasons is made by one player. You can't even guess what it is. Couldn't guess if you tried." Now Probst has over-blown many a tease, but these are some big words!
Here's the official description of next week's episode, entitled "Trojan Horse": "A TRIBE IS IN SHOCK WHEN ONE OF THEIR OWN MAKES A RISKY PLAY THAT WILL GO DOWN IN SURVIVOR HISTORY, ON "SURVIVOR: SOUTH PACIFIC," WEDNESDAY, OCT. 26. One tribe calls upon the heavens in hopes of changing their luck, while the other tribe is left in shock when one of their own makes a risky move that will go down in Survivor history, on SURVIVOR: SOUTH PACIFIC, Wednesday, Oct. 26 (8:00-9:00 PM, ET/PT) on the CBS Television Network."
See you then! And follow me on Twitter, @tomsantilli!