How to describe Episode Five of Survivor: South Pacific in one word? How about "disgusting!" In two words? "frickin' disgusting!"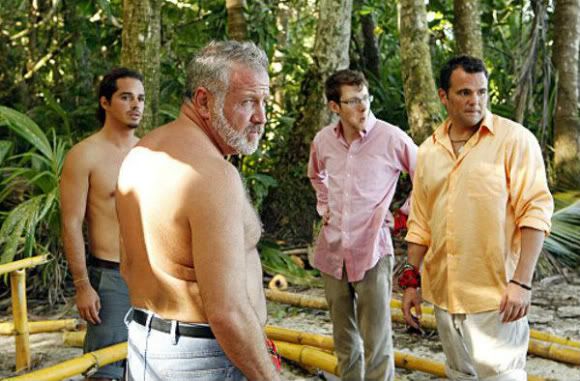 It was one of the more memorable if gut-wrenching competitions in quite a while, where our castaways bit, chewed, and spit pieces of pig into a basket, overshadowing the very notable developments that happened strategy-wise. Poker player and marijuana-dispensory-owning Jim seems to have the social awareness necessary to go far in this game, and he picked up right away on Ozzy's comments about Albert and Coach... that Ozzy would have voted off the stronger players before the merge. Warning! Jim and Keith are the strongest of Ozzy's tribe, are they going to be targeted then, if that's how Ozzy thinks?
This of course led to the first blindside of the season, but with each passing week we must be getting closer to the merge, and for a player to return to the game from Redemption Island. Either way, my thoughts are that I am liking this season overall thus far...what do you think?
Here's the round-up of relevant Survivor news and info this week:
Cueing it up for next week, we got a tease that Ozzy was not taking Elyse's blindside very well, calling himself a "free agent" moving forward. And thus, the title of next week's episode, "Free Agent", described by CBS as follows: "TENSIONS ARE HIGH AND ONE CASTAWAY REVEALS A POTENTIALLY GAME-CHANGING SECRET, ON "SURVIVOR: SOUTH PACIFIC," WEDNESDAY, OCT. 19. Feeling betrayed by their tribe, one castaway reveals a potentially game-changing secret, and appalled by the lack of loyalty within his tribe, another castaway threatens to leave the game. Meanwhile, on Redemption Island, Christine battles Elyse to try and win her fourth duel in a row and stay alive in the game, on SURVIVOR: SOUTH PACIFIC, Wednesday, Oct. 19 (8:00-9:00 PM, ET/PT) on the CBS Television Network.
See you then!