Let the debate begin! If you saw last week's episode, you know the question: Is Ozzy brilliant or just plain stupid for volunteering himself to go to Redemption Island?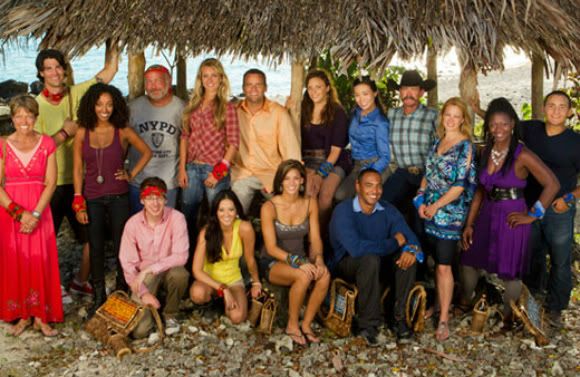 As you surf through this week's assortment of articles below, you will get varying opinions on the matter, but most people agree that Ozzy is foolish to volunteer for Redemption Island. The big problem with the whole theory is that they are concerned about having the numbers going into the merge. He also assumes he can win the challenge. In fact, Ozzy summed it up the best during the show, when before losing his mind, he said that sending Cochran to RI was a risk, but it would be an even bigger risk for him to go.
Although the move sure was big and memorable, perhaps being overlooked is the completely insane notion of giving Cochran his Idol "to hold" until he gets back. Probst confirmed this week that there is no rule stating that you can't have the Idol at RI, and nothing preventing you from giving it to a spectator if you were to lose the Duel. Ozzy giving away his Idol may end up being the bigger move than choosing to have his torch snuffed.
What I was hoping for? Ozzy could have made a brilliant... BRILLIANT! move, had he actually changed his mind when he jokingly told Cochran that he did. He had gotten the entire tribe to vote for him, and then had he played his Idol unexpectedly, Ozzy could choose who would leave. And if he would have chose Keith, he could have justified it by saying that they did the same thing to him, when they blindsided Elyse. An eye for an eye. Savaii would be pissed, but they would still need Ozzy for the numbers. Even if they plotted against Ozzy, if he really thought the merge was upcoming, he could have just jumped ship and truly been a free agent post-merge. Now that would have been the biggest move in Survivor history!
But I digress. Here's what you need to get caught up on from the previos week:
For next week, Probst teased via Tout, that you "ain't seen nothin' yet," if you thought last week's move was big.
Here's the official description of next week's episode, entitled "Double Agent": "WITH A POTENTIAL MERGE ON THE HORIZON, ONE TRIBE PUTS ON AN ELABORATE SHOW IN HOPES OF GAINING THE UPPER HAND ON THEIR COMPETITION, ON "SURVIVOR: SOUTH PACIFIC," WEDNESDAY, NOV. 2. With a potential merge on the horizon, one tribe puts on an elaborate show in hopes of gaining the upper hand on their competition, and an unlikely castaway holds all the power at a game-changing Tribal Council, on SURVIVOR: SOUTH PACIFIC, Wednesday, Nov. 2 (8:00-9:00 PM, ET/PT) on the CBS Television Network.
Unfortunately there will be no round-up next week, but check back in two weeks for all the latest in Survivor!
And follow me on Twitter while you're at it, @tomsantilli!