Quick Take: Terriers, "Hail Mary"
"Take care of yourself, Britt." - Hank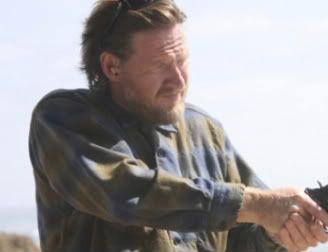 Review: Terriers, "Hail Mary"
(S0113) If "Hail Mary" turns out to be the very last Terriers episode (and by all accounts, this will be the case), then Ted Griffin and Shawn Ryan and Donal Logue and Michael Raymond-James and everyone involved with the show should be exceptionally proud of themselves. They put together what will be remembered in the future as one of the best one-and-done seasons of television in the history of the medium. Hyperbolic, maybe, but if you actually sat down and watched the whole season, you'd be hard pressed to come up with a reason to disagree with me.
There are so many things to like about Terriers. The acting was phenomenal throughout. In a year where Bryan Cranston won't be Emmy-eligible because Breaking Bad's next season starts too late in the calendar year, Logue should be the front-runner to take the trophy. He probably wont because equally great television actors like Jon Hamm, Kyle Chandler, Michael C. Hall, and Hugh Laurie will likely all be thought of as being more "due," but Logue's portrayal of Hank Dolworth trumps them all (well, I don't watch enough House to know if it's consistently better than Laurie's performance or not, but I'm guessing it is).
Raymond-James was also something of a revelation. As I said in a few earlier reviews, I always found him to be one of the bright spots of True Blood's shaky first season (well, they've all been shaky, but Season One was exceptionally shaky), but I never thought he was the phenomenal actor he turned out to be on Terriers. His reactions to the news that Katie cheated was damn near diabolical.
The rest of the supporting cast was always excellent too, with kudos especially needing to go out to Rockmond Dunbar and Laura Allen. I'd never seen Allen in anything before, so I'm not automatically shocked by how good she was, but Dunbar always struck me as being very herky-jerky in his line-delivery during his run on Prison Break's first season (the only one I watched). Just like Raymond-James, Dunbar emerged as something of a comeback player of the year. Maybe sometimes all it takes is spectacularly excellent material.
Speaking of that material, the writing on Terriers is damn near perfect. I never watched The Shield, but I'm going to be watching every show that Shawn Ryan is involved with from now on (including the upcoming and decent-looking The Chicago Code on FOX). Ditto if Ted Griffin decided to create another series. Ditto if staff writer Angela Kang staff writes for another show. There is going to be a pedigree that follows around these writers and producers and its a deservedly high one.
They put together a hell of a finale tonight, one full of both resolutions and unresolved conflicts, but with as satisfying of an ending as I could have hoped for. And on the very very very slim chance that Terriers is brought back (that last "very" is supposed to be a reverse jinx, by the way), there's still a lot of different directions the show can go during season two.
But let's finish up Season One first, shall we. Hank, fresh off his black market firearm purchase, begins to follow Zeitlin around, looking for a chance to take him out. But Zeitlin is too well secured and his power becomes even more known when Britt's nerd buddies find multiples listening devices in Hank's house and truck. Hank debates running away to Mexico, but Britt's looming assault charge makes that a dicey proposition. The cops might let Britt stay away down there for awhile, but they'll never forget.
Things become even more tangled when two illegal immigrants come forward and admit to shooting up the liquor store that led to the deaths of Jason and Laura's informant Melody. Not only that, they accuse Hank of masterminding the whole thing, supposedly because he was jealous of Jason. And coincidentally in the worst way imaginable, all of Hank's investigation into Jason's past makes him look especially guilty.
It's not all bad news, though. For one, Laura isn't dead. She was able to hide from the gunmen at the liquor store and spent the last day or so hiding out at Steph's mental hospital as a voluntary patient. Also on the positive side of things, Britt is able to get some important information from Ashley, the Zeitlin employee he was forced to spy on last week. She remembers how six months prior, she was given the task of driving Zeitlin to a meeting with Robert Lindus and Zeitlin's boss. The one thing that really stood out from that meeting, though, was that Lindus brought a vaguely skanky-looking young assistant, whom our heroes realize was Eleanor Gozny, the subject of the duo's first case in episode one.
After Mark uses his police connections to let Hank go temporarily free and give him enough time to clear his name, Hank, Britt, and Laura meet with Eleanor who explains that Zeitlin's still-unnamed boss was (much like Hank) an old drinking buddy of her father, Mickey. Mickey had once told her that he had some incriminating information about Zeitlin's boss and Eleanor thinks this information would be in the lining of an old army jacket of Mickey's, a jacket that's in Hank's house. But since Hank is a fugitive of the law, Britt has to distract the police officers waiting outside before Hank can go in to inspect the jacket. And he does find...something. Unfortunately, Mr. Burke shows up, gun drawn. But Hank is just a step too quick and is able to strangle Burke to death before he can shoot.
With the incriminating evidence in hand, Hank and Britt ambush Zeitlin and force him into revealing the name of his boss: Tom Cutshaw, a super-rich investor also known for his philanthropy (such as the childrens' hospital he had built in Mexico). Cutshaw, played by Neil McDonough, is having dinner with his family at a swanky high-rise restaurant when Hank and Britt pull him out on to the balcony to talk. And Cutshaw is almost smooth enough to talk himself out of his misdeeds and put the blame for the murders or Mickey, Jason, and Melody solely on Zeitlin. But Hank knows the truth and has the most powerful card of all. He shows Cutshaw the photograph he pulled from Mickey's jacket and while we don't see it, Hank has a line that sheds a lot of light onto what the photograph shows: ""I see why you built a children's hospital down there."
Hank makes a deal with Cutshaw. The photograph stays hidden, but the airport that would demolish Ocean Beach stays unbuilt. Cutshaw accepts. But what he doesn't know is that Hank is still going after him. It may not be about Cutshaw's misdeeds all those years ago in Mexico with Mickey Gozny. It might be about something completely different. But, Hank's going to get him. Eventually. With both barrels.
Of course, there's still the little matter of Britt's prison sentence, which looks to have him locked up for at least a year, maybe two. Before he has to report, he makes his piece with Katie, vowing to love her baby as his own, but never wanting to know the real truth about the father. Hank gives him a ride to the prison and when he comes to a stop light, he let's Britt know he doesn't have to go through with it. Instead of driving straight to the prison, he could go left to Mexico. They'd have to give up their life in Ocean Beach, but Hank would do it for him. Hell, he'd fall off the wagon for Britt. And Britt jokes about it. And Hank jokes about it. But are they joking? The light turns green and the closing title card comes up and we hear the car drive off, but we don't know which way Hank went. And what should be the worst part of all might actually be the best: we'll probably never know.
Thanks for following Terriers with me over these past thirteen weeks. I hope it's been as fun to read as it has been to write. And that's the thing: it's been a blast to cover. Some shows make it difficult to stay entrenched enough into them to come up with something to write about each week. Terriers never had that problem. Its only problem is that this facet of its greatness looks to be over now too.
Lingering thoughts about "Hail Mary":
Hank offers to fall off the wagon with Britt, but Mark already has. Without mention, he smokes a cigarette on his deck with Hank early in the episode.
I hadn't realized the first time around that Eleanor Gozny was played by Rachel Miner, aka the former Mrs. Macaulay Culkin. Remember how the media made such a big deal about how she and Culkin married so young? Well she's 30 now. Doesn't that make you feel old?
If Terriers is, for the grace of God, renewed, I'm excited about the prospects of Cutshaw as a villain and Laura Ross as a new ally.
Laura Allen is undoubtedly beautiful, but she looked exceptionally stunning tonight.
Sorry NerdTrio, I never learned your names and now it's too late.
Man, was the scene where the cop pulls over with Hank in cuffs in the back seat suspenseful. And in true Terriers fashion, the scene concludes with some sharp, dry, hilarious humor.
Speaking of great scenes, it's hard not to be reminded of Spike Lee's 25th Hour during the final scene of the episode.
I loved how after Nerd #2 explained how you can detect listening devices by turning the radio to the classical music station (I didn't really get the specifics, but it doesn't matter), then everywhere the characters drove they had Vivaldi playing.
I also loved how Britt claimed to Ashley that he knew Robert Lindus "a little bit."
Hank is selling the house. He gives Gretchen first dibs, but she declines.
"You know Hitler was a painter." - Hank
"Looks like my fence is going to get painted another day." - Mark
"I can't trust someone who's capable of doing what you did." - Katie
"You know what they say the best thing about prison is? Ladies drink free." - Hank
"I go straight you go to prison. I go left, it's hola Mexico." - Hank