Quick Take: The Amazing Race, "Kindness of Strangers"
"I feel so Asian right now." - Cindy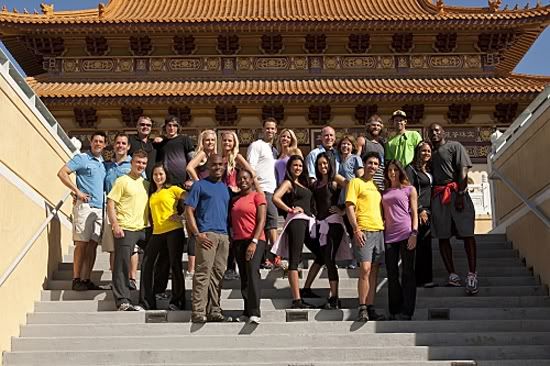 Review: The Amazing Race, "Kindness of Strangers"
(S1901) Hello Travelocity Roaming Gnome! Nice to see you again. Because when you begin dominating my primetime viewing schedule, I know it must mean another awesome season of the Amazing Race is here. Hooray! But before we dig in to the premiere let's get to know the teams.
Ethan Zohn and Jenna Morasca - Both Ethan and Jenna won their respective seasons of Survivor and have been dating for the past seven years.
Laurence and Zac Sunderland - This father and son made headlines when Zac became the youngest person ever to sail around the world solo.
Amani and Marcus Pollard - This married couple is hoping to keep a low profile. They don't want the other teams to know that Marcus used to play for the Indianapolis Colts. Shhh!
Andy Finch and Tommy Czeschin - These laidback snowboarders from California competed in the winter Olympics in 2002 and 2006.
Ernie Halvorsen and Cindy Chiang - This engaged couple from Chicago seem to work well together. Will the race strengthen their bond?
Justin and Jennifer Young - Siblings from Georgia who have already admitted to not getting along under pressure. Uh oh.
Jeremy Cline and Sandy Draghi - This dating couple from California have a pair of divorces between them. Will the Amazing Race tear them apart or is the third time the charm?
Kaylani Paliotta and Lisa Tilley - These former Vegas showgirls are out to show America that they're smarter than they look.
Bill and Cathi Alden - Married for forty years, these grandparents and farmers from Oregon have a strong work ethic on their side.
Ron Zeitz and Bill Smith - These domestic partners are also flight attendants, so their knowledge of airports should give them an edge.
Liz and Marie Canavan - Blond twins from Illinois. That's all I've got.
And they're off! But first the teams must present something to Phil in order to move forward. The task was simple enough. Really all the teams had to do was grab parasols with three letters on them (which filled in the gaps to another group of letters on display) and get the OK from Phil. Racers needed to find the combination T-A-I so that they could spell out Taipei, Taiwan, their first destination. The last team to compete the task was the self-proclaimed not-stupid former showgirls, Kaylani and Lisa. This wouldn't be their first blunder of the episode, but more on that in a minute. Phil warned the teams that the last group to complete this mission would endure a Hazard at some point during the first leg. Basically that's just an extra task that the team needs to complete before they can move on.
Already in last place and with extra work ahead of them, Kaylani and Lisa stopped at a gas station to ask for directions. As she was exiting the car Kaylani unknowingly dropped her passport....and then they drove away! Now if you've watched any previous seasons of the Amazing Race you know that losing your passport usually spells disaster. Before the girls reached the airport Kaylani noticed she was one travel document short and the girls turned around to check back at the gas station. The passport was nowhere in sight. Frazzled, the girls headed back toward the airport in the hopes that another team found the missing passport.
The girls got to the airport and asked the flight desk if anyone turned in a passport. The answer was no, and at this point I felt like I was about to witness one of the quickest eliminations ever. Then suddenly Kaylani heard her name over the PA. A young guy who was filling up his car at the gas station found her passport, tweeted out that he was just filmed on the Amazing Race and that he was now in possession of one racer's passport, and was then told to bring it to LAX. It was a social media miracle!
Once the teams arrived in Taipei, their first stop was to go downtown and look up for their next clue. This one was actually a bit tricky and required some help from the locals. But once the teams figured out their clue was flashing on a giant billboard they learned they were headed to the Taipei Confucius Temple. Well almost everyone. Bill and Cathi strolled around Taipei for over four hours trying to find the clue. It was actually kind of sad.
Over at the Confucius Temple teams had to listen to a proverb and then read it back from memory to the nice gentleman waiting to hand them their next clue. The only one to get it on the first try was Cathi, but by that time she and Bill were already in last place so it almost didn't seem to matter. Liz and Marie were the second to last to leave, (though I thought they'd never get it right) but not before Liz wondered aloud that she might be dyslexic.
From there teams had to join a dragon boat team and row across a river. Former showgirls Kaylani and Lisa sped through their Hazard (bungee jumping in a mall) and had rejoined the rest of the pack. But it was Cindy and Ernie who hit the mat first and earned the coveted Express Pass which lets them bypass any upcoming challenge and go straight to the pit stop. As the rest of the teams checked in, it was obvious that the grandparents were going to be last. But Phil had one more trick up his sleeve. This was a non-elimination leg and the Oregon farmers were still in it. However, next week marks the first ever double elimination, so Bill and Cathi really need to haul butt and pay attention to the upcoming clues.
This was a fine start to one of the best reality competition shows on TV. It wasn't as great as that episode a few years back with the cheese wheels, but I'm already rooting for a few of the teams (Go gay flight attendants and Team Snowboard!). While we've gotten our look at some whiny, annoying types (I'm talking to you both sets of siblings!), no real villains have emerged – yet. But if I could put my money on anyone, I'm going to go with Cindy. I just know there's a little saboteur behind that cute, perky demeanor.