Quick Take: The Americans, "COMINT"
It's all about the encryption codes.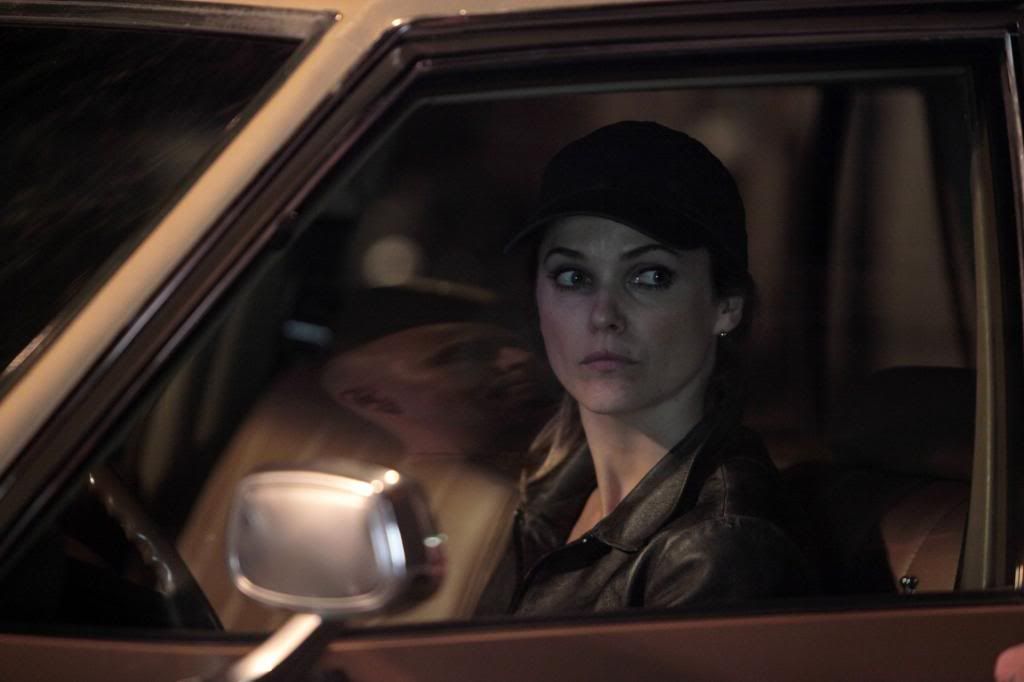 Review: The Americans, "COMINT"
(S0105) An underlying theme that was prevalent in this week's episode of The Americans is a woman's ability to use sex as a means for power. Elizabeth dons a wig and has sex with a man who will help her complete her mission this week and Nina uses it as her "in" with Vasili to get the information she needs for Agent Beeman.
The episode opens and Elizabeth is visiting a fellow spy, Udacha, in disguise to find out how he is holding up now that his wife of thirty-five years has died and he's all alone. She returns to Claudia to tell her that he's on the verge of snapping. She wants to befriend him but Claudia advises against it and tells her that her job is to obtain FBI encryption codes so they can once again communicate freely with one another and not worry that the FBI is trailing them.
Elizabeth meets with the man who created the encryption codes and after having sex with him and letting him whip her a few times he's very forthcoming as to where the encryption codes are… In FBI car trunks. When she returns home and Philip sees the belt marks on her back he goes into a bit of a rage. You can understand why he does, but, he seems to keep forgetting what their purpose is. Yes, they are a married couple but that comes second to them being spies.
After performing some clever acrobatic moves Elizabeth gets into the trunk of an FBI car and is able to make a mold of the encryption code. Unfortunately she doesn't get out in time and has to take a ride in the trunk. When she makes it out and meets up with Philip she tells him that he didn't have to wait for her but he softens her with coffee and a vanilla crème doughnut. He's so desperate to prove that he is a good husband that you almost feel sorry for him. His fantasy view of what their marriage is may make him slip up one day while Elizabeth remains stoic in her duties.
Agent Beeman's soft spot for Nina, his Russian informant, continues to grow. When he puts the pressure on her to get information he can actually use she takes that as him meaning to perform oral sex on her boss, Vasili, who is also a KGB Director. When she returns with the news that the KGB wants the encryption codes he questions her and asks her how she was able to obtain the information. She's very frank with how she was able to get it and in turn he's horrified but doesn't tell her to stop as her new position with her boss is getting him the information he so desires.
By the end of the episode Agent Beeman is learning Russian at his dining room table as opposed to spending quality time with his desperate wife who attempts to remind him of the good old days they used to have. What lengths will Beeman go to to protect Nina? He keeps promising her a better life when all is said and done but will he ever be able to deliver; especially now that the Russians know that there is a mole in their mix since the encryption codes were changed prior to Vasili meeting with Udacha. Nina's actions ultimately cost Udacha his life after Elizabeth puts a bullet in his head without flinching while Vasili took the FBI on a wild goose chase. It's only time before Vasili puts two and two together and realizes that there is something off with Nina. Last week he had her followed and this week she's making sexual advances at him and the KGB's plans are being exposed. If he totally misses the mark with her the writers are definitely pulling a one eighty when it comes to the level of intelligence they have shown the KGB to have thus far.
What I found interesting at the end of the episode – and it may mean nothing – was Claudia meeting with Philip to tell him of the possibility that there is a mole in their organization. Throughout the episode we only saw Claudia meeting with Elizabeth to discuss this week's mission but now she divulges this tidbit to him. Does she think that he could be the mole? And why was it that when Philip returns home and Elizabeth asks him what Claudia wanted he doesn't tell her.