Quick Take: The Americans, "Covert War"
We should always think before we jump.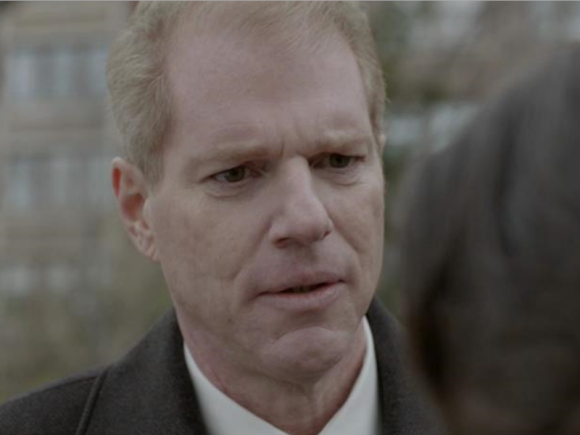 Review: The Americans, "Covert War"
(S0111) This week the women of The Americans took center stage in getting what they want. Elizabeth, Grannie, Martha, Nina, and even Beeman's wallflower wife Sandra had no plans of going quietly into that good night.
The relationship between Elizabeth and Grannie continues to be a complicated one, with Grannie continuously trying to outsmart Elizabeth, but Elizabeth being too swift for her. Elizabeth learns from Grannie that three KGB Generals were killed in Moscow, one of them being a General that Elizabeth was close with. She takes the news hard and while Grannie tells her than no action will be taken against him she does drop the name of the CIA member responsible for ordering the assassinations, Richard Patterson.
Elizabeth takes it upon herself then to track and kill him. After stalking him she learns that his moves are erratic and that his only weakness is women. She reports back to Philip and while he wasn't initially on board to help her he ultimately shows up to do so. Things are going well as she is able to lure him in to a bathroom bar to have sex with her but as she pulls out a syringe to inject him he fights back. He's no match for her though and Philip assists her with getting him out of the bathroom through a conveniently located window adjacent to an alley. Elizabeth has Patterson where she wants him. Blindfolded in a warehouse with a gun pointed to his head but she's unable to pull the trigger when he begins to talk and reason comes over her. Philip offers to finish the job but she says no and admits that her actions were out of control.
When Elizabeth later meets with Grannie she tells her that she didn't do as Grannie wanted, that Patterson was still alive. Grannie is a bit shocked and tells her that she wanted retribution for the General they both loved, but, Elizabeth isn't buying it. Elizabeth refuses to be anyone's pawn - that was the key word that Patterson used against her that made her see clearly. I am sure that she has a renewed focus as to what she must accomplish now.
Martha has definitely let Clark – Philip in disguise of course - know that she's in it for the long haul where their sham of a relationship is concerned. She invites him over under the pretense that there is some sort of emergency so that he can meet her parents. After spending a decent amount of time with them he excuses himself and leaves assuring Martha that it was okay and he didn't mind the surprise. How long can he keep this going? You can't help but feel sorry for Martha in a way. She's totally being played and taken advantage of and she has no inkling of it whatsoever. She's definitely wearing some sort of goggles I am just not sure which one those are yet. How can she be so gullible to believe Clark's story of his position within the government? Doesn't she have the ability to verify it with some snooping of her own?
And then there is Sandra and Nina - two women for one man, Beeman. Following a girls' night with Elizabeth that consisted of one too many Harvey Wallbanger's Sandra finally gets off the wall she's been leaning on for weeks and confronts her husband on the affair she is sure he's having. She tells him that she's essentially been spying on him by calling headquarters and learning that he leaves work hours earlier than when he finally arrives home. There's not much that Beeman can say in to response to that. Although he tries and all he sounds like is a blubbering mess. And what makes him this blubbering mess that isn't able to defend himself, his totally inappropriate affair with the woman who was only supposed to be his Russian informant, Nina. Nina has done well for herself -- she's now a Senior Lieutenant and is occupying the office that her superior once had before being shipped back to Russia with a little help from her and Beeman. In her new position she learns of the bug that Elizabeth and Philip put in Casper Weinberger's office earlier this season.
Her first assignment is to listen in on the tapes to learn what is being said about the assassination of the three KGB Generals in Russia. I am sure she will use those tapes to her own advantage to find out what happened to her dear friend Vladimir as Beeman continues to be evasive as to what really happened to him. When they meet at their safe spot she once again asks him and he continues to dance around the subject. When Beeman tells her that he has to end the sexual part of their relationship because his wife is aware of his transgressions she plays him so well. She tells him that all she has now is fear and him since she cannot return home to Russia. She begins to dress and he comes up behind her and she has a look on her face that lets it be known that her intentions are to take advantage of him. It's priceless. I wonder if she already knows the fate that Vladimir met at the hands of Beeman from listening to the tapes and she's now going to use it to her advantage against Beeman.
One other thing to note, there was a glimmer of hope for Elizabeth and Philip to rekindle their "marriage." Elizabeth goes to visit him to say thank-you for helping her with Patterson and there is a misunderstanding in their communication. Philip is packing to leave the hotel and Elizabeth thinks he's coming home to her and the kids and he tells her that he has rented an apartment. Her pride gets the best of her and she cannot just break down and tell him to come home. Don't they realize that they work better as a united team as opposed to team who lives separate personal lives?
Only one episode left until the season finale and I cannot wait to see what the cliffhanger will leave us guessing about until Season Two premieres.