Quick Take: The Americans, "Duty and Honor"
Relationships are tested.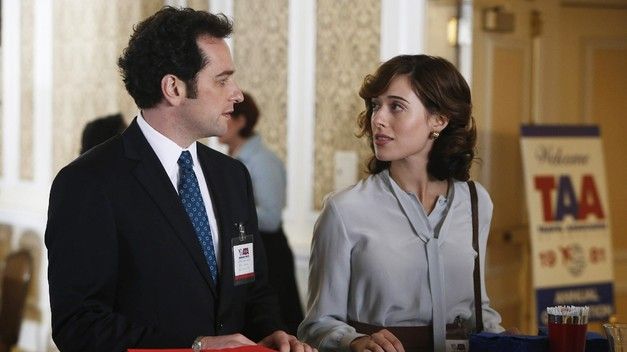 Review: The Americans, "Duty and Honor"
(S0107) While this week's episode of The Americans was lacking in action it more than made up for it by setting in motion the future dynamics of key relationships.
While Elizabeth and Philip are still dealing with trust issues stemming from their torture at the hands of their very own people – the KGB - he must go to New York City to bring down a Polish leader with the help of his former love – Irina - and another KGB operative.
For the first time we finally see a part of Philip's personal life that doesn't involve Elizabeth. It's obvious from the flashbacks that he deeply loved Irina but when he entered the academy to become a KGB officer their relationship ended. This is the first time in twenty years that they have seen each other and while Philip may still have lingering feelings for her it's Irina who still truly harbors the loss of her great love.
Following an elaborate scheme that brings down Andrzej Bielawski - in which Irina makes it seem like he beats and rapes her - she goes to see Philip and tells him that the son she has is in fact their son. He's taken aback by the information and following a late night phone call from Elizabeth in which she admits that she misses him and wants him to come home we see that Philip ends up in bed Irina. This phone call is the first time that I can recall we see vulnerability in Elizabeth. She doesn't want to need him, but, she cannot help it. She knows that he is essentially all she can truly depend on and trust in after what has happened to them. No need to worry though, Elizabeth hasn't gone soft, when she meets with Claudia who apologizes for torturing her and Philip all that Elizabeth is sorry for is not killing her.
Irina gets the wrong impression from her night with Philip. She asks him to run away with her and leave the KGB altogether and when he appears at the train station she believes that he will do so, but he tells her that he cannot leave his wife and children and his mission. He then questions her as to whether the boy is really his to which she replies that the only real things are duty and honor – hence the title of the episode and overall theme.
Philip returns home and we witness the most sentimental scene between him and Elizabeth thus far. She apologizes to him for blaming him for being tortured and tells him that she wants them to have a real relationship and while he doesn't know if it's possible he will try. And for the second time we see Elizabeth let down her guard and ask Philip what happened with Irina and while he could have been honest he chooses to spare her feelings and tells her that nothing happened. He goes even further and tells her that she has always been the one for him. He obviously cares for and understands her deeply as he isn't able to hurt her with the truth and he knows that if he did it could destroy her in a way since she has already suffered a blow in terms of trust with the KGB.
Meanwhile, Agent Beeman -- who was supposed to be having dinner with his family, Elizabeth, Paige and Henry - meets with Nina with the sole intent of acting on his feelings for her. After they sleep together she assures him that he need not worry, that she won't use their indiscretion as a means to manipulate him. He should know better though considering that she used sex as a means to get close to Vasili for information. Beeman ultimately goes to his superior to see if he can somehow get protection for Nina since he feels that she has fulfilled her obligations but his superior doesn't see it that way. It's obvious that he knows Beeman's intentions aren't entirely honorable and that something is going on between them. It will be interesting to see how this plays out, especially if Nina doesn't live up to her words.
I must say one thing I found humorous this week was Sandra – Agent Beeman's wife – telling Elizabeth that she was envious of her and Philip's relationship and how they work as a team. If she only knew the truth of what was behind that teamwork.