Quick Take: The Americans, "Only You"
Do svidaniya, Gregory.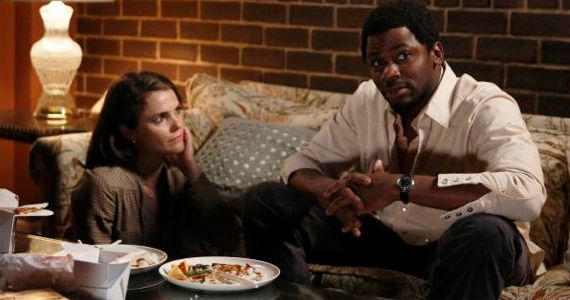 Review: The Americans, "Only You"
(S0110) The fallout from Amador's death took center stage this week on The Americans. We learn that a ring he always wore was not on him when his body was discovered. The FBI launches a massive search to locate it as they believe it will offer insight as to who is responsible for his death. Meanwhile, off camera Clark pays Martha a visit and learns of the missing ring, which we the viewer's learn when Philip goes to tell Elizabeth. She in turn reaches out to Gregory to give him a heads up as he was responsible for disposing of the car and body. I honestly thought from last week's episode that Philip and Elizabeth were responsible for dumping Amador's body. Since we haven't heard from Gregory for quite a few episodes I thought he was long gone, but, apparently not.
The FBI soon gets a hit on the ring from a pawn shop which leads them back to a salvage yard and a worker there who was a little reluctant to speak at first but soon enough is looking through mug shots to pick out the "drug dealer" who he normally takes cars from no questions asked. It should be noted that Amador's ring wasn't an oversight by anyone; Amador himself hid it in the trunk of the car in hopes that someone would find it when Philip (disguised as Clark) threw him in there last week. The so-called drug dealers are actually KGB operatives, more precisely Americans who were recruited by KGB officers and these specifically are part of Gregory's group.
Agent Beeman immediately recognizes the person the man picks out from the mug shots as being someone who foiled an earlier mission of the FBI's when they were trying to capture the wife of a dead KGB officer – Curtis. It's not long before Curtis is in custody and singing like a canary and giving up Gregory's name. I have to say that I love how everything is tied together. Nothing happens by chance with the writing for this show, every tidbit is put in for a reason and sooner or later it is touched on again. While a character may have made an appearance three or four episodes earlier his storyline doesn't end there and everything comes full circle.
While all this is happening Elizabeth reaches out to Gregory to forewarn him of what's going on. But, it's too little too late as Grannie (Claudia) tells Elizabeth and Philip that he must be moved to a safe house and ultimately shipped off to Moscow for their own and his own protection. Of course, his protection is the latter in the order of importance there. Grannie is concerned that Gregory might start singing as well and Elizabeth assures her that he would never do so as he has already made the greatest sacrifice possible - turning on his own country - whereas Philip isn't all that sure about Gregory's allegiance. Obviously this argument between Elizabeth and Philip is less to do with whether or not they trust Gregory and more so about the issues that continue to plague them and also Philip's recent discovery that Gregory played the third wheel in his marriage to Elizabeth for many years.
Moving Gregory to a safe house enables the KGB to enter his apartment and frame him for Amador's death. This happens off screen and we learn of it when Grannie tells Gregory his only option is to move to Moscow because they have already planted the evidence in his apartment that will implicate him. While she is telling him this tidbit of information the FBI is already searching his apartment and discovers the evidence. I was actually a little shocked by this though. I would think that the KGB would always protect their own but they were quick to put Gregory out to hang. Did they do so because they did not trust him and thought he could turn on them as he did on America? Or, were they thinking that they could force his arm into going to Moscow?
Either way, the plan was foiled. Gregory felt that he had completed his mission and while he pleaded to go to Los Angeles, even asking Elizabeth to run away with him, it wasn't to be. He wanted to go out on his own terms and was able to convince Elizabeth not to shoot him. I wonder if she would have been able to do so since he was her first recruit and she obviously loved him dearly. Elizabeth was then able to convince Philip not to shoot him either and just to let him go meet his fate - which he did during a shoot-out with the police. I think it's poignant to note that after Gregory's death we see that on Beeman's desk he has a picture of Gregory soon after being gunned down. Beeman obviously feels that he has scored some sort of victory but he is so clueless to what the truth is. The picture may also serve as some sort of reassurance to him that killing Vladimir last week was justified.
A few other tidbits about this episode worth mentioning… In the beginning of the episode Beeman pays Philip a visit at the motel he's staying at and is obviously drunk and torn up about Amador's murder. He gives few details to Philip but vows to find the men who did do it. If he only knew he was staring into the eye of the tiger. And while Beeman may be ruthless and harsh at times it's evident that his unjust killing of Vladimir last week is weighing heavy on him, especially if he has taken Nina's words to heart regarding him. When she pleads with him to find out what really happened she herself is also staring into the eye of the tiger. While Beeman and Philip are two men with two very different missions this week they were one in the same.