Quick Take: The Apprentice, "Welcome to the Club"
A rare non-live version of an Apprentice finale gets the live blogging treatment.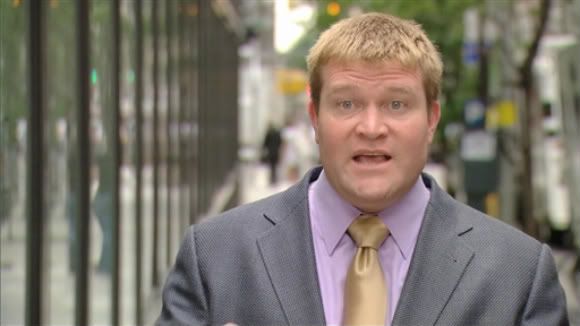 Review: The Apprentice, "Welcome to the Club"
(S1013) Welcome to a live blogging edition of The Apprentice season finale. And, well, not quite live blogging as I DVR'd the episode and I'm writing these words at 1:30 am PST, but there's enough fakery and editing "magic" on reality shows that I figure we're close enough for comfort. And I'd hope the late hour will make some allowance for a less formal run through of the antics and drama than I would normally craft for such an occasion.
So that's all to say that the following is my straight through take of the episode as I'm watching. I hope you'll enjoy.
In the opening montage/recap, we actually see finalist Clint drop a get 'er done! during an early episode. Brandy is his competitor of course here at the end. I have to say that this doesn't feel like the strongest pair of finalists that we've seen in The Apprentice history, but given the crop that competed this season it's hard to argue against Clint and Brandy as the final two.
The final competition began during last week's episode as is the typical case. Brandy is overseeing a VIP golf tournament while Clint is involved in a dinner for 500 people that includes a concert featuring Liza Minnelli. The big drama on Clint's side involves misspellings of Minnelli all over signage and place cards. On Brandy's side, there's not much to note going in, though it was interesting that Donald Trump requested that team member Liza join him to play golf during the tournament, thus pulling her away from the ability to actually work during the event.
Kathy Griffin "from TV" is supposed to entertain the golfers prior to the tourney but the timing or logistics get muffed up and Kathy stands before an audience of golf carts headed in the opposite direction. Brandy and Kathy don't get to take a mulligan (get it? Hey, it's late). And meanwhile, even with Liza out on the links with Trump, there was another mix up and a visibly annoyed Trump was left with a threesome playing against a standard foursome made up of pro athletes and media stars such as Jim McMahon and Joe Scarborough.
By contrast, Clint seems on top of the planning the dinner and concert, aided by Steuart who has a background in catering large events. However, Ivanka Trump sniffs out Steuart's heavy involvement and wonders if Clint is acting as a delegator more than a leader (which could in theory cause him to win the "battle" of the finale but lose the "war" of the overall Apprentice competition, which typically simply boils down to who The Don simply likes better anyway).
The lack of a live finale (I'm guessing at this point?) takes away a lot of the drama and intensity of a typical Apprentice finale, I have to say. Even though it also causes a lot of bloat and unneeded pomp and circumstance, this episode is proving to be less interesting than a typical mid-season one, where at least you get a nice amount of in-fighting, meltdowns, and backstabbing and such. Also noteworthy is that the typical bitter team member –something Kathy Griffin joked about last week – who is there mostly to whine and to sabotage the finalist is lacking this season. Therefore, when Brandy's event and ended and transitioned into Clint's I was kind thinking, "So that's it?"
Lisa Minnelli sounds pretty terrific during warm ups and can still clearly do her thing, right? Remarkable, given her age and the issues she's had. She won my heart, as an aside, with her amazingly daffy and hilarious run on Arrested Development several years back.
Clint hands the microphone over to Trump, who then introduces Griffin (who is, after all, part of the NBC Universal family with her Bravo show My Life on the D List). "I'm sure she'll make fun of my hair and all that crap," The Don riffs. Oh, he's such a cut up, ain't he?
Liza's decision to make $300 sets of golf clubs as part of the awards given out to the rich and famous in the crowd could come back to bite Team Clint. Griffin even immediately hones in on that bit and deadpans that "it'll feel like $4,000 out on the links."
Finally, we get to the boardroom. Trump deems that Mahsa and Anand are "redeemed" for controversies that went down during the season.
Trump threatens to fire Liza twice for her decision to get the cheapo golf clubs as awards at the event.
Ivanka to Clint: "You really milked the y'all thing." Father and daughter Trump feel that the y'all factor was a bit much.
Clint is called out for being "desperate" and "pathetic" for hanging out on the golf course during Brandy's event instead of tending to his own event's needs. The hyper aggressive Stephanie turns her guns on Clint and goes to bat for her girl Brandy. Mahsa has been notably toned down during the finals, and calmly defends Clint.
And now, it's time to pick The Apprentice. Trump congratulates them both and does the typical "why should I pick you?" bit. And we get the final confirmation, by the way, that there will be no live final segment (I think this is the first time in Apprentice history without a live finale?).
Trump spends a few minutes giving what I would consider to be incredibly generic compliments to both Clint and Brandy ("you're terrific, you're great," etc.) and then with very little fanfare or actual explanation chooses Brandy as The Apprentice.
Donald then sends them both out the room and that's that. At least Brandy is shown celebrating with the teammates of the finalists, otherwise it would have been an extremely abrupt and oddball ending to the season.
Also noteworthy: Trump has run out of properties for his Apprentices to run as we don't have any idea what Brandy will actually be doing within the Trump organization, though Brandy did mention that she would like to work alongside Don Jr. or Ivanka, the "next generation."