Quick Take: The Bachelorette (Ashley Hebert), "Week 1"
"If you can't take the heat, you gotta get out of the oven." – potential suitor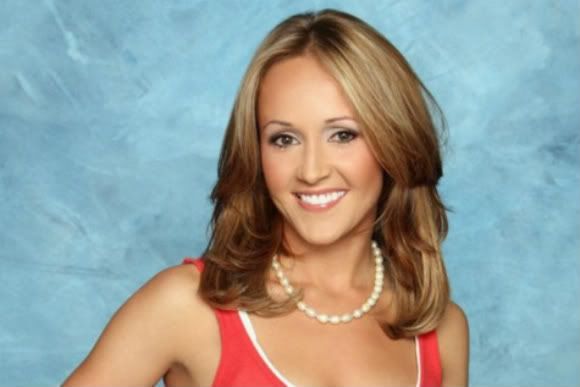 Review: The Bachelorette (Ashley Hebert), "Week 1"
(S0701) I have to admit I was a little skeptical about watching this season of The Bachelorette because I was never sold on Ashley H. as the Bachelorette, but who am I kidding? When the first guy got out of the limo I got sucked into the drama and the cheesiness that is the Bachelor/Bachelorette franchise. Like Ashley, I am ready for this journey!
The episode started off reminding us of Ashley's time on the Bachelor last season with Brad Womack. She was too scared and kept questioning his feelings so she ended up going home right before the finale. She is back now of course, more confident and ready to take this ride again.
We get a glimpse of some of her suitors: Ryan P is the head of his own solar power company, JP works in construction in New York and is tired of the NY dating scene, Ames likes to run marathons and went to Yale, Ben gives himself a 15 on the scale of being romantic and I give him a 15 on the scale of cheese, Benjamin is a winemaker from Sonoma, Bentley is a single father and wants the Bachelorette to be Emily and Anthony is a butcher from New Jersey that looks like he could be on the Sopranos. This is just a taste of what is to come!
Before the limo time is here, Chris Harrison talks to Ashley where she admits that someone has already warned her about a guy named Bentley and how he is only there to promote his business but of course she wants to give him a chance. She is worried though that the guys won't like the fact that she is the Bachelorette, meaning I don't think she was the producer's first choice (I believe Chantal O. was).
I won't do a rundown of every guy, but after her meet all of them the ones that stood out to me were William, Ames, West, Ryan M., JP, Blake and Ryan P. Some of the men do interesting things in the hope of her remembering them. Ben (the cheesy guy) speaks French to her when he introduces himself, Jeff wears a mask to show that looks aren't everything, Nick reads her a poem and Constantine ties floss around her finger so she remembers to talk to him inside the house. One guy, who I could not remember his name, was pretending to play the guitar to get her attention, but threw it in the pool right after they sit down to talk. He indeed did not know how to play the guitar, he only wanted to get the attention. Well played, but alas the guy did not get a rose.
Ashley gets to talk to Bentley and it seems that the red flag goes down after being charmed by him. I deem him as this season's Wes after telling the camera that he is not overly attracted to Ashley. The masked man Jeff tells Ashley that he wants to make an impression with his personality, but for me it is kind of creepy. Ryan P gets the first impression rose because he has the qualities that Ashley is looking for and this makes all the men jealous.
Overall, the night wasn't too full of drama except for Tim from New York, who gets completely hammered. I kind of did feel bad for the guy because he probably drank out of nervousness, but then again it isn't really giving off good vibe. He ends up in a chair, snoring, but Ashley is smart and sends him home right away. This is serious people! Getting wasted on the first night is not a good sign and will win you a one way ticket out of Bachelorette town.
In the end the roses go to Ryan P (first impression rose), Jeff (masked man), Constantine (floss guy), Ben F (winemaker), Lucas, Stephen (has nice hair), Matt, Nick (poem guy), Chris D, Ryan M, Blake, Mickey, Ben C, West, William, JP, Ames and Bentley. It is funny watching the goodbyes of the guys who didn't get roses because they are just as bad as the women. They have teary regrets and ultimately question what the hell is wrong with them. I just want to tell them that everything is going to be alright!
After watching the preview of the season, with trips to Hong Kong, Fiji, Thailand and Taiwan on the horizon, this might be an entertaining season. I think I will have to give it a couple more episodes though to really decide.