Quick Take: The Biggest Loser 13, "Week 3"
"Joe can't handle this but you can." – Bob to Cassandra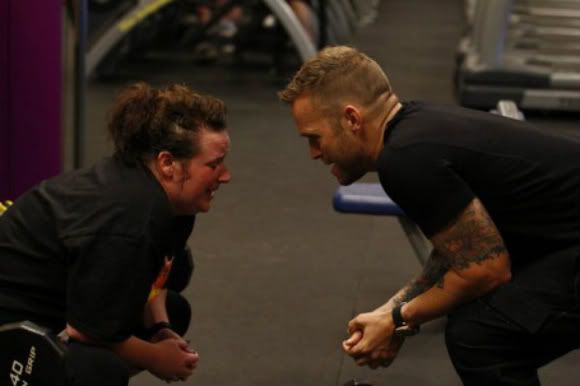 Review: The Biggest Loser 13, "Week 3"
(S1301) After Joe decided to quit and everyone else left at the ranch sort of rallied around the fact that they remained to get their bodies and lives in shape – red and black team both – it reminded me of when I was a sleep away camp counselor many years ago.
I had gone to some day camps as a kid, but was (and am) nothing close to an outdoorsman, and here I was as a college student expected to know what I was doing as a first time camp counselor. It's important to note too that I had never been to this particular camp before so I didn't know anyone.
The first few days were just for counselors to get oriented and such. When I arrived, I realized that many of the counselors knew each other for many years, and indeed had formed lifelong friendships based on attending that very camp since they were in short pants, as Junior Soprano might say.
On that first night, I tried to fall asleep in a bunk in a camp tent while most of the other counselors continued to carouse and catch up with one another. I was lonely and homesick already (much like a kid off to sleep away for the first time, I suppose!) and recall thinking about ditching out right there on the spot. I thought about what it would take to awkwardly gather my gear, slip out of the tent, and make my way through unfamiliar terrain in the dark, hop in my beat up station wagon, and high tail it back home.
I didn't leave; I stayed. And while it was not easy at first, I wound up having a remarkable and rewarding experience (and even formed many great friendships, many of which with British counselors who were also first timers).
I mention all of this because there was one guy who did leave that first night. I don't remember his name, but let's call him Matt. For the entire summer, Matt became the butt of a string of running jokes – everyone here? Yeah, everyone but Matt; we're heading out into the woods on a search and rescue for Matt, that kind of thing.
That poor [expletive] Matt, again as good old Uncle June would put it, became a rallying cry for everyone who stayed, new and old hands at that camp alike.
Joe's leaving The Biggest Loser ranch felt a little bit like that to me. And while it's not entirely fair, perhaps, having a rallying cry kind of works. Maybe it's the clannish nature of humans or whatever, but if there's any group that needs motivation, it's people trying to lose a tremendous amount of weight while competing on national television.
The timing of Joe's departure actually screwed the black team because it was during "faceoff week," where one-on-one weight loss contests were set up between black and red team members (based on the outcome of an early challenge involving Chinese food that's not worth getting into). Therefore, Team Black went into the week knowing it was seeding a point to red.
Beyond the Joe situation, there was not a lot to latch onto this week, save perhaps for an ongoing squabble between Cassandra and Conda that involved accusations of cheating and various smack talk (by episode's end, at least, Cassandra was clearly the victor on multiple fronts, including on the scale).
Despite the one-point deficit, black team won the weigh in nonetheless. At the elimination vote, the tally was split among several read team members, which is somewhat unusual. Lauren got sent home – I quite frankly couldn't recall her being on camera very much through the season's first three weeks.
And on my own personal weight loss "journey," as they say, I was aided greatly not by general healthfulness but by being pretty sick for several days. Weight loss for the week: 4.1 pounds, and 10.4 total.
More thoughts on this week's edition of The Biggest Loser:
I don't think I fully realized until now that the cast is not allowed to contact their family at all while on the ranch, aside from winning an occasional contest or such. I wonder if the reason behind this is so that they can "focus"? The rationale for this kind of thing just seems a lot stronger on a show such as Survivor or The Apprentice.
Some… interesting names this season. Chism, Conda?
Unlike previous seasons, there seems to be very little time spent with the teams hashing over who to vote for in the elimination vote. Perhaps we'll see more of this as the competition moves further along.