Quick Take: The Cape, "Pilot" and "Tarot"
Can The Cape replicate the genre-based success of The Walking Dead?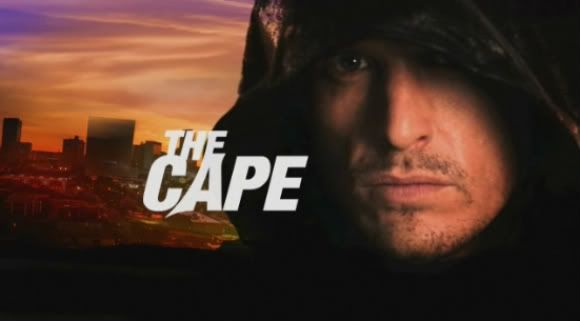 Review: The Cape, "Pilot" and "Tarot"
(S0101 & S0102) NBC's latest hyped show is called The Cape, a superhero story with marketing that can't help but remind me of that associated with Lone Star. The Cape finally premiered Sunday night with a big two-hour debut. The show is supposed to be dark and gritty, as many new shows claim, and at the same time be something that we've never seen on TV before. Well, it's certainly not the latter. The Cape is good some ways but at times it's absurdly cliched.
The Cape is about a cop, Vince Faraday (David Lyons), who's hot on the trail of serial killer/supervillain Chess. After Chess kills the new police chief, we meet the expected evil rich guy, Peter Fleming (James Frain). Fleming, the chairman of the Ark Corporation, just wants to be a nice guy and offers to have his company take over the Palm City police force. Vince is excited at first, but it isn't long before he makes the shocking discovery that Fleming is actually Chess! But he's just a bit too late, and Fleming frames Vince for the murder of the police chief and leaves him for dead. But when things are at their direst, Vince is found by a circus of bankrobbers led by the showy Max Malini (Keith David) and which features the midget from Pirates of the Caribbean. Max then teaches Vince how to be a superhero so he can get revenge on Fleming and reunite with his family.
That's the gist of what happens in the first hour of the show. In the second hour ("Tarot"), The Cape gets to work. His first job is to take out the smuggler Scales, who provided Fleming with the dangerous chemical explosive that killed the police chief. There he meets the conspiracy theory blogger Orwell (Summer Glau), who had sent him some cryptic messages earlier. It looks like she's pretty much going to be his sidekick.
But it's not long before we get back into politics. It seems like Fleming is an ambitious chap, because now he's trying to take over the Palm City government. People seem on board with it, except for the Secretary of Prisons, Patrick Portman (Richard Schiff). Orwell finds out that Portman is going to be Chess' next target, and French hitman Cain (I can't even find out who played him, so I don't know if he's actually French, but it sounds to me like an awful fake accent) is going to be performing the hit. Basically, Orwell finds Cain and Vince kills him, saving Palm City from a total corporate takeover. At the same time as all of this, there's a bunch of drama with Vince's family as they try to move on from his believed death. Vince visits his son Trip once as The Cape and tells him that he will see his father again, but the mother is skeptical.
There are some things to like about The Cape. It has a comic book feel, and I really like that. It starts with an excellent title sequence, with comic book art and a great theme song. And the way The Cape fights is inventive. He actually uses the cape as a weapon, and he also uses a lot of illusions that Max taught him, so the fight scenes are a lot of fun.
But I must criticize a few things. The plot is nothing new. At all. It's a total trope and everything can be predicted. A lot of things about the circus don't make sense as well. There's a scene when Vince is hurt and his circus friends have to nurse him back -- with leeches. Really? Leeches? Just because they're in a circus doesn't mean that they're from the 18th Century. The technology in the show also irks me. As far as I know this takes place in the present day, but Orwell has a holographic touch screen computer. And what Fleming has is even worse. There's an entire (or entirely pointless?) scene where Fleming is dragging little holograms through the air, and by the end he's actually just spinning them around. I wouldn't mind the technology as much if it was being used for a purpose, but there was no purpose in that scene.
The plot is kind of stupid, but The Cape is entertaining. My worry is that it won't last very long. The show feels a lot like New Amsterdam, although certainly not as good. Shows with major seasonal arcs tend not to last very long on broadcast networks, and I can see the ratings falling off a cliff soon. But I plan to stick with the show as long as it lasts.
Video: The Cape, "Pilot"
Check out The Cape pilot in full from Hulu, while available: