Some quick thoughts and reactions to the last few weeks of intrigue on The Event, covering episodes four through six of the first season ("A Matter of Life and Death," "Casualties of War," and Loyalty").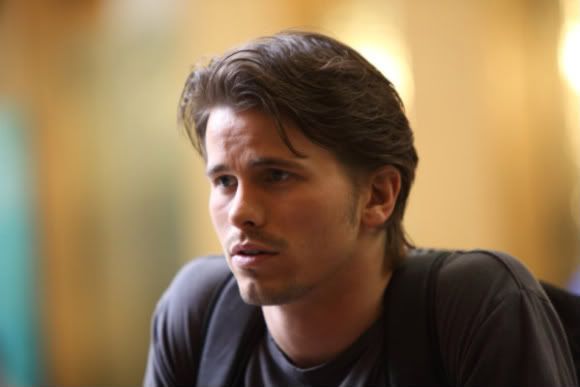 The only explanation given for the "now they're dead, now they're not" passengers of Flight 514 is that it's something that the aliens controlled. The poor saps were then detained by the government, and grilled and debriefed by agents and Sterling, of course.
Blake Sterling just doesn't look right. He still looks like a vamp, but most of all he appears to be quite untrustworthy. Time will tell, eh?
Those faux US Marshalls, rather boorish, aren't they?
I remember when DB Sweeney used to play nice guys.
Sean and Collier are lead into the "Red Herring Address" trope, similar to the one used in Silence of the Lambs, when we think they are about to bust in on Vicky and Carter but are totally at the wrong location. Nice move, if used sparingly.
Badass Vicky is a mom!
Another "Victim thinks she is safe" device is trotted out when Leila believes she is in a safe, untainted police department.
And yet one more too familiar bit of dialogue is spewed when President Martinez says, "Now listen to me you sonofabitch!!!" (His response when Thomas threatens to let the passengers die if the detainees are not released.) Will these negotiators ever learn?
In the "Great Starbucks Switcheroo" we see how easy it is to tamper with cream carafes, as Simon tries to help Sophia. He confuses the Feds as he adds the tracking isotope to the cream, thereby creating an illusion that there is more than one "Sophia."
It looks like CTU (from Fox's 24) still lives, our Event Feds use just as implausible technology to track down those errant isotopes
We also learn that Simon looks good in a bathing suit as we join him down memory lane, reliving his one-time relationship with a regular earthling.
Leila has been through hell, now she has to learn what has happened to her family.
She gets over her horror quick enough to enter her crime-scene home and search for hidden information about her father, and finds something!
But she and Sean are stopped by a crazed, gun-wielding journalist!
Simon must totally feel like Kevin Costner in 1987's No Way Out, the espionage flick that had the good guy handling the assignment to chase the bad guy, who was really himself, who was actually a good guy, but…was he? Quite the exercise in recursion theory!
But Kevin Costner never was buried under an earthquake – not like poor Simon appears to be.