Quick Take: The Exes, "Pilot"
"You're clingy and needy, like my ex-wife without the expensive breasts." – Phil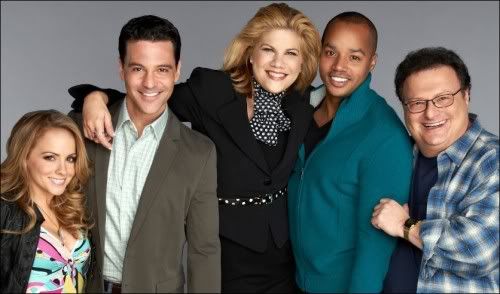 Review: The Exes, "Pilot"
(S0101) Programmed as the male-friendly bookend to TV Land's Hot in Cleveland, The Exes explores three newly divorced guys navigating their 2.0 lives with the guidance of their protective divorce lawyer, Holly (Kristen Johnston). Along with Johnson (3rd Rock from the Sun), the sitcom also stars Donald Faison (Scrubs), Wayne Knight (Seinfeld) and sitcom stalwart David Alan Basche.
With talent like this assembled together, how the heck can it be that The Exes is so lame and lazy? Yes, I understand that old school multi-camera sitcoms are the new comfort food (i.e. Two Broke Girls, Two and a Half Men, Whitney) as stressed out audiences like to sink into their familiar canned laugh tracks and easy jokes to burn off some steam. Problem is that The Exes barely tries and that's a real shame. Every lead actor on this show (except Basche) has distinguished themselves on prior series as exceptional comedic talents that either stole those shows often or crafted iconic characters for the ages. The Exes doesn't bother giving any of its cast much to work with at all and that's a crime.
As the premise goes, Basche is Stewart, a freshly divorced, needy guy who wants his wife back desperately. Worried about him, Holly hooks him up with the free room in her next door condo that she's renting to two other clients: nerdy Haskell (Knight) and player Phil (Faison). The two dudes co-exist with barely a word spoken between them as Stewart arrives to disrupt their world with his delicious breakfast scrambles, laundry folding and bro-bonding dinners. Phil wants none of it and tells Holly so, but she offers him a rent discount to shut up and go with the flow.
Stewart is still craving his domestic routines and he quickly disrupts his new roomies lives by answering their phones (to be helpful) and getting too involved in their business. Phil basically kicks him out until her discovers that he needs a wingman that isn't Haskell at the bar at the base of their building. He begs Phil to stay and before you know it, Stewart is out on his first date since the divorce ink has dried. After some coaching by Holly on what to stay away from conversation wise, Stewart looks to be on the road to new love until he breaks down in tears on his date admitting that he misses his wife. His also newly divorced date also blubbers about missing her former mate and Stewart runs home to win back his missus. Haskell and Phil discover what happened and Holly tells them that Stewart's wife has a new man living with her so they need to stop Stewart or he'll be devastated. Phil drops his date and they just beat Stewart to his old house where he sees his wife sucking face in the front window. He picks up a big rock and, like that, Stewart has moved on. Amazing how things just work out in a lame sitcom, right?
Faison and Johnson work hard to try and breathe some life into their characters without much luck, while poor Knight is stuck delivering shlubby wordplay lines that end in -sky (like one-sky and yes-ski) about vuvuzela horns because that's hilarious writing! Basche makes Stewart too chipper and needy to create any pathos or sympathy from the viewer. He's like Felix Unger without the funny asthma, or come to think of it, the funny.
In the end, I don't care about these guys embarking on phase two of their lives and I don't care if poor work-obsessed Holly will eventually find love with one of her sad-sack tenants. However in the spirit of giving, I do wish her annoying party-girl assistant falls down a hole and that this show's run ends mercifully soon so I can watch all of these actors go on to new projects worthy of their talents.