Quick Take: The Good Wife, "A New Day"
What happened with Alicia and Will? Look no further...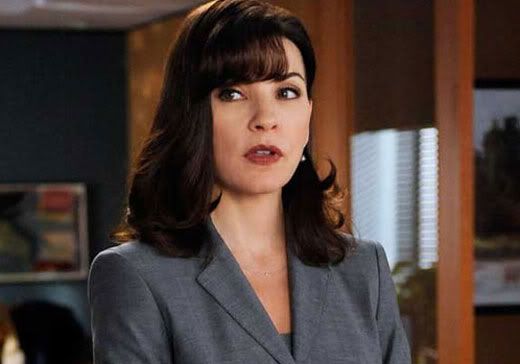 Review: The Good Wife, "A New Day"
(S0301) Oh Alicia, you tease.
After a summer of torture wondering if Alicia (Julianna Margulies) and long-time simmering flame Will (Josh Charles) actually did the "deed" as the second season finale implied, showrunners Michelle and Robert King proceed to tease us with delayed gratification for the majority of the Season Three premiere. They gleefully jerk our chains using songs like Chris Isaak's "Baby Did a Bad, Bad Thing" to open the hour and by allowing Alicia to have secret smiles that quickly vanish when anyone comes near her. Matters even started to look downright bleak as Alicia and Will just snap at one another every time they come into close proximity. At one point you can't help but think did things go south on their night of bliss?
Nope. They're fantastic lawyers, people, and if anything this episode just proves that their poker faces are legendary. Turns out that the duo is indeed doing the dirty - quite graphically and hotly in the one scene we see them together - but they're acting like their friendship has gone sour to throw off the office gossips and Alicia's now estranged hubby/new State's Attorney Peter Florrick (Chris Noth). It's a sound strategy and a successful one as Diane (Christine Baranski), Eli (Alan Cumming) and the rest of the firm think the two are actually at odds.
But has a night of bliss really done much to change Mrs. Florrick? Well, she's gotten a sassy new haircut and she's more prone to wear crimson lipstick than before. Yet the measured two season evolution of Alicia has been more of a slow burn as she's come to reinvent and rediscover herself outside of Peter. Some hot nookie with Will might have been an inevitable climax (pun intended), but it took a whole lot of legal eagling, personal betrayal and resolute moments of independence to get Alicia to take the bold step at all. The crap she's dealt with since the series started has created an adult, smart, organic change in Alicia that feels blessedly earned. Even in this new post coital bliss, there's some reality hitting both Will and Alicia which makes the union all the more real. In a bar tete-a-tete with Kalinda (Archie Panjabi), Will admits he's got problems when it comes to really feeling anything like he should which sounds likely to haunt what he's starting with Alicia. And for her part, as Alicia freshens up in the mirror for her meeting with Will at episode's end, there's a remoteness and reticence in her reflection that is perhaps telling about how this new affair might be putting old and new Alicia at unsettled odds.
Outside of those two the episode was about a lot of other new beginnings. Cary (Matt Czuchry) is now an official prosecutor in the freshly transitioned Florrick state attorney's office. Cary's gets right into it against Alicia in a case about a possible hate crime involving a Palestinian student who is accused of killing a Jewish student at a campus rally. The case ends up involving just about everyone of note at Lockhart Gardner as high powered clients jockey to protect the Muslim student by hiring Eli for a PR campaign. An early misstep by Alicia creates a save face situation that Diane and Will both allow her to remedy. Meanwhile, Kalinda is on the case too with her former lover and Florrick's new investigator Sophia Russo playing cat and mouse with one another over evidence, witness interviews and buried truths. The case isn't one of the best the show has crafted with its late act twist and reveal but it does well in weaving together all the players and their new positions for audience clarity. There's a lot of potential in the new dynamics, both personally and professionally, for just about everyone from Peter and Eli eyeing a future Governor's run, to Cary and Kalinda's simmering attraction still percolating, and even an odd new tutor for Grace Florrick. However, seeing how Alicia handles her mid-life blossoming is still the most intriguing aspect of the series and very much at the heart of the story... as it should be.