Quick Take: The Good Wife, "Feeding the Rat"
Alicia and Diane fight to save an innocent man.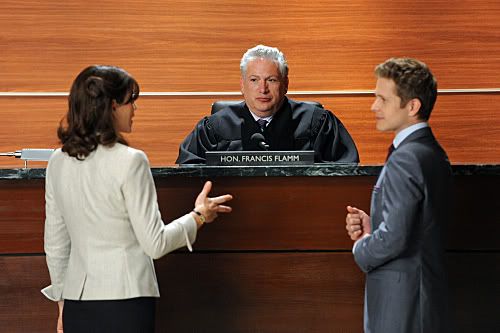 Review: The Good Wife, "Feeding the Rat"
(S0304) The Good Wife typically breaks its standard procedural format a few times a season for a case that unfolds in an unusual way. There was the great death row episode, "Nine Hours," in Season Two, and the time-ticking "72 Hours" in Season One. The first deviation this season is "Feeding the Rat," where the episode opens with Travis Dolan, an average guy in a convenience store that is witness to a robbery that turns into a murder when the cashier is shot. Clearly innocent, the only other eye-witness blames Dolan. After some cursory grilling by Cary, Dolan gets arrested and becomes a pro bono case that lands on Alicia's lap.
The twist of the audience knowing Dolan is innocent is an interesting one for about two acts and then it starts to fall apart with the obviousness of the weak evidence of the case. It disappointingly never turns into a real nail-biter and devolves into a reverse race case because there's too much else going on in the episode for it to remain the real focus. The case becomes a means to an end, first in introducing the new character of Assistant U.S. Attorney Imani Morehouse (Nicole Beharie) as a prosecution observer making sure plea deals are gender or race biased, and then in establishing L/G's commitment to pro bono work in this recession world. Morehouse looks to be an interesting foil for Cary and a possible impediment to Cary and Kalinda moving into anything other than caustic flirting. We discover her father is an impressive Civil Rights Justice and she's not afraid to use that when some brownie point sway is needed to help with a failing case like Dolan's.
Where the case really comes into play is establishing what kind of firm L/G is going to be now post hostile takeover. Eli is quickly becoming the firm's cash cow with all his media PR crisis clients and the Cheese Council. With his billable power, Eli requests of Diane and Will that Alicia and Kalinda are reassigned as his full-time investigator and council. Balking, Will, Diane and litigation partner Julius determine they need to end pro bono work to assign their lawyers to make more money and determine that they need to bring a bankruptcy division in-house to boost profits. Diane sends Will out to woo Celeste, who is at a legal seminar, to get her and her firm under their wing.
In a nice turn, Diane gets back in touch with her liberal side as the Dolan case gets her back in the trenches. As she's ready to close L/G's pro bono assistance with their affiliated non-profit legal aid fund, she remembers the kind of work that she misses doing and jumps into the case to help win it with Julius, Alicia and Kalinda. By episode's end Diane tells Will that she wants to move the legal aid fund in-house and be that kind of law firm again…the kind that still has a heartl. Will agrees.
We also get to see Will's come to Jesus moment. He chases Celeste who tries to reconnect him to their shared past of late-night poker parties and underhanded negotiations, otherwise known as his "rat days" alluded to in the episode title. After he weathers an incredibly uncomfortable, Celeste orchestrated face-to-face with Peter Florrick that brings Alicia into the discussion, Will realizes he doesn't like who he was and tells her as much. She tells him she actually wants to woo him to her new firm and dangles the future Baseball Commissioner job in his lap. In a quick call to Alicia to ground his thoughts, they flirt and then Will says, "I love you" as he unthinkingly prepares to close the call. He's stunned and tries to backpedal protest, albeit maybe more weakly than expected, but Alicia brushes it off. She looks a little tweaked on her end but she's adamant about knowing he didn't mean it. But maybe he did?
Will returns to Celeste and admits he doesn't want to give up what he loves. She infers Alicia but he only demurs to meaning his firm. When he sees Alicia later in the office and asks if she wants to talk about it, she is clear that she doesn't and everything is fine. Will admits he doesn't want to be with anyone else but then saunters away acting like he was let off the hook. It feels like self-preservation moment as we get that he gets that Alicia is figuring out that she's got a lot of ties she needs to break with Peter before she can really move forward with what they are feeling. Overall, it's the character clarification that really make this episode memorable and sets the tone for what's to come.