Quick Take: The Good Wife, "The Death Zone"
Alicia and Will go after a media tycoon from the U.K., while Eli and Kalinda finally join forces.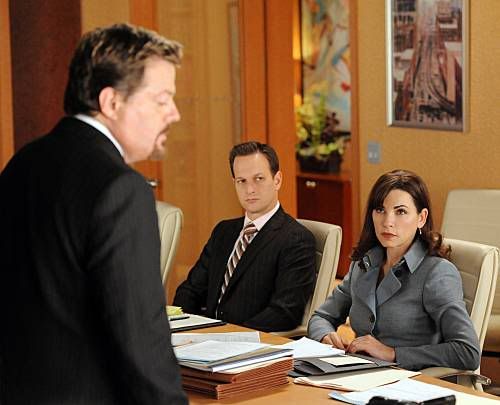 Review: The Good Wife, "The Death Zone"
(S0302) Move over Alicia and Will, there's another new power couple gaining on your heat. In the richly appointed halls of Lockhart Gardner, devilishly street smart satellites Eli (Alan Cumming) and Kalinda (Archie Panjabi) finally collide into one another's orbits. As expected, it's a match made in opportunistic heaven, or hell if you happen to be on either of their radars. As the firm's new Mr. Crisis Management, Eli's certainly not hurting for work. But he's also got plenty of former associates knocking on his glass door, including Mickey Gunn, a Democrat clean up man that saunters in floating an ambiguous candidate that might want to run for office except for a "possible" scandal that needs to be handled first. Gunn wants Eli to pitch a plan without any further details.
Perplexed, Eli turns to Kalinda and it turns out their ruthless brains are freakishly in synch. Despite some initial bush league snooping by Kalinda that turns up a false candidate, the duo manage to out weasel Gunn's real M.O. and beat him at his own game. At a final meeting, Eli and Kalinda get Gunn to confess that he basically had them do his vetting for him without paying them. Instead of throwing Gunn out, the pair tell him they'll take the job if, and when, Gunn actually gets the gig from the potential Republican candidate. Eli and Kalinda are pitch perfect as they circle one another with their poker faces throughout the Gunn exercise. Each failure and success serves as a dual test for one another, and by episode's end you're fairly certain the two are confident and respectful of one another's Great White status in their shared Lake Michigan pond.
The more traditional case of the week revolves around a U.K. based libel case that Alicia gets dismissed in the opening seconds of the episode, only to have it return minutes later under a reverse case led by Eddie Izzard's menacing gentleman solicitor, James Thrush. Determined to save his Rupert Murdoch-like client's reputation from a book that accuses the mogul of ruthlessly taking oxygen from a dying fellow climber on Mt. Everest, Thrush goes toe-to-toe in a video deposition to the U.K. with Will, Alicia and the nervously charming Irishman, Timothy Ash Brannon (Simon Delaney) across the table. What unfolds is a bit too Anglo easy for a show this smart as Timothy initially comes off like a goofy rube making anagrams of names.
That rolls into Will annoying the Lordship presiding over the case with his accidental affronts to barrister etiquette. But the culmination of lame is a behind the scenes machismo bargaining session between Thrush and Will that actually ends with the line "Intimidation isn't a sonnet." It's all a bit eye-rolling but the case manages to evolve into an interesting volley of upper and lower-handed techniques that eventually leads to an L/G win. Brannon even gets to shed his reticence as he's inspired by fiery Alicia and wins the case quite assuredly with his twisting of the book into a warning rather than a libelous tome.
On the personal front, we get another hot scene as Alicia and Will – equally turned on by their collaboration in the deposition room – try to sneak away into Will's office for an executive washroom quickie. It gets sunk when they see eyes upon them but it certainly cements that their chemistry is still in full swing and that these two are full tilt, flush with their affair. Alicia, especially, is deep in that exhilarating land of "yes" – that magical place that is only discovered through monumental upheaval. There's nothing quite like it because it's where all past reticence and fear is almost totally absent. If you're been there yourself, you know that place doesn't last forever and maybe Alicia is even aware of that when at one point she admits to Bannon that she's not that fond of change either.
Peter is going to prove that because he summons Diane and Will to his office to pitch being his new outside civil case law firm. Will sends Diane alone and she gets to sit down with Peter and Cary as they tell her because of their dealings with drug kingpin Lemond Bishop, L/G will have to open their books up to an audit to make sure none of their money is tainted. Diane is taken aback and after some easy digging finds out that only L/G has been asked to submit to an audit for work. Diane doesn't like it and goes right to Alicia after hours to gently pry if Peter is being fair or if he's getting personal because of Alicia.
Unwilling to admit she's separated, Alicia does advise Diane to take the firm out of the running. Later in the office, Diane fills in Will and asks if Alicia is separated and if she's now made them a target with Florrick. She's ready to cut Alicia for the firm's safety but Will balks. However with Diane's insistence, he agrees that if Alicia's personal problems become a workplace liability, they will let her go. Does Will mean it or was it a lie to keep the affair secret? We'll see, but rest assured those words are going to come back to haunt Will one way or another this season.