Quick Take: The Great Food Truck Race, "Big Bites, Little Apple"
Having the advantage doesn't always work out in your favor.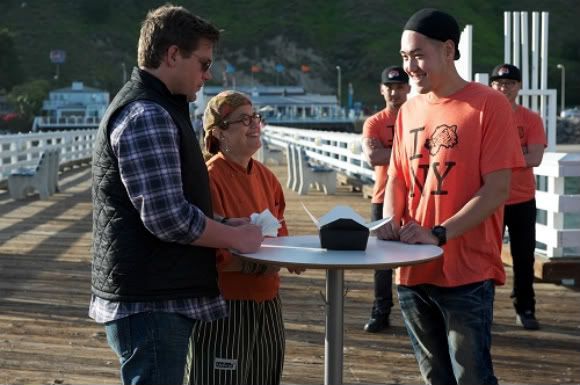 Review: The Great Food Truck Race, "Big Bites, Little Apple"
(S0204) Week Four of The Great Food Truck Race has our five remaining teams pulling into Manhattan, Kansas and it's a far cry from the more popularly known Manhattan in New York. This Manhattan is a small college town that consists of two types of people -- college students and hard-working folks. Tyler emphasizes this to the teams and tells them that they will need to adjust their menu and pricing accordingly. Which truck will heed his warnings though? Instead of taking him seriously, one of the guys on the Lime Truck, Daniel, responds by saying that they will need to "dumb it down a little." Seriously, was that comment necessary? Just because you are out of your own comfort zone doesn't mean that the people are not up to par.
The weekend begins with the customary Truck Stop Challenge. In this week's challenge the teams are given a $5 debit card and they have thirty minutes to shop, plan, and create a meal. Definitely doesn't sound easy, especially for these teams who are used to making all kinds of gourmet dishes. You can't buy too many exotic ingredients with only $5. When it comes time for judging, Charles Ferruzza, the judge, has the harshest words for the guys on the Lime Truck. They made a ricotta pancake with cherries that doesn't look appetizing at all and he has no qualms in saying so. He goes even further by saying that the pancake was no better than what he can make in an Easy Bake oven. OUCH!
While both Hodge Podge and Korilla BBQ whipped up some yummy looking dishes, it was the girls on the Seabirds truck that reigned victorious in this challenge. Their "Kansas Cupcake," a raw chocolate cupcake sitting on a sweet and spicy bbq sauce with a corn fritter on top, was thought to be a clever and fresh approach to dessert by the judge. Sounds like something I would love to try. I must say I think it was smart of them to go in the opposite direction of the other trucks and make a dessert as opposed to some sort of appetizer or meal. Winning the challenge enables them to be the sole food truck selling in Aggieville for the weekend. Aggieville is a coveted section of Manhattan. It's in the center of town where all the bars, restaurants and stores are located. This doesn't sit well with the other teams since they are also banned from the other hot spot in town, the campus of Kansas State University since its commencement weekend.
The teams are then each given $400 in seed money to buy all of their ingredients. Immediately they all forget about what Tyler told them a mere a few hours ago and start thinking of the gourmet meals they are going to create. Gourmet means expensive and that does not jive well for a college student. Once all of the teams have done their shopping, found a prime location (Korilla BBQ, the Lime Truck and Hodge Podge all go to a local park and Roxy's Grilled Cheese goes to a local Christian College) and are prepping and pricing their food, Tyler calls them with the surprise of all surprises. The Speed Bump which is usually enacted on the second day of the competition will now begin on the first day. And this week the bump has all of them selling everything on their menu for ninety-nine cents or less. The tension level goes up two-fold. It looks like this just isn't the week for the guys on the Lime Truck. They realize that they cannot go with their original menu of gourmet burgers because they will be losing money on every order so the need to improvise and fast. They head back to the supermarket. Once there they start thinking of making carnival type food. One of them being can pie filling on a crepe. That's not even worth fifty cents!
Portion size becomes extremely crucial. Roxy's Grilled Cheese decides to cut their sandwiches in quarters and markets them as sliders. It's a hit! Towards the end of the first day they run out of cheese and bread. They are such a hit though that people actually wait in line for forty-five minutes while they go and shop for more food. The only team who seems to take the whole thing in stride are the guys on Korilla BBQ. They just keep on doing what they were doing all along and seem to have no problems whatsoever. Meanwhile, the girls on Seabirds may have had a great spot to sell at, but, they are having a difficult time keeping up with the demand. And the problem continues into the second day of competition for them. They actually start selling pancakes. I don't know about you, but, I want something a little tastier than a pancake from a food truck, especially one in a food competition. Let's not forget about Hodge Podge. They played a pretty dirty trick on Korilla BBQ. While they had no line to speak of, Korilla's line was quite long, so Jacquelyn from the Hodge Podge truck runs over there and starts taking orders from their line. I should point out that both trucks were selling tacos.
At the end of the two days the five trucks combined made over $18,000 and the big apple dominated the little apple with Korilla BBQ coming in first place with a total of $5,245. Roxy's Grilled Cheese and their improvised sliders comes in a close second earning $5,132. After swiping some of Korilla BBQ's customers Hodge Podge comes in a distant third with $2,880 and while they had many bumps along the way, the Lime Truck is safe this go around making $2,768. Unfortunately even with their prime location the girls from the Seabirds truck are going home earning a disappointing $2,332. They really blew their overall advantage this round. They had a great location and while the menu pricing could have been a factor, they really should have been able to keep up with the demand. They're a vegan truck; most of what they make does not to be cooked. They definitely didn't strategize properly.
Next week the four remaining trucks will head 570 miles southeast to Memphis, Tennessee. It looks like someone attempts to cheat and they will all have to serve up vegan food for the Speed Bump. Hopefully no one takes the easy road and offers up peanut butter and banana sandwiches as an homage to Elvis Presley.