Quick Take: The L.A. Complex, "Down In L.A."
"When there's vomit on the piano, it's time to stop the audition." - Casting Director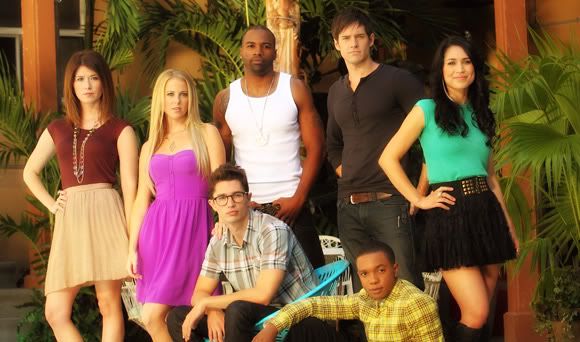 Review: The L.A. Complex, "Down In L.A."
(S0101) Let me preface what I'm about to say with this: God bless America, stars and bars forever, these colors don't run, and all that crap. Okay, now let's get down to brass tacks. Our English speaking brethren in countries like Canada and Britain are light years ahead of us when it comes to making network dramas for teens and young adults. Shows like Skins (Britain), and to a slightly lesser extent Degrassi (Canada), have succeeded in portraying young people and their behavior in a (mostly) realistic, non-judgemental, non-After School Special kind of way. American network dramas aimed at people in the teens and early twenties instead oscillate between way over the top and obnoxiously preachy.
CW deserves a pat on the back for deciding to air The L.A. Complex, a Canadian drama originally broadcast last winter on CTV and MuchMusic, amidst all of their goofy vampire shows and nineties remakes. While The L.A. Complex is by no means a great piece of television, it is infinitely better than most (if not all) of the other shows on CW.
The L.A. Complex is a show about a group of young, mostly Canadian, aspiring entertainers shacked up in a Los Angeles motel. The audience's entry pass into this world of humiliating auditions and pool-side parties comes in the form of Abby (Cassie Steele, a Degrassi High alum), a wannabe actress from Toronto who has just moved to Hollywood in search of her big break.
In the first fifteen minutes of the show, Abby comes off as your stereotypical small town girl who leaves her boyfriend behind and arrives in the big city wide-eyed and naive. And if this were an American show, her character would probably remain like this. Thankfully, the character -- and the show -- takes a quick left turn. Abby isn't some innocent little thing who crawled out of a snow bank in the Great White North and wound up on Hollywood Boulevard. She's a regular chick who enthusiastically swallows ecstasy tablets handed out by strangers and has unprotected sex on roofs with dudes she just met.
Admittedly, The L.A. Complex is hardly a ground breaking show. It's derivative and wears its influences -- namely Melrose Place and shows of that ilk -- on it's sleeve. However, the show's non-judgmental attitude toward sex and drug use makes The L.A. Complex feel relatively fresh, especially on American network television.