Amongst American late night talk shows, The Late Late Show with Craig Ferguson stands out for its uniqueness. Ferguson literally rips up guest's "talking point" cards before interviews to engage in actual conversations. He does a largely improvised monologue. He has a gay robot skeleton sidekick named Geoff Peterson. He has a dancing horse named Secretariat, who admittedly is just two guys in a horse costume.
And now, he's branching out again as he has taken his show to Paris for a week.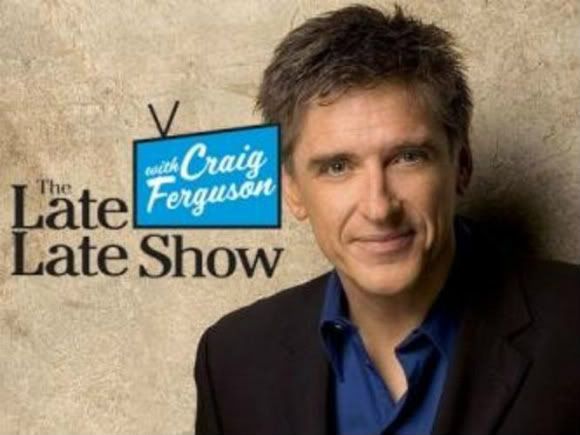 The episodes were taped a while ago, but are just being aired this week. I was intrigued to see how the show was going to look for these Paris episodes, and Monday gave us our first glimpse. The show's opening wasn't atypical. Craig Ferguson lip synced and danced to a French song with the help of some of his usual compatriots and puppets. Then, he threw his red, white, and blue Eiffel Tower up in the air, and when it fell to Earth, Craig was standing in front of the actual Eiffel Tower.
The first episode did not follow the usual format for The Late Late Show. A lot of Craig's old bits, which haven't been on the shown all that often for months, were trotted back out with French themes. There was French Aquaman, Michael Caine in Space in Paris, and others. As for the stuff actually shot in Paris, it was as much a travelogue as it was a talk show. Geoff Peterson and Secretariat were there, as well as Kristen Bell, one of Ferguson's favorite and more frequent guests. She is serving as sort of his human sidekick for this week, playing up her "feud" with Geoff.
The two of them visited the Eiffel Tower, from where they espied Secretariat dancing throughout the city of Paris. They ate at a fancy French restaurant alongside actor Jean Reno, whom Craig interviewed. They apparently rented a double decker bus for the week, on which Craig interviewed French talk show host Arthur as they drove through the city. He also answered some e-mails outside of a English language bookstore along with the store's owner.
This was a decidely low rent trip. Ferguson's desk is basically a card table, and the camera quality for the stuff shot outside is less than you normally see on television. During the interview with Arthur, the two had to yell while driving through a tunnel. Despite all that, it was a really good opening episode. Granted, Craig Ferguson is my favorite late night host to begin with, and I watch his show every night, so he didn't really have to do much to sway me on the whole Paris thing. That being said, the change of venue provided a lot of different and interesting moments for the show. Typically, a late night talk show takes place almost entirely within a studio. Occasionally, there will be a remote bit. They don't feature the host talking to a celebrity in front of the Eiffel Tower. Even sitting behind a card table with a gay robot skeleton sidekick standing nearby, it was a sight to behold.
In the first episode, Ferguson took advantage of the new surroundings to their fullest. The show was sharp, funny, and a nice change of pace from what people are accustomed to seeing. I expect that to continue throughout the week, even if the novelty may wear off a bit. There is still plenty for him to explore in Paris, and he still has Bell to play off of. Even with less interviews to conduct, or a monologue to perform, the show doesn't lack for content. Plus, the lag between shooting and showing the episodes allowed them to trim some fat I imagine. As such, if you don't usually watch The Late Late Show with Craig Ferguson, or even late night talk shows in general, you may want to catch a bit of the show this week while it is in Paris.