Quick Take: The League, "The Anniversary Party"
"It's like a train wreck. I cant look away." - Jenny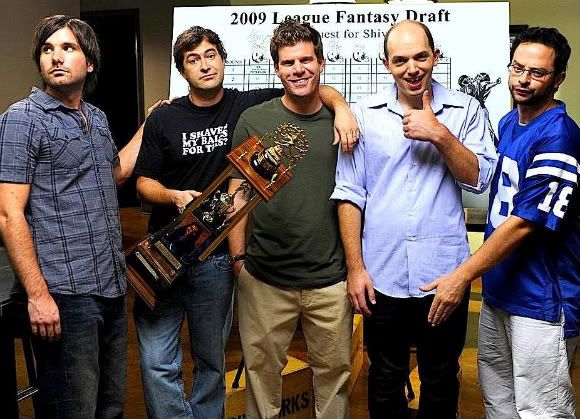 Review: The League, "The Anniversary Party"
(S0205) I'm disappointed in you, The League. You're losing your edge, man.
The League works best when the show is loose, on the verge of sloppy but not quite. Some of its best moments are also some of its weirdest. For some reason the past two episodes have gotten away from the show's more bizarre aspects in favor of a more conventional sitcom-y vibe. And to be honest, I wasn't really digging it. That isn't to say that "The Anniversary Party" was bad, or that it wasn't funny, because it was funny. It just didn't have those crazy, "Did Taco/Andre/Ruxin really just do that?" laugh out loud moments.
Maybe one of the reasons I didn't like this one as much as previous episodes was the lack of fantasy football-related material. I understand that the show wants to be (and genuinely succeeds at being) more than "that cable show about fantasy" but come on, writers, throw us a bone every so often. I don't need every scene of every episode to be about football, but I want at least one scene in every episode to be strictly about fantasy football. It seems like the writers don't yet have a great grasp on the rhythms and beats of a conversation between a group of guys that are really nerdy about fantasy.
"The Anniversary Party" is about, you guessed it, an anniversary party. Specifically, Ruxin's and Sofia's. Either to throw Ruxin (Nick Kroll) off his game (they are going head to head this week) or just because he's weird and has a thing for her, Taco (Jon Lajoie) tells Sofia (Nadine Velazquez) that Ruxin has a lavish party planned for her when in fact he has nothing at all planned. Of course now Sofia expects a huge event and Ruxin has to deliver.
Things get complicated when it turns out that the party is on the same night as Jenny's (Katie Aselton) birthday. We later find out that this happens every year and is a source of constant strife between the two wives that results, as conflicts involving women often do, in pettiness. Things get even more uncomfortable when the gang finds out that that Pete's (Mark Duplass) estranged ex, Meegan (Leslie Bibb) has RSVP-ed plus-one. See what I mean, this is pretty standard fare when it comes to sitcoms. What happened to Vegas weekends with Chad Ochocinco and tips of penises getting nicked by samurai swords. Ah, the good old days.
It gets a little more exciting when the actual party begins. The gang meets Meegan's new husband Ted, who turns out to be much older than anyone expected. Despite their age difference, Meegan insists he can hang with her when it comes to partying. The crew also meets Andre's (Paul Scheer) date, who seems to know an awful lot about everyone even though none of them have ever heard of her. As Andre introduces her she says something embarrassing to each friend, saving the best line for the woman of the evening, Sofia. "I love your nose job. It's perky, cute and doesn't rob you of your ethnicity." Unlike Andre's date, who everyone immediately writes off and begins to ignore, the gang takes a liking to Ted. When the topic of fantasy comes up, Meegan tells the group that Ted plays football, actual football. "Like Farve in those Wrangler ads?" asks Kevin (Stephen Rannazzisi), astonished.
The best part of the episode, and what they probably should have written the entire thing around, was screening a home movie that Taco made five years earlier at Ruxin and Sofia's wedding. This is a very short segment, five minutes maybe, that could have been twenty five, at least. It was great. The video featured behind the scenes footage Taco shot while know no one knew he was filming. He got Sofia in lingerie before she put her wedding dress on, Ruxin saying some not-so-flattering things about Catholics and showing symptoms of cold feet, Pete and Meegan talking dirty then sneaking off to bang in the church and Kevin teaching Ruxin how to pretend to choke up while publicly expressing your love for your wife.
The rest of the episode pretty much goes like you would expect it to. Meegan pushes Ted too far trying to get him to "hang" with people thirty years younger than him and he has a heart attack. Sofia's party is, of course, ruined. And Jenny couldn't be happier. She had the best birthday ever. "It's like a train wreck, I can't look away."