Quick Take: The Marriage Ref, "Adam Carolla, Gloria Estefan, and Donald Trump"
"Does Donald Trump wears pajamas?" – Tom Papa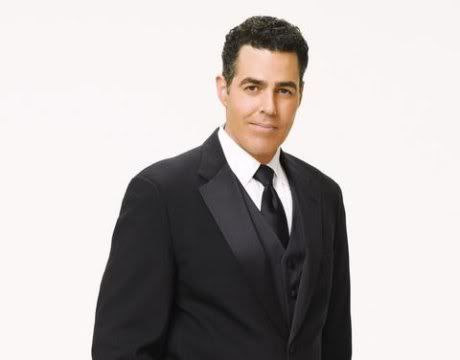 Review: The Marriage Ref, "Adam Carolla, Gloria Estefan, and Donald Trump"
(S0108) I'm a huge fan of Adam Carolla, so I'm going to be a little biased in judging the effectiveness of this particular panel. That said, Jerry Seinfeld and crew must have immense faith in the comedian, radio veteran (his run on Love Line is classic all time broadcasting stuff), and Man Show alum as they paired him with Donald Trump and Gloria Estefan, who are not exactly anyone's idea of comedic super powers.
So that that said, I'll blurt that Carolla came out of the gate rolling and didn't stop until the final credits, well, rolled. He dominated the panel, and effectively so, no small feat with a talkathon-er like The Don in tow.
Trump added some good The Don-like input and was noticeably toned down from his blowhard-y self from The Celeb Apprentice (disclaimer: yeah, I'm still a fan of that show). Estefan, while pleasant, was a bit dead wood-esque.
Overall take: very solid show, almost entirely on the shoulders of Papa and Carolla. Message to Seinfeld: bring the Ace Man back soon.
Marriage #1: Don and Phyllis
This is the tale of Don, Phyllis, driving, a GPS, and a sad panda on the dash. I love watching native Long Islanders. It just pleases me on a level that would take me some vast number of words. Case in point are classic one-liners from Don such as, "You should have drove so your mouth wouldn't be running." Other than the local dialects working for them, arguing over driving habits did not quite have the eccentricity/weirdness of many of the other bits we've seen from earlier episodes.
Marriage #2: Antwon and Lazaundra
This couple was fairly annoying, so all I picked up was that they bickered colorfully over shopping and coupons. Some quick thoughts:
"No you just didn't!" – Lazaundra
I dig Trump assessing sagely that this couple probably aren't "multi-billionaires."
Trump also lets us know that he's not into coupons.
Carolla's rant on the CostCo's of the world offering up 55-gallon drums of garbanzo beans that your kids will eat after you die is classic.
Marriage #3: Ron and Patsy
Patsy goes out and parties, roller derby girl stylie, with the ladies; Ron gets stuck at home cookies. "It's not right," he says. "People look at you like you're a loser or something.
Carolla cuts through things and breaks it down immediately: "She's hot, and he's not." Then Adam quick takes to Trump and deadpans, "He should know."
Marriage #3: Ron and Misty
Ron and Misty, from Fontana, California (that would be in the Inland Empire, as it's called) argue about ducks. Good times, as Carolla would say.
Some funness:
"They came out of my pet's bottom." – Misty
"But could they have lesbian [ducks]?" – Carolla
"They have to do something that rhymes with duck." – Carolla
Carolla's "solution" to take the duck eggs to "egg" a nearby sexual predator's house to solve all problems is amazing.
"Why the afro on the dog?" – Tom Papa

Marriage #4: Anthony and Patti
The New York-y couple argue over a cigar store Indian. Couples arguing about weird crap and artifacts in their homes is something of a Marriage Ref staple already. Not much else to say about this one.
More thoughts on this week's Marriage Ref:
For this episode's little tag line in the title ("get it on"), I pulled it from Adam Carolla's popular podcast. So from there I'll only add: get it on, got to get it on, no choice but to get it on, mandate get it on.
You might notice that I didn't really talk who "won" each round of The Marriage Ref. That's because I don't care. Do you?
Video: The Marriage Ref, "Adam Carolla, Gloria Estefan, and Donald Trump"
Here's the action in full, while available, from Hulu:


Recap: The Marriage Ref, "Adam Carolla, Gloria Estefan, and Donald Trump"
This week: Being driven crazy by GPS, coupon obsessions, too many duck eggs, roller derby obsession, and a wooden embarrassment.

From Around the Web: The Marriage Ref, "Adam Carolla, Gloria Estefan, and Donald Trump"
Reality Wanted: Adam thinks Ron should appreciate a sport where his wife looks so good doing it. So she bruises a couple ribs in the processes, at least she looks hot right?
Billions: On a husband's desire to force-feed his wife duck eggs, Trump opined,"He's pathetic, but sympathetic." Still, he voted for the wife explaining, "She is being force-fed something she doesn't like - I'm not into that world."