Quick Take: The Millionaire Matchmaker, "Reunion Part 1"
The ghosts of Patti's past come back to haunt her on the first MM reunion special.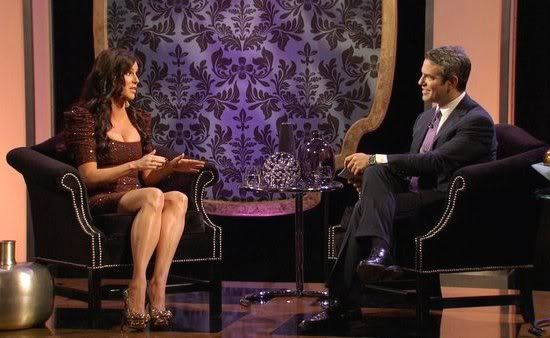 Review: Millionaire Matchmaker, "Reunion Part 1"
(S0514) How is it that every Real Housewife series on Bravo has gotten an end of season reunion but Patti Stanger, the undisputed queen of dating nightmares, has never gotten to face her millionaires next to Andy Cohen on his tastefully appointed grilling settee?
Finally Bravo has remedied that travesty and Millionaire Matchmaker Season Five ends with a two-part reunion special including the return of four infamous millionaires and the top five Pattymelts [Andy's term for Patti's hyper 'roid-rage moments] of all time.
Dressed like a refugee from Vegas, Stanger took the hot seat next to Andy as they opened the show talking about her hot button comments from a few months ago about gays not being monogamous. There was some awkward bantering about how Patti's whole LIFE is about gay rights (really?) so she was so upset that was taken poorly. She admitted that she does generalize a lot and did some soul searching about whether she should curb her off-the-cuff statements. But she said in Temple God said "Girlfriend, you say what you want," or something like that, so she's just looking to maybe have a softer delivery from now on. Oh, please no.
Andy then addressed Patti's new look for Season Five, sans trademark bangs and her lithe figure. Patti admits she's been in the gym more, got some Botox, an eye lift and her second boob reduction (she was an F cup in case you were wondering). Since she's 50 and dating, Stanger says she needed to kick it up on the physical front.
Andy then introduced a countdown for the show's top five Pattymelts, where she basically went ballistic on a client that did something rude, stupid, lascivious, or a bit of each.
They are as follows:
#5: Will Ratner – who brought his assistant with him on his master date.
#4: Ayinde – the superior dater who thought Patti's selections weren't smart or pretty enough. Patti told him to "Eat me!"
#3: Dave in NYC – was thrown out of Patti's office for being creepy on his date.
#2: Jason in NYC – brought his posse of frat boys to his master date, which Patti forbade him to do. She exploded on him and called him a Brooklyn punk as she threw him out.
And the #1 biggest melt down came with Shauna, the Botox millionaire who tried the show two times and clashed epically with Patti. Labeled a crazy cougar by Andy, Shauna literally ran away from her second date because he was too old.
Surprise, surprise, Shauna shows up in the tail act of the special and sits on the couch across from Patti for the first time since the taping of her last appearance. The ladies were a little tense with one another but Shauna was a lot more mellow as she explained her aversion to poor Mark, who watched her do a roadrunner on him before their master date even got started. Shauna explains his energy was just wrong for her and admits that she is dating now but not married. Patti asks what her type is now and Shauna says people who don't think old. Patti rattles Shauna's chain by telling her "I told you so" on a couple of behind the scenes conversations they had about dating too young. Shauna admits she had a lot of anger in the shows but that Patti does too so they have plenty in common. Andy asks Shauna if she wants an apology from Patti and Shauna says that she doesn't and would definitely give Patti a try again. She says next time she wants a Sex in the City, Mr. Big type guy that is loaded and wants to care for a woman. Patti sighs and tells her a rich man doesn't want to compete with a successful woman and they date down so don't expect miracles. It's a rather adult exchange, which is shocking for a Bravo reunion show where tables are usually flipping and weaves are flying. I can't wait to see if Shauna gets to bring her surprise eyes back in Season Six.
Otherwise, we got to see four return millionaires. Hello Kitty Robin from New York City was first. She was the giggly lush that wanted a Jewish Matthew McConaughey. She got hottie Luke and basically molested him throughout dinner along with offering to be his SugarMomma. Robin was more subdued in action at the reunion but she revealed she was building a pink Hello Kitty summer house which made the whole panel get wide-eyed with their own fit of giggles.
Season Two millionaire Heidi came off much better as she explained her instant connection with Vancouver businessman Bill. As Patti warned, Bill did turn out to be an ageist and while they dated for more than a year, it didn't work out. However, Heidi revealed that she is two weeks away from her wedding to an Australian single father and she's thrilled.
Real estate mogul Madison from Bravo's Million Dollar Listings explained how his seemingly perfect first date with a surfer was just a friendship and there was no sexual chemistry. Andy, Patti and his fellow millionaires were bummed but Madison says the show helped him see that what he really wants is a totally together guy that isn't just a fling partner. Until he finds him, Madison says he's happy working and just being single.
Lastly Marcelles, the ESPN analyst from Season Five, came back to charm Patti and Andy. While he had a great date with Monique, her work took her overseas and they have since split. He said they had a lot of nice hanging out time but their schedules never meshed. Single again, Patti and Andy raved over his humor and down-to-Earth approach. Andy asked if maybe Marcelles and Patti should give it a try but Patti demurred and said she had a girl in mind for him already.
Next week, Part Two arrives with what looks like a proposal and more drama guests from the past... bring it on.