Quick Take: The Millionaire Matchmaker, "Sweet Yigit and Johnny Limousine"
"If there's a chakra that's closed down, then I'm happy to open it." – Johnny Simon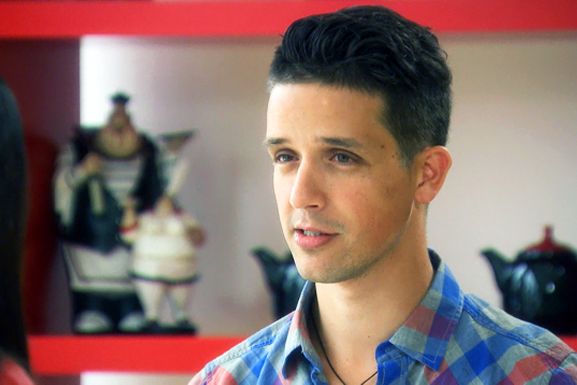 Review: The Millionaire Matchmaker, "Sweet Yigit and Johnny Limousine"
(S0609) Nothing gives me more pleasure than reviewing an episode of Patti Stanger's schlocky train wreck-o-delights (and don't forget a few good dollops of syrup). Don't get me wrong: I genuinely enjoy it on some deep and broken level, and part of the joy (catharsis?) of jotting down a few thoughts is to help me – and perhaps a few others who might be kindred spirits – figure out why that is.
The particulars this week involve "celebrity" pastry chef Yigit Pura of Top Chef Just Desserts "fame," and Johnny Simon, a 47-year old debt consolidation dude who lives on a boat with his dog, Klaus.
This is a real conversation between Patti and Johnny:
Patti: "I feel like your heart chakra's closed."
Johnny, a moment later in a confessional interview: "If there's a chakra that's closed down, then I'm happy to open it."
That's just the kind of straight shooting that you can expect from Johnny Simon.
Oh, and as bonus, here's Patti's earlier advice for women to keep a guy interested before monogamy (one of Patti's all-time favorite words): "Cock will smell cock." Think that's embroidered on a pillow somewhere in her house?
Instead of the standard cocktail party, a lame Mystery Match dating game was used in its placed. Patti became frustrated when Johnny wouldn't interact more with the ladies he was questioning but I imagine that would be difficult, given that they couldn't see each other. I snoozed through the mini-dates, and awakened to learn that Johnny had chosen Tamara, and Yigit chose Gaspar.
Johnny, lover of boats and limos, unsurprisingly took Tamara on a cruise off the coast of Los Angeles. Out on the water, Johnny seemed to relax and appeared to have genuine chemistry with the laid back Tamara.
The 31-year old Yigit is quickly dubbed by Patti as a GCMIT (Gay Chef, Millionaire-in-Training), and comes across as strikingly different than most of Patti's clients: he's a seemingly mostly sane guy. That said, flashes of ego and snark started spouting out throughout the hour.
Yigit took Gaspar to the Gay and Lesbian Academy, where they baked up some cakes and desserts for "the youth." My take is that Yigit's message to Gaspar (and us is): I am on the jet set, and you'd better keep up. However, Gaspar handled it all with aplomb, and even won points by giving Yigit a gift of a jar of Nutella.
After their date, Yigit played things pretty close to the vest with Patti, and we learned that he did not date Gaspar again. As has happened in the past, I smell a little cross-promotional Bravo marketing at work here more than a true desire from Yigit to find the man of his dreams.
More thoughts on this edition of The Millionaire Matchmaker:
I liked the way that Johnny aggressively asked Kristi if she "is a comedian or something." Turns out she is.