Quick Take: The Millionaire Matchmaker, "There's No Place Like Home"
Patti Stanger is back in LA, ready to match together hearts and checkbooks.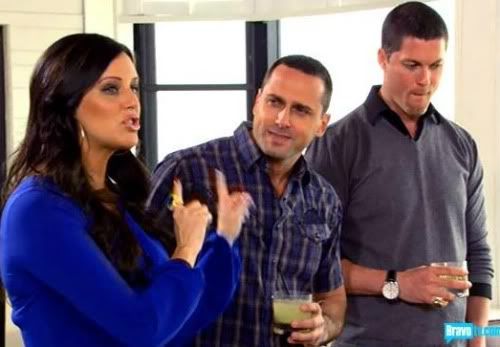 Review: The Millionaire Matchmaker, "There's No Place Like Home"
(S0501) If there was ever a decision made in reality TV hell, it was to move Patti Stanger and her matchmaking team to New York City for Millionaire Matchmaker's fourth season. From episode one, you could tell Patti hated every second of her time in the Big Apple. Why? I think it was probably a mixture of bad weather, the ambivalent New York pool of gold diggers, and mostly that Stanger's trademark take control 'tude was one in a million in Gotham. Patti truly shines when she's squawking at her sun-kissed, clueless, west coast narcissist clientele. In New York, Stanger and her advice got drowned out by the rest of the white noise and chaos and she knew it at the get-go.
Maybe that's why the Season Five premiere of Millionaire Matchmaker felt like a blissful return trip from some nightmare Oz back to the golden landscape of Kansas... if Kansas had no values and was as shallow as a puddle. Patti and her Toto equivalents, Rachel and Destin, were finally back home in LA settling into a slick new office surrounded by blonde headshots and convertibles. Yes, all is right again in the reality TV world.
Perhaps to truly shut the door on her NYC adventure, one of Patti's first millionaires back in Cali was Long Island native Gary Mancuso, Jr. Stanger was quick to sneer about how the Internet entrepreneur reminded her of how glad she was to be home. With glee, she chastised his video interview by criticizing his germophobic, OCD ways. However she was only a bit easier on her other client, Michael Donnellan. A handsome production company owner that grew up in Italy, Michael quickly set Patti off by detailing how he tests women to see if they meet his specific requirements. With irritation ammunition loaded, Stanger met each man separately and laid them both out for essentially being strange and having out of whack expectations for long-term relationships. She warned them both in her frank Stanger way to behave and keep open minds at their upcoming joint mixer.
Unlike NYC, the peroxide was out to play at the MM HQ mixer auditions. It was like old home day with the array of bottled tan colors, the trashy short skirts, huge fake boobs and geometric cut-out dresses. Patti waded through the women like cattle and was brutally frank without a second's regret. She even earned a confessional, "She's a bitch!" from one of the women subjected to her verbal dressing down. Good times.
At the mixer, both Gary and Michael were nervous (as most clients are) and pretty boring as they tried to connect with the women vying for their time. Michael chose mini-dates with Jennifer and Tami, and ultimately selected Tami, the pretty yet worldly hairdresser. Gary sat down with Bonnie and Tiffany, and despite not having a lot in common with her, selected Bonnie purely on looks. You know that earned an eye-roll from Patti.
On the dates, Gary and his four-odd personalities took Bonnie out on an upscale adventure that didn't work out so well. The helicopter ride over the Cali coast made air sick prone Bonnie super queasy. He then whisked her off to a boat (her first) for dinner. I had to laugh that Gary looked just about everywhere except at Bonnie as they tried to talk. Eventually she finally had to call him out on it. He got more focused and even went in for a kiss, which she liked. Showing effort, the maritime Gary asked her to go out on another date with him to a Lakers game – something she's passionate about.
Meanwhile, Michael didn't listen to Patti and decided to create a test date for poor Tami. He brought her to his warehouse office and surprised her with an impromptu photo shoot where she was tasked to dress up and pose next to a luxury car for him. He said it was to judge how open and comfortable a person she was. I know I was uncomfortable for her and when he looked at her with his creeper eyes. As if that wasn't bad enough, he totally sealed the serial killer-in-training vibe by saying "Fantastico" after everything and directing her to pose next to the car in a "Wizard of Oz gothic" way. Huh? Is that code for her body is going to be buried in the car later? Trooper Tami stuck it out for dinner after where they got to converse like humans on an actual date and she seemed to warm up to him a little. I liked it when Michael said nothing Tami did "put me off her." What a charmer, ladies!
The next day, Patti talked to the women and the guys and surprisingly Bonnie and Gary really seemed like a good match. Mamma matchmaker was pleased with shallow Gary for pulling it together. But after her chat with Tami, she gave Michael a classic Stanger verbal smackdown as she yelled at him for testing her – despite her warning not to – and for making her so uncomfortable. Michael was shocked and aghast at the feedback and made the cardinal mistake... trying to shut Patti down in an argument. You practically saw the steam coming out of her ears as she fired him from the club and kicked him out. He left calling her a whore in Italian, of course testing her language skills as he slunk away. Something tells me Patti was a-ok with failing his last test.