The two hour series finale of The Office is airing this week and I have already started to wonder, what am I going to do on Thursday nights without the employees of Dunder Mifflin to keep me entertained? For the past nine seasons, The Office has been one of the best comedies on TV. These characters will be missed, but I am looking forward to seeing what the finale has in store for them.
In honor of this great show, I have put together a list of ten of the best episodes and as an Office fan since the beginning it was hard to narrow down my favorite out of almost two hundred. There have been countless laugh out loud, cringe worthy, tear inducing, face palm and heartfelt moments on this show, but for me these define The Office.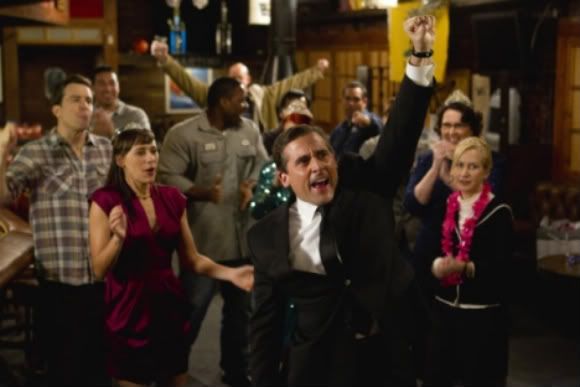 10. Diversity Day, season 1, episode 2: 'Diversity Day' stands out among the lackluster first season episodes and was the first glimpse into Michael's awful leadership skills. A diversity consultant is brought to the office after a Chris Rock impression of Michael's gets complained about to corporate. When Michael finds out the whole thing was about him, he is embarrassed and decides to run his own diversity training session. "Let's go around and everybody, name a race you are attracted to sexually," is his starting point and by the end of the lesson he gets slapped in the face by Kelly. It is comedy gold when the employees have to tape note cards, with the names of ethnic groups on them, to their foreheads and try to guess what their race is based on stereotypes.
9. The Job, season 3, episode 23: This was one of the best season finales that the show had throughout the years. When a position opens up at corporate, Michael, Jim and Karen travel to new York for interviews. Michael is conflicted when it is revealed to be Jan's job that is becoming available, Jim realizes that Pam has always been there for him and Dwight has a taste of what it would be like to be the regional manager. I love Pam's expression when Jim comes back to ask her out to dinner and the twist of Ryan being offered the position at corporate.
8. Threat Level Midnight, season 7, episode 17: Way back in season 2 was when we first learned about Michael's movie script of Threat Level Midnight.It started with a table read by the employees when Pam came upon the script and by season seven it had turned into a full movie, being made over the course of a few years, with cameos from Jan, Karen and Roy. This episode felt like a little tribute to Michael before he left Dunder Mifflin for good a few episodes later.
7. Traveling Salesman, season 3, episode 14: 'Traveling Salesman' is one of the episodes that displays how great the chemistry is between the cast. It starts off with the sales staff teaming up for sales calls in an Amazing Race way during which Andy tries to turn Michael against Dwight after learning Dwight had previously gone to Jan how bad of a boss Michael is, Karen learns about Jim's feelings for Pam from Phyllis and Jim and Dwight's team skills are shown to be amazing even though they always don't get along. Dwight ends up choosing Angela over Dunder Mifflin when he drives to New York to turn in the important tax forms that she forgot to mail. After Andy finds Dwight's toll stub, Michael thinks Dwight betrayed him to corporate, leading Dwight to quit. Jim and Dwight together are always great moments and I still laugh pretty hard when Jim slaps Dwight in the face.
6. Christmas Party, season 2, episode 10: Most of the Office Christmas parties are dysfunctional and hilarious and this is where it all started. Leave it up to Michael to screw it everything up by having a Yankee Swap instead when after buying Ryan an iPod, even though there was a $20 limit, he gets upset when he opens his gift of oven mitts handmade by Phyllis. His answer to all the problems is to buy booze for everyone and later gets flashed by a drunk Meredith. This was also an episode to show how Jim really felt about Pam when he gets her for secret Santa and gives her a gift with all their inside jokes included. And that note that Jim almost gave Pam about his feelings finally made its way to her during this final season! Those two have definitely come a long way.
5. Goodbye Michael, season 7, episode 22: As everyone is preparing for a last day at the office with Michael, he in turn decides not to tell everyone he is leaving a day early to avoid any drama. He has subtle goodbyes with everyone and by the end can barely hold it together. One of the best moments of the episode is when Pam realizes that Michael left for good and found him at the airport to say goodbye. This episode is so great because you can see the real emotions in the goodbyes he has with his co workers. Steve Carell had a great run on this show, creating one of the most memorable characters on TV and this was a great send off for him.
4. The Injury, season 2, episode 12: After Michael grills his foot with a George Foreman grill, Dwight races to save him but ends up crashing his car and gets a concussion. It is Pam who discovers this after she gets suspicious when Dwight starts acting like her friend. Michael thinks his injury is more severe and even brings in the building landlord, who is in a wheelchair, to teach the office some compassion towards disabled people but mostly towards his hurt foot. This episode was one of the handfuls where Dwight proves how much he cares for Michael. Although Michael is always reluctant to admit he cares for Dwight in return, he does end up being there for him. Their moments together in this episode are great, but so are the Dwight-Pam moments in between.
3. Fun Run, season 4, episode 1 & 2: 'Fun Run' is easily one of the funniest episodes and has one of the funniest cold opens of the show starting off with Michael saying how great his life is and then hitting Meredith with his car. When Meredith learns she has rabies, Michael decides to have a charity run to find a cure for it. It is the little moments that make this episode so great from Michael eating fettuccini alfredo before the run, Dwight using a real gun to start the race, Andy having to tape his nipples so they don't chafe and Oscar, Creed and Stanley taking a cab to the finish line after a round of beers at a nearby tavern. Also, two relationship milestones happen with Angela breaking up with Dwight after he mercy kills her sick cat and Jim and Pam are revealed to be dating.
2. Niagara, season 6, episode 4 & 5: For the first three seasons Jim and Pam, JAM, were the will they/won't they couple of the show. In season four their relationship finally took off and by season six they were getting married and going to have a baby. It may be Jim and Pam's big day, but all the little stories surrounding it make the episode fantastic including Dwight's wooing of a bridesmaid, Kevin losing his shoes, Michael and the gang dancing down the aisle (an Office tribute to this real wedding video) much to Pam's chagrin and Pam having to drive Andy to the hospital after he tears his scrotum, while having a dace off with Erin, because she is the only sober one to do it. Of course there are the sweet moments between the couple with Jim cutting his tie for Pam after her veil rips and when they really get married on the Maid of the Mist at the falls. And who knew that it would be Jim, not Michael, to spill Pam's pregnancy secret. This episode had a good balance of comedy and heart.
1. Dinner Party, season 4, episode 9: 'Dinner Party' is awkwardness at its best, displaying how discomfort can be a good recipe for comedy. Michael and Jan invite Jim, Pam, Andy and Angela over for a couple's dinner with Dwight crashing due to jealousy, but what ensues is a look into Jan and Michael's dysfunctional home life. The dinner is a mess as Jan's crazy side really comes out as it is revealed she won't let Michael sleep in the same bed with her and she has an obsession with making candles. It is kind of sad to see how unhappy Michael is, but you can't help but laugh when they angrily call each other babe.