More news carried on the winds of the apocalypse: Jersey Shore -- which has made this world forever-unclean with its moral and intellectual bereftness hinging on countless obnoxious idioms like "T-shirt time" -- begins its self-replication process with a spinoff, The Pauly D Project. Like the mythical Hydra, dismembering the Jersey Shore produces an entire half-hour production dedicated entirely to the walking spray-tan from the Shore.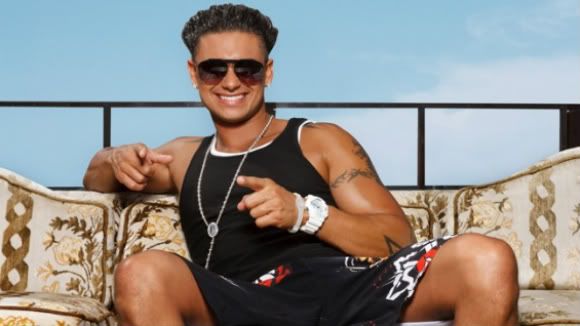 Premiering Thursday, March 29 at 10:30/9:30c on MTV, The Pauly D Project will apparently follow the DJ's recording contract with 50 Cent's record label and beyond. Or, according to Snooki, his all-expense-paid vacation. Unless it never occurred to you that the infamous guidos and guiidettes don't need the jobs they're shown half-assing on television for a few minutes each episode, then it shouldn't come as a shock to learn how the cast of Jersey Shore really feel about their time under the spotlight. It might come as a shock, however, to learn how much money they brought in for the state.
It's hard to believe that Snooki and J-Wow have political convictions, but it doesn't amount to much more than "we don't like our governor because he's dumb."
Slated for 12 episodes, The Pauly D Project only replaces Jersey Shore instead of accompanying it, which should be counted as a minor blessing. It's still bittersweet, however, as it follows up the return of Punk'd after its five-year hiatus. Lacking its former host Ashton Kutcher - who is entertaining a different breed of moral and intellectual bereftness as Chuck Sheen's replacement on Two and a Half Men - Punk'd brings in a cavalcade of guests like Miley Cyrus and Justin Bieber, who are more age-approrpraite for the immature humiliation that brings celebrities to the point of desperate, anxious, rampant paranoia.