Quick Take: The Rachel Zoe Project, "New Beginnings, Big Changes"
"I'm so exhausted, I'm losing my voice." - Rachel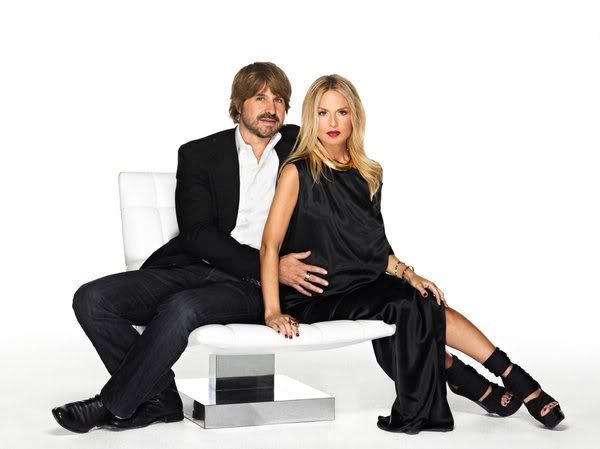 Review: The Rachel Zoe Project, "New Beginnings, Big Changes"
(S0401) Drama queen and fashionista extraordinaire Rachel Zoe is back for her fourth season of styling, fretting, and compulsive working just with one, big change. Zoe's finally got a microscopic bun in the oven! I say microscopic because Zoe, who maybe weighs 85 pounds soaking wet, is six months preggo in the season premiere and instead of looking round with child, she instead looks like she's finally had a full meal for once in her life. I can imagine women who have been or are pregnant watching this season in a rage throwing pints of ice cream and pickles at their TV screens. I hope her hipster hubby Rodger will make her eat this season, however it's not looking good in the premiere when he serves her sparkling water with a splash of cranberry as he eats a big bowl of cereal. I'll end my rant with this…Woman, eat a damn sandwich for the child!
Aside from the baby, life is chaos as normal in the Zoe Empire. Rodger and Zoe have four businesses under the Zoe brand now, with the latest being the designer Rachel Zoe fashion collection. A big picture risk, Rodger sees the clothing label as their future as Zoe won't just be putting clothes on clients but now setting the style trends with her own pieces. The line is just about ready to arrive at the office and with Zoe far along into her pregnancy, her bi-coastal days are waning. The plan is to premiere the collection a month before Fashion Week in NYC to a select group of fashion press and buyers. It's a sink or swim moment that Zoe and company are all worried has to be perfect but the company is short-staffed and overworked.
Zoe's biggest problem is the loss of stylist/assistant Brad, who sat down between seasons with his tiny boss and explained that he wanted out of the limelight to spend time with his boyfriend and dog. The only problem is that he really pulled a Taylor Jacobson (Brad before Brad) and then went out on his own to become a stylist focused on poaching Zoe's clients. Having been twice bitten, Zoe is understandably having some trust issues but Rodger and manager Mandana are adamant the little lady needs more manpower to get everything done so she can refocus on her baby.
Rachel agrees and we see her interview two candidates – gay artiste Jeremiah and newbie yet experienced Ashley. Jeremiah immediately impresses Rachel because he's cute and funny, but he's lacking in field experience. Jeremiah comes from the world of interior design and furniture crafting with some modeling and fashion styling on the side. Rodger would prefer someone who can hit the ground running. Ashley fills that requirement but Zoe thinks she is too enthusiastic. It's like Rachel, the control freak, is determined to work so much she literally pops. Ever the enabler, Rodger acquiesces to Zoe's wants and Jeremiah is hired and thrown into the deep end on day one. I have to say he's very telegenic and well-spoken in his camera confessionals but he readily admits that he's in over his head. The man has never steamed clothing before. Seriously, Zoe, you would have done better hiring me and I'm fashion useless. Jeremiah however agrees at the last minute to go to NYC to help with the collection presentation and he wins some big brownie points. Zoe smiles, "This will be your ultimate test."
Aside from collection mania, behind the scenes one gets the sense that Rodger is going to need every second of these nine months of pregnancy to get Zoe to transition into the mere idea of slowing down work enough to focus on being a mother. She's going at the same crazed pace trying to make the new collection and her existing style clients come out equal which is making her husband nuts. When a LA red carpet premiere night for a client is moved to the same night as her NYC show, Zoe asks him if they can move her collection date. Rodger goes a bit mental with her and has to explain that something has to give and it shouldn't be the product line that will feed them into retirement. Touché.
Aside from that, the couple go house hunting….well Mandana and Rodger go looking sans Rachel. They tour a 7,000 square foot monster mansion that Rodger says is way too big. However, Mandana shows Rachel the pictures later and like Veruca Salt, screams "I want it now." Guess who wins?
There's also an Elle Magazine photo shoot that features Rachel and Rodger in a John and Yoko themed feature spread. I guess the connection comes from them also lying on a bed, however they aren't naked, musicians or spreading a message of peace so I'm going to say that thematic link is tenuous at best. Plus, the couple looks awkward as hell canoodling in their upscale jammies. Not the show's finest moment.
Embarking on its fourth season, the pregnancy angle gives the show some new vitality this year. Rodger looks thrilled. Rachel looks like she's trying to ignore it's even happening so it will be interesting to see how Zoe takes to the inevitable outcome at the end of the season. I guess we should starting transitioning too...Gerber Bananas!