Quick Take: The Real Housewives of Beverly Hills, "Tempest in a Tea Party"
"If you can't be my friend just please don't be my enemy." - Taylor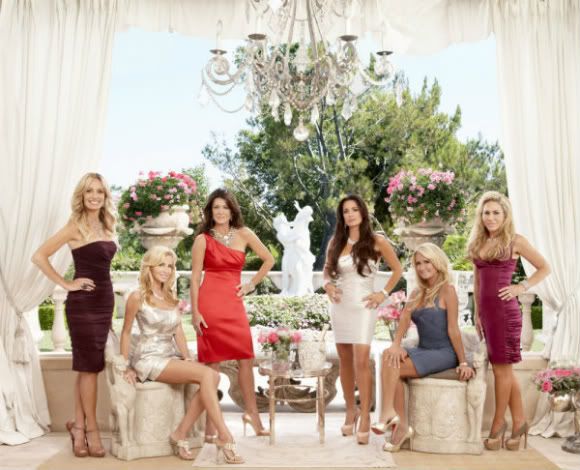 Review: The Real Housewives of Beverly Hills, "Tempest in a Tea Party"
Last night things got pretty intense on The Real Housewives of Beverly Hills when Lisa's innocent tea party turned into a she said/she said war of words. In typical RHOBH fashion, the really good stuff happened at the end of the episode so that it could be carried over into next week. Here's what you need to know:
Taylor and Lisa have had problems in the past. Taylor thinks that Lisa talks behind her back and spreads lies. Lisa just finds it difficult to be around Taylor.
According to Taylor, all the girls have been talking about how much Lisa has changed and that her ego is supersized. Case in point: Lisa's ipad screen is a picture of her and her dog Giggy.
All the other ladies have been keeping mum on the subject of Taylor's marriage (allegations of abuse, etc.), but Camille finally had enough and called out Taylor on her own lack of honesty.
The fight was a little tough to watch at times considering the tragic outcome of this past summer when Taylor's husband committed suicide. Clearly Taylor was in a very fragile place during filming and everybody could see it. Could Lisa have been more sensitive to Taylor's situation? Sure. Could Taylor have approached her problems with Lisa differently, instead of at high tea? Absolutely. But RHOBH wouldn't be what it is without all the drama and bickering.
The rest of the episode was mostly filler and featured Kyle's continued sobbing over her sister Kim's secret year-long relationship with Ken. Also Paul and Adrianne celebrated Paul's birthday with a night out and Taylor failed to invite Lisa to her women in business luncheon. Tune in next week to see the fallout from Lisa's tea party, plus the return of Lisa's wackadoodle wedding planner.