Quick Take: The Real Housewives of New Jersey, "Portrait of an Italian Family"
"There's no legitimate reason why she would take a shot at my son…not my kids." - Caroline Manzo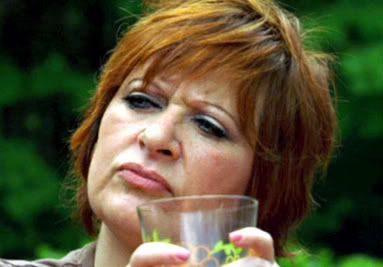 Review: The Real Housewives of New Jersey, "Portrait of an Italian Family"
(S0319) The season finale of The Real Housewives of New Jersey was only a taste of the main course to come. Next week's explosive reunion will be a true end to what has been a dynamic season filled with feuding families, drama-filled parties, auto-tuned performances, and one intense christening.
Continuing in their attempt at peace, the Giudices and the Gorgas got together for a family portrait. Surprisingly, the evening went off without a hitch - no arguing or backhanded comments to be found. Could it really be true? Was Teresa finally over all the petty BS about some past family indiscretions? Would there finally be harmony in this little section of Jersey?
Of course not.
Once again, Teresa managed to find some way to offend her friends and family, this time with her so-called cookbook. But I'm getting a little ahead of myself. Let's rewind a bit.
The episode began at Melissa's house where her stylist was helping her get ready for the family picture. Teresa called Melissa during the session which led the stylist to remark that Teresa would be none-too-pleased to find out that she was styling for Melissa. Apparently the stylist is just another one of the things that Melissa stole from Teresa. But I think the bigger issue here is that these "real" housewives need stylists. Who do they think they are? You're in Jersey, people!
Anyway, after the relatively calm photo shoot, we check in with Jacqueline, Chris, and their whiny daughter Ashley. Ashley unveils her new tattoos and it's all very boring. Chris's brother Jaime stops by to try and impart a little wisdom on Ashley, but like every other attempt all season, it falls on deaf ears. Ashley is going to do what she wants, and if that means not finding a job and talking about moving to Los Angeles, then so be it. Jacqueline is at a loss. She can't deal with her daughter's behavior anymore and leaves all the decisions up to Chris.
Later in the episode we got a look at Mama Manzo at work. Caroline's kids surprised her with a visit at the radio station and had their mother in a full on giggle fit while doling out advice over the airwaves. The Manzos are the best thing about RHONJ. They're all extremely likeable and hard-working, plus they genuinely love one another and don't just say it for the cameras. Mazel, Manzo family.
Following in the Manzo footsteps we got to see Kathy and Richie's daughter go to the big dance. It was sweet to see Kathy tear up at the sight of her daughter growing up. I like Kathy. I think she seems like a nice, caring person. So how on earth are she and Teresa related?
But in the end, it was another book that exposed secrets, insults, and one housewife's true colors. Teresa's latest cookbook was released, but the juiciest details weren't in the recipes. Apparently Teresa thought it would be a good idea to insult her friends and family in the introduction. Because nothing says family cooking like a jab or two at your closest loved ones. Here's what the New York Times best selling author (I shudder just writing that) had to say:
Caroline is 1/16 Italian and is about as Italian as the Olive Garden.
Teresa doesn't condone young women stripping at a car wash to make money - an obvious dig at Caroline's son Christopher. (On a side note, what the heck does this have to do with recipes anyway? It's just petty Teresa and you know it.)
Melissa copies everything Teresa does, from her clothing to her choice of outdoor patio furniture. (Again, huh?)
Teresa's cousin Kathy is mean-spirited and takes jabs at her.
Discussing the cookbook revelations around the table, Caroline and her children (plus the boys' roommate Greg) made it clear that these comments wouldn't go unnoticed and I was cheering for what I've been waiting for all season - Teresa's undoing. Teresa has been grating on me all season so I can't wait to see Caroline put her in her place next week during the reunion special. Set your DVRs people, because Caroline's about to show Teresa just how Italian she really is.