Quick Take: The Real World (New Orleans): "Over Knight"
"You're only good for one thing." – Knight to Jemmye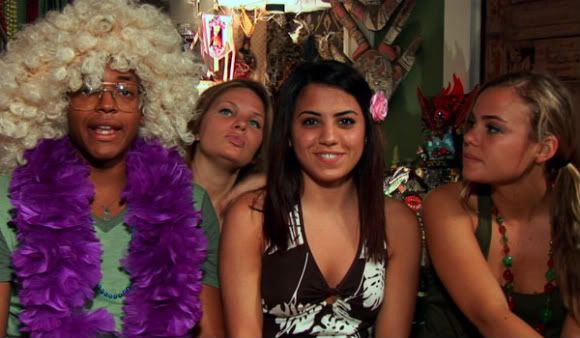 Review: The Real World (New Orleans): "Over Knight"
(S2411) Knight is one of those rare Real World cast members that's a bit hard to pin down. He's a recovering drug addict (pills), he's a Midwestern frat boy, he's good natured and amiable, he's drunken and mumbly, he's cheeky and provocative, he's abusive and demeaning.
I've also found that the more we see of Knight, the less impressive he becomes. He's nowhere near the level of a Ryan, thankfully, now departed from the house under a cloud of excruciating annoyance, but his negative qualities were on full display this week.
While at times Knight's relationship with Jemmye is cute and comfortable in a friends-with-benefits frat house sense, it's also disturbing with a hint of menace at others. One can almost imagine a Knight twenty years down the road with more beer muscles and less hair, wearing a wife beater t-shirt that edges dangerously close to apt description. When he says "You're only good for one thing" to Jemmye in bed, it fails to hold that scant thread of boyish bravado and precociousness that he seems to be hoping for.
And later, he convinces Ashlee to skip out on part of a night that is supposed to be spent experiencing what it's like to be homeless in New Orleans to a) go buy drinks at an all night gay bar and b) steal flour from the New Orleans Mission kitchen to throw in the face of his sleeping roommates. This escapade is perhaps forgivable – he's a college dude, we should remember, I suppose – but you'd think that a reasonable person would understand that The Real World does some small public service in broadcasting the lives of seven strangers blah blah blah into the homes of millions of teens. And you'd think this might affect one's behavior, at least on some level, when it comes to doing something productive/not drunken. Or not.
Meanwhile, Sahar gears up for another shot at the big stage after her shaky first go round. This time she's puts in a guest spot on backing vocals for a band called Flow Tribe. She does just great when its performance time, but the drama comes in the form of her boyfriend Pablo, who arrives from Deerborn, Michigan with a few of his pals.
"Let's booze it up," Pablo announces after a full previous night of drinking, and proceeds to pound shots of vodka over pancakes at breakfast. Needless to say, he's wrecked by the time of his girlfriend's performance that evening, and has managed to reveal himself as a cheater ("He gets more ass than a toilet seat," his pals charmingly allege) and even makes a clumsy swipe or two at McKenzie.
Eric shows himself to be a solid dude in encouraging Sahar before she goes on stage with Flow Tribe at the Kingpin. The editors haven't spent all that much time on him this season, likely because he seems to live a relatively drama-free existence. I was really surprised to note, for example, that he was an aspiring standup comic, which seemed to be dropped in out of the blue after a goodly number of episodes had gone by already.

More thoughts on this week's installment of The Real World:
"Pablo's a worse drunk than me." – Knight
I enjoyed Loretta calling out Knight for being a manipulator who likes to control situations
"I was domestically violated yesterday." – Knight