The Walking Dead kicks off the second half of its sophomore season on February 12th, but it appears that Frank Darabont, The Walking Dead's former show runner, may have let a major cat out of the bag a little early.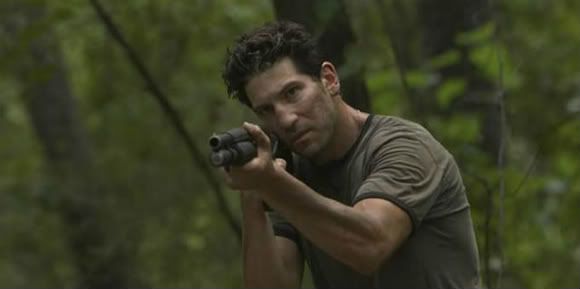 Darabont, who was unceremoniously jettisoned from The Walking Dead staff just prior to the start of Season Two, is apparently trying to woo John Bernthal -- who plays Shane, the second male lead on The Walking Dead -- over to TNT to work on Darabont's new project, L.A. Noir, Variety reports.
So what does this mean for The Walking Dead, and more specifically for Shane's fate? Well, if Bernthal decides to follow Darabont to L.A. Noir (which is a real possibility), he will most likely have to be killed off of The Walking Dead. While it is possible for Berthal to do both projects at once, it's extremely unlikely. The Walking Dead films in Atlanta while L.A. Noir films in... well, L.A. Logistically speaking, it would be difficult for Bernthal to juggle both shows.
Adding more credence to the "Shane will be killed off The Walking Dead" theory is a story that came out of TV Line a few months ago. The story refers to an unnamed cast member wanting to leave the show because he or she was so upset by the way AMC treated Darabont during his departure from The Walking Dead.
While I'm all for The Walking Dead killing off characters, it would be a shame if Shane was the one to get the axe. From the get-go Shane has been my favorite character, and one of the few reasons I have stuck with the show.