The first three seasons of The Wire were progressively better in my opinion. However, the fourth season was actually my least favorite season of the first four. Now, that doesn't mean it wasn't good. It was another fine season of television, and I fully intend to start up on Season Five in short order. I just didn't like it as much.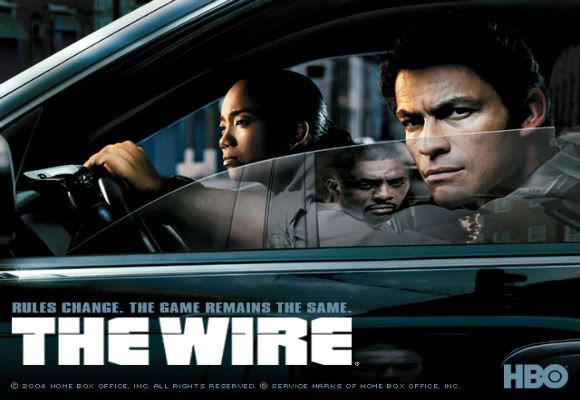 My main issue is that it was kind of a bummer. I have no issue with dark or bleak TV shows or movies. I covered Breaking Bad after all, and I've enjoyed the first three seasons of The Wire, and they weren't exactly romps. Season Four was just a bridge too far for me at times. It was the darkest season yet, and at times that left a bad taste in my mouth. I am looking to be entertained when I watch television shows. After all, that is the entire point. Some of the stuff this season I could not find entertaining. Bubbles' arc this season, for example, was just an exercise in abject miserablism that would have made Cormac McCarthy blush.
Season Four took a major turn from the previous seasons. With the Barksdale crew in tatters, The Wire turned its attention to the next generation and the Baltimore school system. Suddenly, the main characters were four children never before seen. Marlo and his crew, killing people left and right, are also quite important. Meanwhile, Jimmy McNulty took a major backseat. I still got to enjoy seeing plenty of the characters I've liked from previous seasons: Lester, Bunk, Omar, etc. So, there's that. However, the new characters still provided plenty of good stuff, even if their stories were sort of downers a lot of the time.
Long story short, the Baltimore school system is terrible, it has no money, and No Child Left Behind is destroying our public eduation system as portrayed. A lot of the stuff in the school was quite good and engaging. Our tie in to the school from previous seasons was Prez, who became a teacher after leaving the force evidently. Unsurprisingly, he is in over his head, although he eventually gets the hang of it. Prez's arc of getting a foothold in the school, and developing a connection with his students, was quite good, and Prez was so caring you almost forgot that once upon a time he hit a child in the eye with his gun.
Bunny Colvin also got involved in the school, as he and some academic start a class for troubled kids, most notably Namond Brice. Namond is the son of Wee Bey, but he can't live up to his father's reputation and isn't cut out for the streets. There's also Michael, Randy, and Duquan. All of them have awful, sad lives and things end up getting worse for most of them. To The Wire's credit, they really started fleshing out these characters quickly, and they were all good characters that I was interested in before season's end.
So, the school stuff was good, but there was plenty of interesting stuff going on with the police as well. Major Crimes had all kinds of changes, Kima became homicide police, and Lester again proves to be great at being a police officer. Also, McNulty is sober and with Bea Russell. There are a lot of changes going on, because Tommy Carcetti becomes mayor this season. Carcetti's mayoral campaign was also very interesting and engaging, and provided a nice look at the corrupt world of politics. Plus, getting a new mayor changes the dynamic of the city and the government, which has provided some freshness to the show.
As for Marlo and his gang, they remain more a driving force for plot that anything else. Marlo still isn't an interesting character to me, although I've grown used to his low key ruthlessness. They don't really give the characters much depth. I'm not complaining about them, and they serve their purpose in the show, but on a show filled with characters, many of them really good, they don't stick out.
Omar sticks out, of course. Even though he is often operating in his own world, Omar remains a compelling, top notch character. Watching him walk to the store in a robe, sans gun, and still strike fear in the heart of Baltimore's criminals was awesome. Having something go wrong for him was quite a nice change of pace as well. His interactions with Prop Joe are always good, and perhaps he can bring something more out of Marlo and company. Also, we got to see Spiros! Will The Greek be back next season?
Oh, also goodbye Bodie. He sort of lost his place in the world, but he went down swinging and spitting in a weird way.