Oh yeah, it's back. The X-Files, 2016 style. Sure, it's just a six episode run for the iconic mystery meets science fiction meets horror show starring David Duchovny and Gillian Anderson, but let's take what we can get, all right?
Give us the facts, then
The X-Files premieres tonight, Sunday 24th, 2016, at 10:00/9:00c on FOX -- though there may be some movement on that time on the east coast depending on when the NFL's NFC championship game concludes.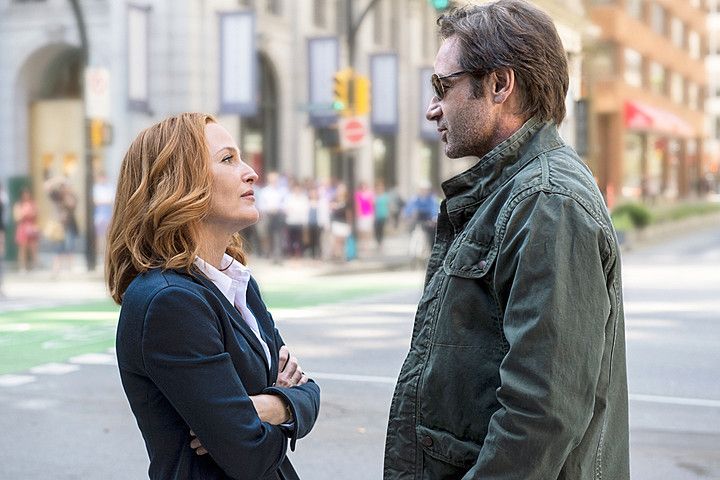 What fictional devise has brought about the return of The X-Files?
Why, the FBI's X-Files unit has been re-activated, allowing agents Fox Mulder (Duchovny) and Dana Scully (Anderson) to team up to get at the baddies and dig deeper into the mythology that has had TV fans chattering for well on 20 years now.
So then where's the trailer, then?
Okay, okay! Here it is:
Pretty intriguing, yes, yes?
Where did The X-Files leave off back in 2002?
The super short version: Mulder was on the trail of plans that laid out the colonization of the planet Earth by some non-human types, then gets arrested, whereupon The X-Files team is discredited and Mulder is sentenced to death. Thanks to Scully and team, Mulder is busted out of the fed joint, a bunch of action scenes go down, and the Mulder and Scully get some other kinds of action going in the bedroom.
The longer-ish version: This International Business Times story has some great additional background.
What else do we know?
Tonight's premiere episode is called "My Struggle," not to be confused with a book written by a certain future evil dictator in a different language (read: German), received mixed reviews at an early screening with the bad reviews stemming from "the excessive use of monologues and the stiff performances of the cast." Upcoming episodes include "Founder's Mutation," "Mulder and Scully Meet the Were-Monster," "Home Again," "Babylon," and if "My Struggle" wasn't enough for you, we then get "My Struggle II."
What other cool stuff do we know about The X-Files, 2016 version?
The guest stars include some serious comedy heavyweights. First up we have Joel McHale, he of Community and The Soup fame, playing some sort of web-based news anchor named Tad O'Malley. We also know that he is to help out Mulder is some fashion. Then we have none other than Kumail Nanjiani playing a character named Pasha. Nanjiani is a coedian and of course plays Dinesh Chugtai on HBO's Silicon Valley (and he has one of the funniest Twitter feeds around). And it doesn't even stop there.
Oh wait, there's more. Rhys Darby. Boom. Who's Rhys Darby? Oh, he just the hilarious dude from New Zealand who played "band manager" Murrary Hewitt on Flight of the Conchords and has been in film's such as the Jim Carrey-helmed Yes Man.