Quick Take: Tia & Tamera, "The Wedding Forecast: Rain"
Contrary to popular belief, having a twin doesn't always mean they will understand you or be there for you.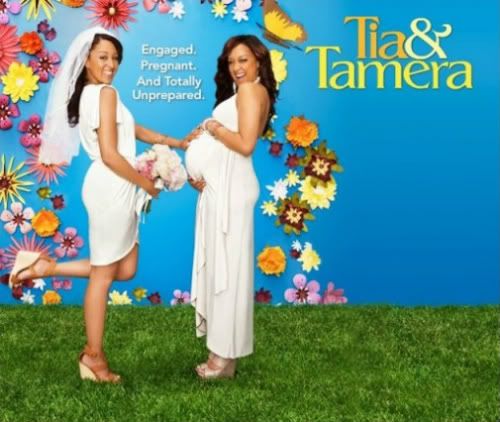 Review: Tia & Tamera, "The Wedding Forecast: Rain"
(S0103) While Tia & Tamera are both going through life-changing experiences at the same time -- Tamera getting married and Tia pregnant with her first child -- sometimes you just need to put the other person first and understand what they are going through. This is especially true of Tia with regard to Tamera since she is married and understands the stresses of planning a wedding. I kind of felt bad for Tamera throughout this episode because it just seemed that Tia didn't want to be there for her.
This week's episode opens with Tia & Tamera going to the bridal salon for Tamera's final fitting of her wedding dress. The dress looks amazing on her and both sisters get choked up. The happy feelings don't last long though. Tamera asks Tia if she would do her the favor of bringing the dress up to Napa Valley, the wedding location, since she will be driving up and Tamera will be flying up. Instead of just graciously agreeing to do so she says yes and that since she will be taking the dress she won't stop for ice cream on the way home. Huh? Why does having your sister's wedding dress in your car prevent you from getting ice cream? Tia tries to spin it by saying that she doesn't want anything bad to happen to the dress and that she wants to make sure the dress gets home safe. Really not a good save. In the end Tamera decides to fly up with her dress after calling Tia a few days later to make sure her dress was okay (admittedly that is a little neurotic) and Tia informs her that the dress was still in her car since she didn't want to forget it. Seriously, that's just not right. That's your sister's wedding dress and you should be taking better care of it, especially since you made such a fuss about not stopping for ice cream since you had it in your car.
The wedding weekend arrives and instead of Tia being there for the entire thing she leaves home late with her husband and was planning on using the weekend to have a baby moon. Needless to say, Tamera was disappointed that Tia did not intend to spend her last evening as a single woman with her as she did for her. Since Tia was running late she attempts to have one of her cousins help her out with the baby moon by setting candles up in the hotel room. Her cousin replies by saying that she intends to be with Tamera for any last minute things she may need. Tia doesn't end up arriving in Napa Valley until 12m and there was no baby moon. I honestly cannot believe Tia, it's as though she has no concept that this weekend is extremely important and special for her sister. She's married; she should know how special a wedding is. Tamera has a mini-melt down the day before the wedding when she learns that she will have to rent a $20K tent because of the expected rain, hail, lightning and wind the day of the wedding. Something that really struck me during this episode was that Tamera's husband-to-be was nowhere to be seen. She was the one making all of the final decisions with her maid of honor and bridesmaids and even hosting all the guests by herself at a wine tour. What's the deal with that? I can understand if he doesn't want to be on camera for the show, but I would expect for the wedding weekend he could have made an exception. Then again, how much of the drama on reality is truly real?
The wedding day is here and Tamera's frustrations continue with Tia. Tamera and her bridal party are getting their hair and make-up done and Tia arrives late. Her excuse, she thought that since she was pregnant she would end up being the last one to have her hair and make-up done. What kind of reasoning is that? I thought it was usually the bride who is the last one. Unfortunately the conversation Tia had with her cousin the night before didn't sink in. Her cousin tries emphasize to her that the important thing is for her to be there for Tamera on her wedding day. Before the ceremony the sun comes out and that lightens Tamera's mood. Once she was in her dress and walking towards the tent she completely calmed down. Unfortunately that's the end of the footage. At this point instead of video of the wedding we get snapshots with Tamera retelling the story.
Next week... Tia attempts to turn her breached baby and Tamera & Tia get into a heated argument.