Quick Take: Tia & Tamera, "Two's A Crowd"
Why do people like to create problems for themselves where they don't exist?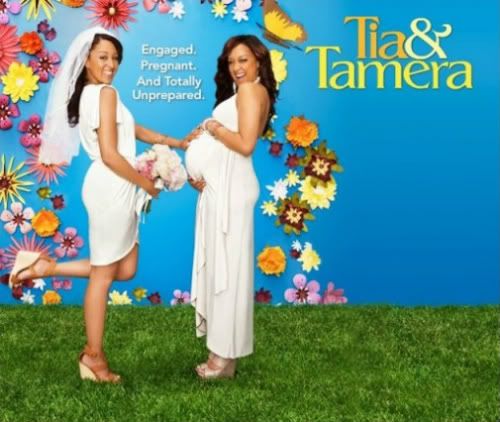 Review: Tia & Tamera, "Two's A Crowd"
(S0105) I'm still on the fence as to whether or not I like Tia & Tamera, but, somehow I can't help but watch it. Maybe that will change once the fall premieres kick into high gear. This week Tia is stressed about her unborn baby still being breach and whether or not she looks fat. While Tamera on the other hand is trying to adjust to married life, which means having her husband, Adam, and his belongings move into the condo she once called her own.
The episode starts with Tamera accompanying Tia to her doctor's appointment. Tia is three weeks out from her due date and her baby is still breach. She's devastated by the news since she's been doing all she can do to make the baby move and he hasn't budged one bit. Her doctor informs her of a procedure where they can manually turn the baby. After going over the risks and reading what other women have said about the procedure she opts not to do it. Tia comments that her baby not turning is the first sign for her that you cannot control what your child does. Uhm, hello, you can't control what anyone does except for yourself.
I feel bad saying it, but she kind of got on my nerves a little. She's so adamant about not wanting to have a C-section, but, her reason for not wanting one is because she has to be back at work in six weeks and recuperating from one requires eight weeks. It's understandable that that would be stressful, but, she just sounds so selfish about the whole thing. Pregnancies are unpredictable, that's just how it is. She should be happy that she's having a healthy baby, but, it appears she's not even focusing on that. Another issue with her this episode is her self-consciousness over the weight she's gained during her pregnancy. Her baby shower is coming up and while she is excited about it she's also dreading it a little because she doesn't want people to see her so "fat." Fat and pregnant are two completely different things. Thankfully once she's there she forgets about all of her worries and enjoys herself.
Meanwhile, Tamera is struggling with Adam moving into her condo, well, not so much Adam, but all of his belongings. He has a bunch of chotchkies from his travels that don't fit in with Tamera's style. Tamera has a specific way she wants their home to look, her way, and he doesn't care one way or the other. She resolves the problem by putting all of his stuff in the guest bathroom. This is definitely not a good way to start off a marriage. She even calls in an interior decorator to help her mesh all of their items together. Is she serious? It's really not that difficult.
The interior decorator turns out to be a part-time psychiatrist as well, assuring her that her and her husband will be able to overcome this problem. She's so neurotic that she even finds it difficult to find a place for a small ceramic elephant that he has. Is she just trying to create drama for the cameras? Speaking of psychiatrist, she actually goes to visit hers to discuss the feelings of anxiety and stress she's feeling over this. She's actually been having headaches just thinking about Adam's stuff. The psychiatrist tells her that she has control issues and doesn't know how to share. Which is kind of ironic considering she is a twin and they do get along fairly well. In the end Tamera finally discusses her concerns with the first person she should have gone to, Adam. She tells him about her concerns and he tells her that it's really not that big of a deal. She goes on to ask him which items amongst his things is this most important to him and he gives the best answer he could possibly give, her. Let's all let out a collective sigh now.
Next week... Tia finally decorates the nursery and Tamera looks into some acting jobs.