Quick Take: Toddlers & Tiaras, "Southern Celebrity Glitzmas"
The crazy kids and their makeup wagons come out for some holiday fun!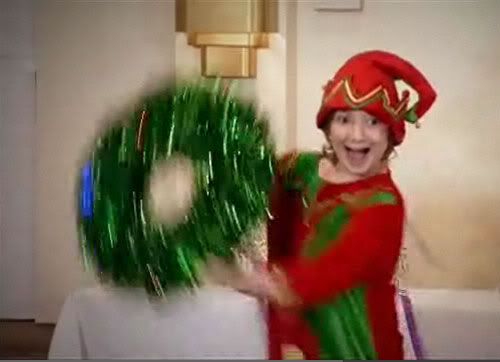 Review: Toddlers & Tiaras, "Southern Celebrity Glitzmas"
(S0415) The pageant shenanigans are back on Toddlers & Tiaras with a holiday motif as the Southern Celebrity Glitzmas pageant of New Jersey entices three families to compete for gaudy crowns and bragging rights. If you think putting these little kids in red Santa outfits and elf hats makes the overall crazy any easier to digest, think again!
On the clueless wealth end of the scale resides the parents of three-year-old Laila. In their Montebello, NY McMansion Laila's mom drops major coin on her spacey daughter. Mom spends on high-end, custom outfits and ballet lessons her tired tyke hates (quite vocally on camera – sweet!). Laila is accustomed to winning her glitz pageants because he oursides look great. Nevermind that Laila is so disinterested in the whole process that she can only perform her routines if Mom is out in the audience acting it out for her to follow. When mom drops the ball and does an old ballet routine, Laila finishes her awkward movements, steps off stage and proceeds to fold into a meltdown because her mom did the wrong routine. What exactly is this teaching the little girl? Oh right, Mom will buy me out of my problems. All of that disinterest and drama ends up rewarding Laila and Momma a Grand Supreme title. Yay?
Meanwhile in Wiliamstown, NJ, five-year-old Riley and her older brother Bob (6) are being groomed by their stress-bomb mom to tackle the big time at their first Glitz Pageant. Riley has dominated anywhere from 75 to 100 natural pageants but they all feel it's time to give the big makeup faces a chance. Interestingly enough, mom explains she had her kids late in life and adds future therapy bills to the equation by admitting that she specifically had them to do pageants (whoa!) She was also pretty upset when she found out Bob was a boy because that ruined her competition plans…until she realized boys could compete too. Wow, I feel so much better now.
Elsewhere in the house as mom makes her kid's competition costumes, dad likes to come in and goad Riley into making non acceptable pageant faces as he cackles in delight. I love that guy. Mom later surprisingly reveals that she and her hubby worship at the altar of one Mr. RuPaul – the fiercest drag queen in all the world (you better work!) They've trained the kids in the RuPaul way and repeat the manta "Be fierce" to them daily. However Bob prefers to focus on the power of his excessively long rat-tail (with holiday appropriate beading) for his performance inspiration. Mom thinks it's a cool accessory and when he snips it off someday, it will then go in her jewelry box. Remind me never to look inside that box for other "treasures," ok?
At the actual pageant, Mom is a nervous wreck as she feels like she and her home-spun kids are way out of their league. The judges sniff loftily as much when their constructive criticism is that the kids are enthusiastic but need a lot more coaching. They might be right when Riley decides to free-style her routines by running up and down the stage "like a nut." Not exactly a lot of finesse and Bob pretty much repeats his little sister's move except in his elf costume and glittery wreath accessory. Say what you will, I prefer sugared up kids with wreaths instead of "sexy" seven-year-old booty pops and hip thrusts. Go Team Unprepared! While mom is pretty sure her kids are dead in the water, she gets surprised when Bob is awarded King Supreme (it looks like he was the only competitor in his age range) while Riley wins Supreme Queen. Sure, they're lesser titles but they both won and come off like actual kids instead of Stepford Barbies. RuPaul would give them a snap and a circle.
Lastly, Anna-Maria of Chester, PA and her super-obsessed pageant mom are in love with the runway. Anna-Maria gets mad when she doesn't win, but mom trumps that 'tude when she admits she told her estranged husband that she was picking pageants over him. He came back and I think we can all agree nothing was learned there.
Mom freely admits she's brainwashed Anna-Maria from birth to go after the Miss America title someday and she's proud of that. As Anna-Maria gets spray-tanned and practices her hula hoop routine, Mom looks on adoringly as she tearfully admits that she thinks her daughter is the prettiest little girl she's ever seen. Healthy.
At the pageant, Anna-Maria struts her Junior Miss stuff against her very similar, biracial arch nemesis, Mya. Both are pretty and decked out in their shiny finery, but the judges aren't partial to Anna-Maria's miniskirt length. Uh, oh, that's gonna mean points! Anna-Marie further suffers when her snow assistant, Fred, misses his snow throwing cue and leaves his ward hanging with no flakes to over-emote to making the judges frown. Mom frowns even more when she reads Fred the riot act afterwards for not paying attention. It's life and death here, Fred! Come on! As expected, Anna-Maria and Mya make it to the highest level of the competition, neck-in-neck for their divisions Grand Supreme title. In a disappointing turn, Anna-Maria only gets Best Personality and Talent Supreme titles – a blow to mom and daughter alike. Mya pulls off the big win and there are scowls in her general direction. Sad but true there's no hip shake or hoop rotation that can turn back time so you know there was some sad faces on the Jersey Turnpike for that long drive home. Oh dysfunctional priorities, thy name is T&T!