Spartacus: Blood and Sand got better and better throughout its first season. It was easy (and correct in many ways) to write off this sword-and-sandals meets softcore t&a spectacle as a shock-and-awe campaign from Starz to put its fledgling original programming on the television map. But those who stuck around were richly rewarded by deft storytelling, deep intrigue, great performances, and stunning action sequences. By the last few episodes and the bloody final sequences at the Batiatus ludus, I started asking myself, "How freaking good is this show?"
That's what the offseason is good for, figuring this kind of stuff out. Here's an early attempt, with the top nine episodes of Spartacus: Blood and Sand, Season One. Enjoy.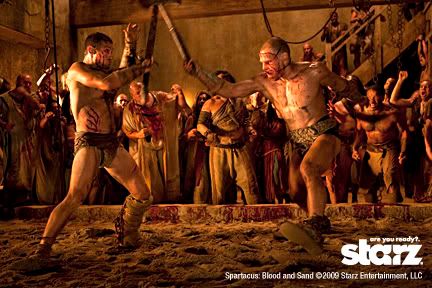 #1 - Spartacus: Blood and Sand, "Kill Them All" - S0113
And then there was the final, inevitable, and satisfying confrontation comes between Spartacus and Batiatus. "What would you do to hold your wife again?" Spartacus asks, before taking out his master and strange partner of sorts.
The ludus now literally drenched in blood, Spartacus frees the gladiators yet promises those who would join him that together they will make Rome tremble.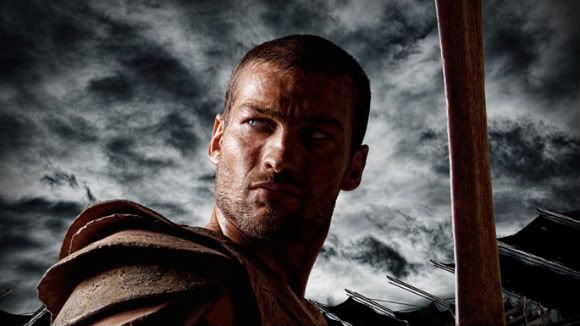 #2 - Spartacus: Blood and Sand, "Party Favors" - S0110
For all its gratuitousness and camp, this show is one of the best on television right now. It's flat out great storytelling. It's a gripping and blood-soaked epic of ancient times, where life and death mean little, and fortunes and dizzying rises to power and falls to disgrace are plotted by those in the shadows, or cast off to the will of the gods. I'm guessing that most are too timid to call this fact out for what it is for fear of being labeled a perv or a low brow. So be it.
#3 - Spartacus: Blood and Sand, "Revelations" - S0112
Batiatus is on the verge of all he has dreamed of, and all it requires is that Spartacus bow down to Glaber, to show that the "Thracian animal" has finally been tamed. Later, Spartacus decrees: "There is but one path: kill them all."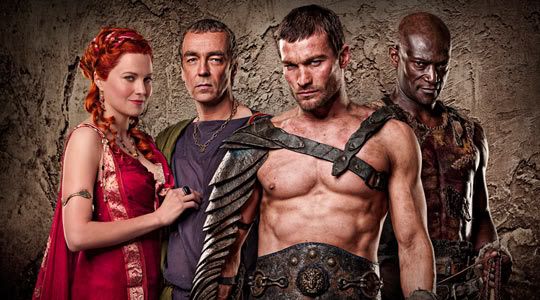 #4 - Spartacus: Blood and Sand, "Great and Unfortunate Things" - S0107
This was the most serious episode of the series yet, and perhaps the most satisfying dramatically for it. I asked last week for less blood splashiness and gratuitous "they did that back in the day?" scenes, and this episode delivered (the final arena scene was well done: this is a gladiator show, you know?). Seeing Spartacus walking out into the arena, ready to put his Thracian past behind him, makes me think that there could be great things yet for this oddly captivating little sword and sandals show.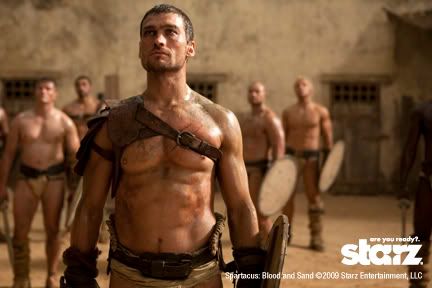 #5 - Spartacus: Blood and Sand, "Delicate Things" - S0106
So, our boy Spartacus (Andy Whitfield) is the new Champion of Capua now, after the defeat of the mythically beastly and nasty Theokoles, while former champ Crixus (Manu Bennett) lies beaten and bloodied. In other words, things have turned relatively upside down in Spartacus-land. So what's it going to be then, eh, as an old friend from real horrorshow times might ask?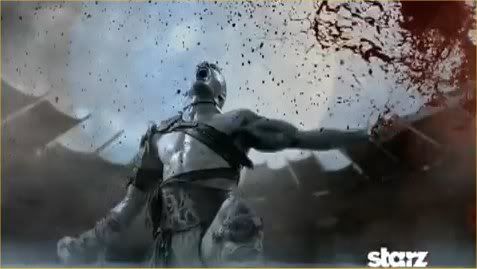 #6 - Spartacus: Blood and Sand, "Old Wounds" - S0111
"Old wounds" taunt Spartacus (Andy Whitfield) meanwhile in both the physical and spiritual sense as Varro's death agonizes him, sending him into a fever that could keep him out of the gladiator games with rival city Pompeii.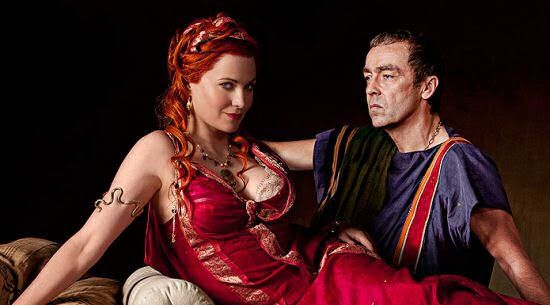 #7 - Spartacus, "Mark of the Brotherhood" - S0108
In "Mark of the Brotherhood," we see Spartacus (Andy Whitfield) embracing the grim glories of the arena, his past and Thrace fading from his memories. Meanwhile Batiatus (John Hannah) is getting just a little bit cocky off of Spartacus' victories, no? Well, perhaps a lot cocky. You'd think that he's bound to have a comeuppance headed his way soon enough. For as he says, Fortuna turns quickly, or something to that effect.
#8 - Spartacus: Blood and Sand, "Whore" - S0109
A scene of Eyes Wide Shut-meets-hedonistic Roman sex party proportions ensues in which Ilithyia is scandalized (after having wild "relations" with Spartacus), and then Licinia, at her victorious social peak, is brutally taken down by Ilithyia herself. So much for (sex) party etiquette.
#9 - Spartacus: Blood and Sand, "Shadow Games" - S0105
When the drought denies the ground moisture, the Roman people demand blood to quench its thirst.
Some key takeaways:
• Dude getting his face shoved into a piece of a corpse swarming with maggots… nice.
• One-armed beggar dude being taunted by the gladiators for basically no reason… also nice.
• "You f-ing hemorrhoid-sucking f-" - Batiatus (also also nice)
• Do we really need to see that much of Crixus each week?
• Is it just me or do some of the slaves waiting on Batiatus and Lucretia look like they are out of a 1980s Robert Palmer video?
• "Blood will surely pour on the day. I long to see it fall from the Threshian." Ilithyia (Viva Bianca) to Lucre\tia (Lucy Lawless)